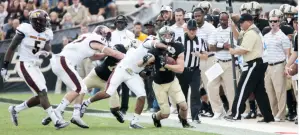 The Fizz attempted to give some insight into Syracuse's upcoming matchup with Central Michigan next weekend. Syracuse is expected by Vegas to beat the Chippewas, a team with less talent.  But, the Chippewas dismantled Purdue yesterday and now have beaten two Big 10 schools in the last three years.
Central Michigan won a huge road game 38-17. The team is now 2-0 on the season for the first time in 12 years. Quarterback Cooper Rush went 11-for-16 for 172 yards and a pair of TDs. Rush put on nearly identical performances in both games he's played this year.
It will be much easier for the Orange to contain the field against Rush than it was against Villanova QB John Robertson.  Robertson abused the Syracuse front seven en route to 199 yards passing and 115 yards rushing. Rush has only rushed seven times this season for a total of 13 yards. The pocket passer will have his hands full with a talented Syracuse secondary.
The Chippewas' star is wide receiver Titus Davis, who is breaking all kinds of records. He is the current NCAA active leader in yards per reception with 18.9 per play. Bothered by a sprained knee, though, Davis has yet to make an impact this season.
The Chippewas leaned on their running back Thomas Rawls against Purdue. He carried 31 times for 155 yards and two touchdowns. It will be extremely important for the Orange to bottle up Rawls. If the running game is successful there will be plenty of CMU holes opened up in the defense. By controlling the line of scrimmage, which wasn't happening against Villanova, the Orange can limit the Chippewas' offense.
The Central Michigan defense has only allowed 33 points through two games. It has picked off opposing quarterbacks five times. Both quarterbacks were held under 175 yards passing. That means the Syracuse ground game is going to have to take over. No more bubble screens, no more slip screens; the Orange is going to have to run the ball. And their backs are perfectly equipped to do that, even if Devante McFarlane and George Morris II haven't gotten touches.
All the Orange needs to do to win is play to its strengths and the Chippewas weaknesses. By running the ball hard and setting the tone early, the Orange can neutralize the crowd and control the pace. On defense, they just have to shadow Davis (if he plays) and bottle up Rawls to win.
Posted: Jason Weingold
(adsbygoogle = window.adsbygoogle || []).push({});