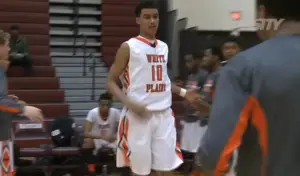 It's never too early for Jim Boeheim's staff to plan ahead. Syracuse basketball has made a scholarship offer to Jordan Tucker, Class of '17 shooting guard from White Plains, NY.
The¬†6'Äô7'Äù Tucker is just a sophomore at Archbishop Stepinac High School. ESPN gives Tucker a 91 ranking, and the 5-star recruit is the best player in the state for '17.
Tucker says his top offers are Villanova, Syracuse and Providence. He wants to decide by the start of his junior season (late fall '15).
Here's 5 things you should know about Tucker:
5) He opened up eyes fast. In just his second game as a freshman last season he scored 17 points in the first half, knocking down 5 three-pointers in a win over Peekskill. The recap from MSG Varsity:
"All you needed to see from the prized White Plains freshman was only one shot.¬†The 6-foot-7 guard took a feed in the corner in the opening minute of Thursday'Äôs showdown with Peekskill and, in a silky smooth motion, buried the game'Äôs first basket."
4) Gerry McNamara is his primary recruiter. The SU recruiting staff has been reeling in top talent for years now, but G-Mac has paid immediate dividends as a recruiter for the Orange. Can he deliver Tucker?
3) He's one of the best scorers in the country for his class. The Future150.com scouting report:
"Tucker is an elite marksman in the 2017 class. He's demonstrated confidence with both his mid-level and long-range game and is improving as a ball-handler. He's one of the most productive freshmen in the country with regard to scoring the basketball. Not exceptionally explosive, Tucker is a good athlete, and knows how to his length to gain advantages defensively."¬†–
2) Eventually, Syracuse may battle North Carolina for him down the road. According to Tucker in December, he had offers from Oklahoma, Detroit, Providence, Xavier, Fordham and Manhattan at that time. Villanova has added an offer. Tucker also said Arizona, Miami, Virginia, and North Carolina had expressed interest.
1) He may not be done growing. At 6'7″, Tucker already has the size to play at the highest college level, and the ability to look over almost any other guard defending him.¬†If he reaches 6'8″ or 6'9″, you're talking about NBA height. His AAU coach Shandue McNeill says:¬†"He's got a high IQ and his advantage is his versatility at 6-7. And I don't think he's done growing."
Posted: D.A.
(adsbygoogle = window.adsbygoogle || []).push({});