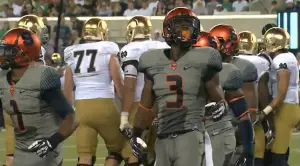 On Tuesday afternoon, the injury report for the Orange was released.  With the release, there wasn't much good news for the Orange. Syracuse will be without some key players on top of the key ones they are already missing.
Ashton Broyld, who missed the last game against Notre Dame, will not play again this week.  He has a lower right leg injury.  Before hurting himself against Maryland, Broyld had racked up 125 yards on 11 catches in ten quarters of football.  More importantly, Broyld is the most talented receiver on the team right now.  His ability to get open and make defenders miss
was greatly needed against the Irish
.  Dynamic back Devante McFarland is also out with a foot injury.
The injury list grew in the last week, however.  Joining Broyld and McFarland on the sideline will be corner Wayne Morgan, offensive lineman Ivan Foy, and tight end Kendall Moore.  All were injured in last week's game at Metlife.
Foy and Moore were described as "probably doubtful" by coach Shafer.  Foy hurt his knee last week and was down for a while before walking off the field on his own power.  Foy is part of an offensive line that did not give up a sack.  Syracuse was only tackled four times for a loss.  However, there is not a lot of depth on the roster, as Michael Lasker is behind Foy on the depth chart.
Moore, on the other hand, suffered a concussion in the fourth quarter.  He had four catches for 31 yards on the season.  Josh Parris, the usual starting tight end, will handle most of the duties this week.
While Syracuse does have players ready to step in and fill the void on the roster, the last thing a reeling team like the Orange needs is injuries to shuffle up the starting lineup.  The Orange needs to establish consistency in the lineup, especially on the offensive line. Terrel Hunt is decent when protected in the pocket, but struggles when faced with pressure. Against the Irish, defenders  penetrated into the backfield consistently.
Posted:  Jason Weingold
(adsbygoogle = window.adsbygoogle || []).push({});