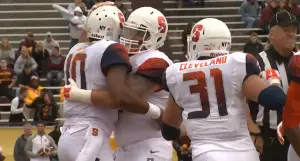 Last week, both in his weekly
press conference
, and in an interview on
The DA Show with our very own Damon Amendolara
, Scott Shafer reiterated that he, Doug Marrone, and Doctor Gross have worked very hard to get the program back to respectability and now the coaches in place need to work on getting the Orange back to relevance. Well, that may be further off than anyone thinks – or wants to think.
USA Today releases a poll every week. It does not just rank the top 25, but instead ranks all of the 128 programs playing FBS football. This week, Syracuse came in 85th. Last week, the Fizz took a look at the challenging stretch SU faces. If the Orange could have a respectable showing in this stretch, or if the Orange sat at 4-0 right now instead of 2-2, some speculated the Orange may have been able to return to the Top 25 rankings.
However, with this week's ranking in USA Today, it appears that SU's return to the Top 25 may be further away than anyone thought.
For context, here are some schools ranked ahead of the Orange in the USA Today poll:  1-3 Iowa State and 1-3 Louisiana-Lafayette. Also ahead of the Orange is 2-3 Michigan, and the Wolverines may have a new head coach this time next week. The point is, the Orange has a long way to go.
As discussed over the summer on Fizz radio, much of the Top 25 poll – USA Today and AP the two most prominent – are voted on due to the reputation of the programs in the minds of the voters. Right now, Syracuse doesn't have that. In fact, SU isn't close to having the reputation of a top team in the country.