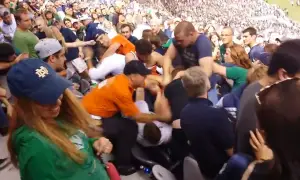 There were plenty of reasons to feel like fighting Saturday night as a Syracuse fan. The Orange offense was a disaster. The MetLife Stadium record for SU is now 0-3. Beers are really expensive in New York City.
But when you're outnumbered 3:1 by Notre Dame fans, probably a good idea not to engage in brawls. This may have been the most memorable moment from a mundane game.
This video has gone viral, so you've likely seen it. But here's a hit list of things to note:
Of course this is in the upper deck. I sat down in the lower bowl around a group of Syracuse donors and season ticket holders. There was zero percent chance a brawl was gonna break out in my section unless Dr. Gross took away the seat backs at the Dome.
Of course the Syracuse fan was rocking a Melo jersey. Can we hit the stereotype any more effectively? The drunk, angry 'Cuse fan throwing punches isn't wearing an undershirt, and is desperately holding onto '03. And he's an adult wearing a basketball jersey in public with no undershirt.
The brawl spills down at least three rows, which is an amazing roll for a tangled set of bodies. Those seat backs are uncomfortable when you're sitting in them. I can only imagine when they jut into your solar-plexus as a 200 lb. dude is laterally laying on top of you.
Of course there's a guy in an Eagles hat chasing the brawl down the aisle. If a football stadium fight breaks out within a two-hour radius of Philly, an Eagles fan is mandated to jump in.
Does anyone have any idea what stirred this hornet's nest? I mean, how many $9.75 beers + how much hate speech would = you jumping into a fight from 6 rows above?
Do you think either or both of those #10 Irish jerseys were from the Brady Quinn era? Because if so, those people should not be allowed into the stadium.
Syracuse needs to start winning these types of games. Because this is not what Scott Shafer meant by hard-nosed.
Posted: D.A. 
(adsbygoogle = window.adsbygoogle || []).push({});