When the NCAA brought its sanctions down on the Syracuse basketball team in April, many thought it would spell doom for the direct future of the program. Jim Boeheim disagreed, and hasn't seemed to miss a step in his normal recruiting routine to this point. However, Kevin Huerter is where the real effects of the sanctions are starting to show.
Kevin Huerter is an in-state recruit from Shenendehowa High School in Clifton Park. He has a long body, can shoot with the best of them, and his AAU coach Jimmy Hart says he's a natural point guard despite standing at 6 feet 5 inches. Huerter seems like perfect fit for Syracuse's 2-3 zone and a needed shooter in Boeheim's lineup; he's even made friends with Syracuse commit Tyus Battle: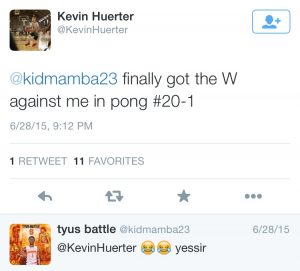 Ping pong. They were probably playing ping pong…
Despite all these things, Syracuse is still a long-shot to land Huerter. With 11 men on the 2016-17 roster, Syracuse is already above the limit of 10 scholarship players set by the NCAA. Because of this, Mike Hopkins had to offer Huerter a 2017 scholarship and hope the guard would be willing to attend prep school for a year. Huerter isn't having it, as Hart told ZagsBlog:
"If Syracuse had a 2016 scholarship available they would be offering it to Kevin, and they would be right there. He has an offer for 2017 from Syracuse. [Mike] Hopkins and Gerry McNamara actually were on him earlier than most. He's staying 2016 so they are out."
Instead of being "right there," Syracuse is falling behind. Huerter is scheduled to visit Villanova, Maryland, Michigan and Notre Dame. Iowa, Indiana, Creighton and Davidson are also still in the mix, but not the Orange.
"If things change for (Syracuse's) situation for 2016, I'm sure that would change Kevin's position," Huerter's father told Syracuse.com. "Right now, it's a 2017 offer and Kevin's definitely going to be in the 2016 class.'Äù
The appeal could get Syracuse up to 11 scholarships per year, but thinking the NCAA will give back two of the three scholarships it took away is optimistic to say the least. Unless Syracuse loses players to the draft or transfer, there won't be any room for Huerter on the roster. Even if the Orange were to get the scholarship space, would there be enough time to get Syracuse back on Huerter's radar before he commits? Huerter's road to Syracuse is filled with a lot of "what ifs," and it's looking a lot more like he will be the first causality of the NCAA sanctions.
Posted: Nathan Dickinson
(adsbygoogle = window.adsbygoogle || []).push({});