When Dino Babers was hired as Syracuse's latest head football coach, we knew his high-powered offense had the potential to bring in exciting recruits on the offensive end. Saturday, that offense picked up its first quarterback of the Babers era.
2017 quarterback Tommy Devito of Don Bosco Prep chose the Orange Saturday. He's listed as a three-star recruit on the major recruiting sites, and announced his commitment via this tweet: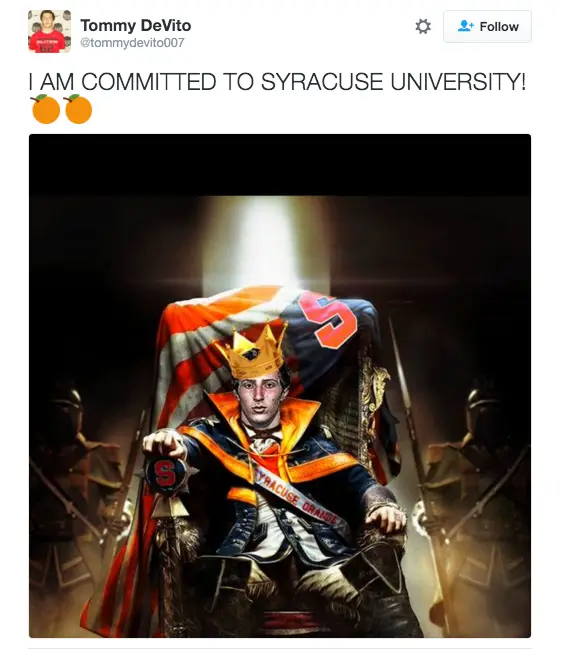 Cocky? Confident? We'll go with confident for now.
As it turns out, Babers was a big factor in Devito's decision. He told Orange Fizz after his commitment "[Syracuse's] offense and the coaching staff" put the Orange over the rest of the schools recruiting him.
Along with Syracuse, Devito had offers from Boston College, Rutgers, Bowling Green, Wake Forest and others. He's the first quarterback of Syracuse's 2016 class, but the third in as many years from Don Bosco to choose SU (Kyle Kleinberg and Davion Ellison).
Orange Fizz talked to Devito last week about his recruitment as part of Fizz Radio. You can listen to the full episode here.
Posted: Nathan Dickinson
(adsbygoogle = window.adsbygoogle || []).push({});