Syracuse football is going to be thin at tight end after this season. The top three spots at the position are all redshirt seniors, and the No. 4 (redshirt junior Tyler Provo) was deemed medically ineligible earlier this summer. With no incoming freshmen tight ends in Syracuse's 2016 class to fill the void, the Orange will be left with only one tight end (PJ Batten) on the roster for the 2017 season and the coaching staff scrambling to find depth. The Orange got a commitment from Florida tight end Aaron Hackett last week, but Babers and friends aren't done yet. Ohio product Charles Reeves will visit campus next week.
Reeves isn't your typical Syracuse target; he's got a fourth star to his name most other potential Orangemen don't have. Scout.com is the only site to have him listed at four stars while all the other major recruiting sites gave him three, but it still counts for something.
That fourth star also give Syracuse a lot of competition for Reeves' services. He has offers from Alabama, Penn State, Nebraska, Michigan, Pittsburgh, Wisconsin and others. Those aren't schools Syracuse is used to beating out, but the Orange might be able to pull something off here. To say it as a high school girl would: Reeves is like, totally flirting with SU on Twitter. See below.
Those are a few of many. He's retweeted just about everything Syracuse-related that's been thrown his way, and there's certainly a lot more Orange on his timeline than any other color. You can take a look for yourself here. Oh, and did I mention he's been wearing a Syracuse helmet for all of his high school career?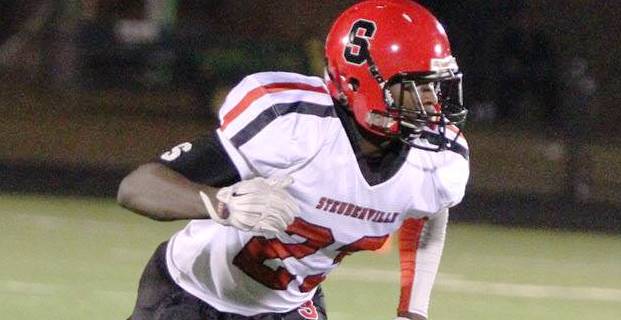 That's the good news. The bad news is Syracuse isn't the only school Reeves has whispered sweet nothings to. He's already committed and decommitted from Kentucky, and back in April the Detroit Free Press quoted Reeves saying Michigan State was a dream school for him.
"I talk with Coach Blackwell and Coach D (Mark Dantonio). I am very interested in them; Michigan State is my dream school, honestly. I am heading up there on the 23rd."
Still, tweeting at other SU commits and posting two-minute long videos of Syracuse highlights interlaced with his own can't be a bad thing, right? I'd have to give the Orange the lead over any other school at this point, and the visit next week (which will coincide with Syracuse's Fan Fest) might be the tipping point in getting this guy to commit.
Posted: Nathan Dickinson
(adsbygoogle = window.adsbygoogle || []).push({});