1:10am – The Fizz's National Signing Day Special
Here it is in all of its glory… This one hour podcast from Team Fizz breaks down all of the action from a wild National Signing Day 2017. Hear from SU's commits as well as reaction from the OrangeFizz writers.
Listen to the complete show here. 
10:35pm – O-Lineman Austin Chandler Commits to Syracuse
Out of left field, Syracuse picked up two-star offensive lineman Austin Chandler tonight. The California native is taking a big risk in leaving the beaches of L.A. for the cold winters of Central New York. Chandler is coming to SU as a preferred walk on, but believes that making the cross-country trek is the best possible situation for him.
"Syracuse gives me the ability to play at the highest of highest levels, you know, competing in the ACC, playing with the best competition, that's where I see myself. I wasn't the highest ranked coming out of high school, you know, I played in the All-American bowl, but I believe in my ability, I believe in my work ethic and I really do feel like I can become a scholarship player."
Listen to the rest of Chandler's interview below.
10:30pm – Worcestor Telegram Writer Talks Up Melifonwu
Dino Babers and company dodged a few bullets today. One of them was being able to hold on to defensive back Ifeatu Melifonwu. The Massachusetts native began to draw interest from national title contender Michigan late in the process, but Babers and company got Melifonwu to put pen to paper today and sign with SU.
Amongst the Michigan recruiters was defensive coordinator Don Brown, who does not strike out often with getting commits.
'Äú[Brown] recruited [Melifonwu'Äôs] older brother [Obi] to UConn," Carl Setterlund of the Worcester Telegram told the Fizz in an interview this evening.
Setterlund also shared that Melifonwu will be redshirting his freshman year and wants to play on both sides of the ball.
Listen to the rest of Sutterlund's interview HERE.
9:45pm – Fizz Commit Interview #11 Curtis Harper
Listen to the Fizz's conversation with defensive line commit Curtis Harper below. He discusses the Tampa-2, signing in front of his family and much more.
9:30pm РFizz Commit Interview #10 Chris Elmore 
On Wednesday, Syracuse landed a signature from a rare breed of recruit: the two-way player. Chris Elmore, who splits his time between defensive tackle and fullback, inked his National Letter of Intent with the Orange and chatted with The Fizz about his dual-position status, his recruiting process, and his budding relationships with the rest of the Class of 2017.
 
Listen to our full interview with Elmore below.
 
7:55pm – James Robinson IV Commits To Florida
After a tumultuous month, four-star wide receiver James Robinson IV committed to Florida. Robinson received a marijuana citation on his official visit to Ohio State on January 20th and followed it up with a controversial tweet that has since been deleted:

It was originally reported by other sources that Robinson was arrested, but the receiver issued a tweet saying that was not the case. The Orange had interest in Robinson after the news of the citation came out.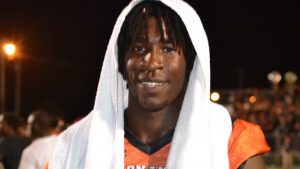 7:50pm РFizz Commit Interview #9 Zach Morton 
Hours after signing his National Letter of Intent with Syracuse, Class of 2017 defensive end Zach Morton talked to the Fizz about his jokes with SU head coach Dino Babers, his recent Michigan state high school football championship, and the potential for immediate playing time.
Morton calls Babers a "mini-comedian." Find out what else the defensive end said in our full interview below.
7:40pm - SU Lands Williams and Chandler Out of Nowhere
The Orange has received two late LOI's. Syracuse landed former Notre Dame defensive back MyKelti Williams and offensive guard Austin Chandler. Williams is the second former member of the Irish secondary to transfer to SU this offseason, the other being cornerback Devin Butler. The former three-star recruit went to community college at Iowa Western C.C. last year. As for Chandler, he is coming to the Orange as a preferred walk-on and turned down scholarships with San Diego and Stetson. The pair ups Syracuse'Äôs signee total to 20 for today.
7:30pm – Fizz Commit Interview #8 Cam Jordan
SU receiver commit Cam Jordan is ready to make an impact.
'ÄúI'Äôm studying Amba right now," he said. "I want to kind of replicate my game after him, because we'Äôre kind of the same size and build.'Äù
Jordan signed his National Letter of Intent with Syracuse today. He joined the Fizz to discuss playing the position under Dino Babers, building friendships with his fellow commits, and catching passes from Tommy DeVito.
Listen to our full interview with Long Island native below.
7:00pm – Fizz Commit Interview #7 Kadeem Trotter
Orange Fizz's Nathan Dickinson talked to safety commit Kadeem Trotter after signing his national letter of intent to play at Syracuse today.
Trotter is listed as a three-star recruit on 24/7 Sports, but he lost a lot of recruiting traction after tearing his MCL in 2015 and his ACL this season. Trotter discussed his commitment to SU, his injuries and what he'll bring to Syracuse. Listen below.
6:30pm – Fizz Commit Interview #6 Dakota Davis
Davis, an offensive lineman, had many suitors.
"My recruitment was a long process." he told the Fizz. "It was stressful, but it also had its perks. I had a lot of other schools that were interested in me, like UConn, Ohio and James Madison, but when I went to Syracuse, I fell in love."
Listen to the Maryland native's complete interview below.
6:00pm – Fizz Commit Interview #5 Nykeim Johnson
Nykeim Johnson is one of four receivers in the Class of 2017. The D.C. native is a part of the core that is tasked with replacing Amba Etta-Tawo and Brisley Estime. Johnson is especially trying to fill Estime's shoes since they both are slot receivers. In such a fast-paced offense, the quarterback and receiver relationship is key, and Johnson's connection with fellow Class of 2017 commit Tommy DeVito is already budding.
"When I first touched down in the camp in the summer time, and [DeVito] actually threw me the first pass that I caught that day, and I was like 'oh man' this guy's a good quarterback. Man I would love to play with him. And after the camp was over and we finished the one-on-ones and everything, Coach Babers did his closing remarks and Tommy came to me and took me in front of Coach Babers and said 'this guy right here, we need this guy right here.'"

Listen to the rest of Johnson's conversation with The Fizz below.
5:50pm – Marquise Blair Signs With Utah
Former Syracuse commit Marquise Blair has signed his letter of intent to play at the University of Utah. Blair was committed to Syracuse's 2015 class, but failed to qualify academically through the NCAA Clearinghouse. He has played JUCO at Dodge City Community College during the past two years. Blair was listed as a four-star recruit by 24/7 Sports and the No. 1 JUCO outside linebacker in the class of 2017.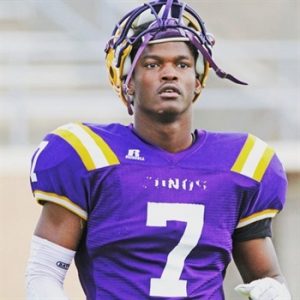 5:45pm – Fizz Commit Interview #4 Kingsley Jonathan
Jonathan is at home when he comes to Syracuse.
"The coaches are understanding," the defensive end said to the Fizz after signing. "We can relate well and the campus is really beautiful. I love the football up there."
Listen to the rest of the Jonathan interview below.
5:15pm - Ben Moos Chooses Cal
Ben Moos decommitted from Utah less than two weeks before National Signing Day. Dino Babers and Syracuse made a run at the three-star tight end, but the Orange lost out to the California Bears. Moos made his decision earlier today on TV. Syracuse was in the running early, but Moos had narrowed his list of schools to Cal, Fresno State and Louisville before deciding today. Syracuse has two tight ends (Aaron Hackett and Ravian Pierce) signed in the class of 2017.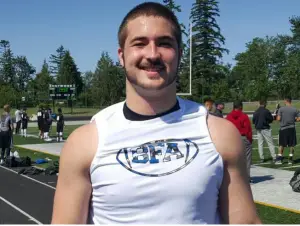 5:05pm – Fizz Commit Interview #3:Markenzy Pierre Talks With The Fizz
Pierre is pumped to have officially signed with Syracuse.
"I'm extremely excited and I'm just ready to win some games," Pierre told the Fizz.
Listen to the rest of the running back's interview below. He discusses being introduced by Floyd Little, his roommate Cameron Jordan and Syracuse winters.
4:20pm - Dino Babers Heaps Praise on Tommy DeVito and is Satisfied with his Class
Dino Babers fielded questions from the local media at the Ensley Center to recap National Signing Day and spent much of the time talking about his number one commit, Tommy DeVito. He beamed with pride when he explained that Syracuse knew about DeVito before everyone else, noting that he was a two-star recruit when the Orange first reached out to him. He compared him to Denzel Washington in the movie "Glory", always waving the Syracuse flag, no matter what got thrown at him. Babers laughed off the question about DeVito being the day one starter next season but he was full of praise for the incoming freshman QB.
Babers answered questions about a wide variety of topics but one of the most interesting was his decision to recruit in Canada. He called our northern neighbors an 'Äúuntapped resource'Äù and mentioned that his freshman year roommate in college was Canadian and went on to play for the Baltimore Colts. He reiterated that he sees this year's and last year'Äôs class as linked, essentially one large class and he said that over these two years, he has gotten what he wanted. Only time will tell how successful today'Äôs signings will be but the head coach seems satisfied.
4:10pm – Eric Coley Signs His National Letter of Intent at Fayetteville-Manlius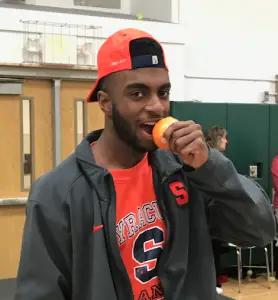 Eric Coley signed his national letter of intent today at nearby Fayetteville-Manlius High School. He was alongside his father, Vinson Reynolds, who is the Orange's defensive line coach. Coley says he will join his father's side of the ball, however he will be a part of the secondary. Much of Coley's high school success came on the offensive side of the ball. He starred in the Hornets' backfield, averaging 215.8 yards per game on the ground to go along with 19 total touchdowns in just six games. Despite family ties to the program, Coley says his decision to play for the Orange was strictly his.
"[My dad], was actually out of the recruiting loop. He has no part, no influence on me or anything like that. He was literally hands off and he let me, you know, be me and make my decision for myself, because at the end of the day it's me playing football, not him."
Listen to the rest of Coley's signing day press conference below.
https://soundcloud.com/fizzradio/syracuse-class-of-2017-db-eric-coley-national-signing-day-press-conference
3:30pm – What Schools is Syracuse Beating Out For Recruits?
Dino Babers' first full recruiting cycle featured the Orange outbidding some national powerhouses for recruits. Starting in its own conference, Syracuse outlasted five ACC schools for recruits, most notably Boston College. SU beat out BC for five members of the Class of 2017, including Tommy DeVito and Ifeatu Melifonwu. Another school Syracuse was able to steal guys from was Louisville. The Orange beat out the Cardinals for three recruits, most notably linebacker Kingsley Jonathan, who also turned down fellow ACC foe Florida State for the Orange. But the conference Babers laid the most damage on was the Big Ten. The Orange won the bidding war over seven schools, the most that SU amongst all conferences. Amongst those Big Ten schools, two players picked Syracuse over national title contender Michigan. Aside from the Power Five conferences, Bowling Green lost out on three players that picked SU. This is big for the obvious reason that Dino Babers wanted these guys at Bowling Green and swayed them to come to central New York when he was hired. We'Äôll see in the years to come whether Babers can continue to swing recruits to the hill over the alphas of college football.
2:45pm – Clark Lea Welcomes Elite Linebacker Recruits at Notre Dame
Clark Lea is one of many former Syracuse Assistant Coaches who found a new home in the recent weeks leading up to signing day. Lea, who was on the Syracuse staff for three years, ending as the linebackers coach, signed to the same position with Notre Dame. The Irish will bring in the nation's 12th best recruiting class and Lea will have some pretty good players to work with. Among the commits is David Adams, the 10th ranked inside linebacker in the country. Notre Dame is also adding a second four-star linebacker, Drew White, out of Fort Lauderdale, Florida.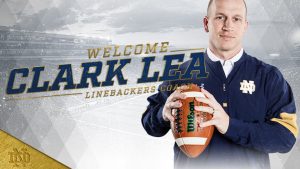 2:25pm – Takeaways From Tommy DeVito's ESPN Interview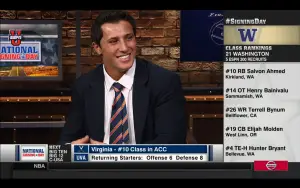 It's not often that Syracuse football gets a lot of face time on national television. But maybe that's something fans should start getting used to with the program on the rise after landing (and holding down) ESPN's eighth rated pocket passing quarterback, Tommy DeVito. The four-star commit joined The Worldwide Leader's National Signing Day coverage earlier this afternoon. Here are the biggest takeaways:
Not redshirting
DeVito says that the plan right now is not to redshirt, despite solid play by quarterbacks Eric Dungey and Zack Mahoney. The four-star is not early enrolling, so he is going to be in contact with offensive coordinator Sean Lewis. This is definitely a situation to monitor come summertime.
Internships?
DeVito says one of the factors in his decision was getting a good education. While that's great, DeVito also cited that a part of that education was his opportunity to get internships in New York City. This comes as a bit of a surprise with football season being a year-round venture. Where will DeVito find time for an internship?
High attention to detail
DeVito seemed to know his stuff. He was very particular with stating when he signed (7:01 AM) and when he moves in (May 25). This trait hopefully carries over into the film room.
Why stick with the Orange after drawing national attention?
The quarterback acknowledged that he "blew up" after his performances at The Elite 11 and The Opening events. DeVito wanted to stick with the Orange because Syracuse was with him from day one.
Not related to Danny DeVito
A real buzzkill to all the "It's Always Sunny in Philadelphia" fans.
1:25pm - Get to Know 2017 Syracuse TE Aaron Hackett
1:20pm - Former Syracuse Assistants Take Over at Western Michigan
Former SU quarterbacks coach Tim Lester signed to be Western Michigan's head coach three weeks ago. He took over for P.J. Fleck who joined former Syracuse Athletic Director Mark Coyle at the University of Minnesota.
Lester and co. welcome the 89th ranked recruiting class in the country and the 4th best in the MAC. However, it is important to note that the Broncos had the 71st ranked class last season and went 12-0 during the regular season, won the MAC Championship game and lost to Wisconsin in the Cotton Bowl. Lester hired former Syracuse Defensive Line coach Tim Douast to be his defensive coordinator.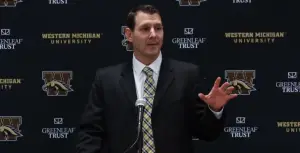 1:00pm – Commit Interview #2 Brandon Berry
The Fizz's Nathan Dickinson talked to 2017 JUCO DE Brandon Berry after he signed his national letter of intent to play at Syracuse. Berry is listed as a three-star recruit by Scout.com and had offers from Minnesota, Toledo and Colorado State. He recorded 12.5 sacks at Highland Community College in 2016. Nathan talked to Berry about his signing, why he chose SU and what he hopes to do when he gets there. Listen below.
https://soundcloud.com/fizzradio/orange-fizz-talks-to-2017-de-brandon-berry
12:50pm – Commit Interview #1 Allen Stritzinger
Allen Stritzinger was recruited by many coaches to be a safety, but Dino Babers saw something else. Stritzinger will be playing running back for the Orange this coming season. The three star back didn't play much in the backfield during his time at De La Salle (Mi.), but his best year on the ground came as a sophomore where he racked up 1,356 yards and 20 touchdowns on the season.
"The thing with Syracuse was, you know, Coach Babers, I sat down and talked with him a lot of times and he always talked about how a lot of schools would look at me as a defensive back and, you know, he said he sees me as a running back. And he asked me how did I feel about running back and, you know, I love running back and he told me go where your heart is at and that's what sealed the deal for me."
Listen to the rest of the interview below.
https://soundcloud.com/fizzradio/syracuse-class-of-2017-rb-allen-stritzinger-joins-the-fizz
12:45pm РScott Shafer Will Work With Middle Tennessee's Best Class in Nine Years 
Scott Shafer signed on to be the Defensive Coordinator of Middle Tennessee State for next season just twelve days ago. While he didn't join in time to help with recruiting, he will benefit from this year's successful cycle from MTSU.
The Blue Raiders have the 84th best class in the 2017 cycle, the best since 2008 when they boasted the nation'Äôs 63rd¬†ranked class. Shafer and co. will travel to the Dome on September 9th for the Orange'Äôs second game of the 2017 season. It will be Shafer'Äôs first time in the Carrier Dome since he was carried off the field in his final game as SU's head coach against Boston College in 2015.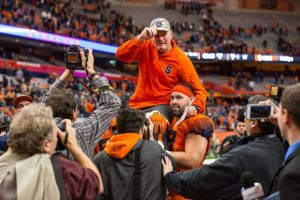 12:40pm – Get to Know 2017 Syracuse LB Signee Nadarius "Dada" Fagan
https://soundcloud.com/fizzradio/get-to-know-2017-syracuse-lb-nadarius-dada-fagan
12:30pm – George McDonald Update
Former Syracuse Offensive Coordinator George McDonald is having similar success in the recruiting game at N.C. State to Dino Babers at Syracuse. The Orange has the 56th ranked class in the country, according to 27Sports. McDonald's Wolfpack sits at 53 in the country.
Before being OC at Syracuse, McDonald was  a Wide Receivers coach at SU. The highest rated recruit McDonald brought in for NC State this year is Antoine Thompson, a three star receiver prospect out of Plant in Florida. Overall, NC State signed eight commits out of the Sunshine State and six out of North Carolina. McDonald failed to land a single recruit from New York.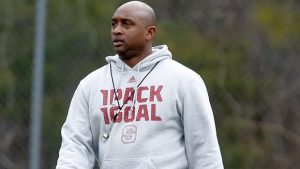 11:45am – Tommy DeVito Turned Down QB-Loaded Schools
The biggest name in Syracuse's 2017 class turned down late offers from Washington State, Texas A&M and Ole Miss. None of the three schools have a quarterback committed in their respective 2017 classes. However, all three of plenty of QBs on their rosters. Both Ole Miss and Texas A &M had six QBs on their roster last season and are only losing one to graduation. The Cougars will have three quarterbacks for the 2017 season. DeVito will sign his NLI on ESPN2 at 1:35 this afternoon.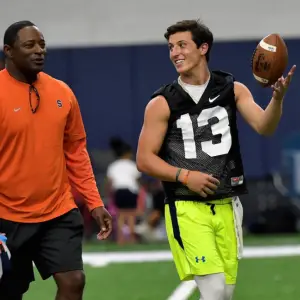 11:40am – Get to Know Running Back Commit Markenzy Pierre
https://soundcloud.com/fizzradio/get-to-know-2017-syracuse-rb-markenzy-pierre
11:30am РComparing Syracuse's Local Recruiting To Other Area Schools
In his 2016 National Signing Day press conference, Dino Babers said that he wanted to win the recruiting battle in New York and neighboring states. The Orange only has two commitments from New York in the 2017 class and one from both New Jersey and Pennsylvania.
By comparison, Rutgers snagged 14 recruits from New Jersey and three from New York. Penn State, which is a national recruiting power, still had a quarter of its class from New Jersey and Pennsylvania while Boston College had five New Jersey commits with three from New York.
Among the New Yorkers signing for the Eagles is Noah Jordan-Williams, a wide receiver out of Christian Brothers Academy right here in Syracuse. He is following in the footsteps of fellow Central New Yorker and Baldwinsville alum Tyler Rouse who wrapped up his B.C. career this season.
11:15am – Where Did SU's Decommits End Up?
National Signing Day is all about what's next, but it's also important to look at what could have been. Five players pledged to Syracuse in the 2017 recruiting cycle at some point, but signed (or will sign) with a different team today. The list is below.
Joshua Palmer РThe receiver from St. Thomas Aquinas in Florida was SU's highest rated pass-catcher, but decommitted a few weeks ago and signed with Tennessee today.
Daewood Davis – Davis, a receiver, initially committed way back under Scott Shafer. He then opened up his recruitment and committed to South Florida following the coaching change. Like a few other one time USF commits, Davis ended up following Willie Taggart to Oregon and signed with the Ducks today.
Isaiah McDuffie РAs a New York kid, it seemed like Dino Babers would've wanted to keep McDuffie around. The linebacker and running back from Buffalo had also committed under Shafer. The new SU staff eventually broke off their relationship with McDuffie and today he signed with Boston College.
BJ Daniels – The Florida running back committed to Syracuse, but then the Orange coaching staff wanted to go in a separate direction. Today he signed with the University of Texas at San Antonio.
Keirston Johnson – The one time linebacker commit from Florida is deciding today at noon between Tulane, Florida Atlantic and UCF.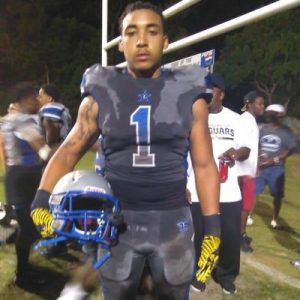 10:30am – Syracuse Holds Off Michigan For Melifonwu
Ifeatu Melifonwu first committed to Syracuse in July. After his commitment, the safety out of Grafton, MA stayed quiet for the majority of the recruiting cycle until Jim Harbaugh and the Michigan Wolverines came calling. Harbaugh made a late push to steal Melifonwu from the Orange, but earlier today the three-star recruit officially signed on to the Syracuse family and left all hesitations behind. What does a win over Michigan mean for Syracuse? Read more here. – ND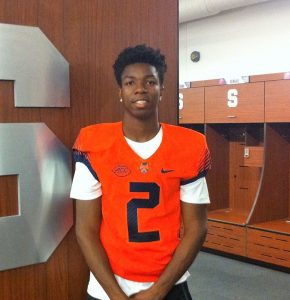 10:20am РSignatures from Harper, Kingsley, and Melifonwu put the finishing touches on Syracuse's Class of 2017
It's official: every player who was verbally committed to Syracuse entering National Signing Day has signed a Letter of Intent to play for Dino Babers. Defensive linemen Curtis Harper and Jonathan Kingsley and defensive back Ifeatu Melifonwu inked the final three signatures from the group of 21 players who had been expected to choose the Orange. Stay tuned at OrangeFizz.net for news, analysis, and interviews with the players who will shape SU's future. РDC

9:55am – Morton, Thompson-Bishop, and Brandon Berry Make It Official
A pair of recruits who pledged their allegiance to Syracuse a long time ago made the marriage official in the past hour. Zach Morton, who was the Orange's fourth verbal commit back in March, and Russell Thompson-Bishop, a blur of a wide receiver who committed in July, each signed National Letters of Intent after 9:00 this morning. They're joined by a guy who didn't announce his intention to play for SU until last week: defensive end Brandon Berry, who chatted with the Fizz after breaking the news. The list of guys we're waiting on continues to dwindle; right now, it's just DT Curtis Harper, RB Markenzy Pierre, DB Ifeatu Melinfonwu, and DE Jonathan Kingsley. РDC
9:40am – Where is Syracuse's 2017 Class From?
Syracuse's 2017 recruiting does not have roots spread across the country. In fact, none of the players signing with the Orange today comes from west of Michigan. Florida leads the class with five commitments; the sunshine state also had the most Orange commits in 2016 with seven. New York and Michigan both have two 2017 commits. Before Dino Babers, the Orange hadn't had multiple commits from Michigan since 2012. Syracuse got commitments from Connecticut, Georgia, Massachusetts, New Jersey and Ohio this year; the Orange didn't get any commitments from those states last year. – ND
9:15am – Ben Moos Is Still Deciding
For the majority of recruits, National Signing Day is simply a formality — most of them have already settled on a school, verbally committed, and have been ready to put pen to paper for a while. That's not the case with Ben Moos, a three-star tight end who decommitted from Utah on January 21 and is now being pursued by several high-profile programs. The Pullman, WA, native holds nine offers, the most recent coming from Cal a few days ago. Moos told Scout.com that the Golden Bears are in his latest top three, along with Fresno State and Louisville. The Orange has already locked down signatures from two promising tight ends, Ravian Pierce and Aaron Hackett, in the Class of 2017, so it would be interesting to watch the early position battle if Moos does throw his hat into the SU ring. At the moment, Dino Babers and company aren't the favorites to land the 6-foot-3, 240-pound pass-catcher — but hey, they weren't favorites to beat Virginia Tech, either. РDC

8:25am – 15 Officially Signed For The Orange
The signatures have been rolling in for a couple hours, and we're up to 15 National Letters of Intent. More than two-thirds of the guys we expected to pledge allegiance to Syracuse have already done so, including Nykeim Johnson, Nadarius Fagan, and Tommy DeVito. We're still waiting on letters from six players: Jonathan Kingsley, Zach Morton, Ifeatu Melinfonwu, Russell Thompson-Bishop, Markenzy Pierre, and Curtis Harper. РDC

8:00 am – Comparing Dino Babers' First Class To Scott Shafer's
Syracuse's 2014 class wasn't great at the time, but it's shown its value over time. That class gave Syracuse Zaire Franklin, Parris Bennett, Erv Phillips and more. Read more here. – ND
7:15am – NLIs Start Rolling In
Syracuse football's recruiting class of 2017 is starting to become official as Letters of Intent start coming in, including QB Tommy DeVito's:
Can't wait for this Gunslinger from Don Bosco to be dropping dimes in the dome! #OITNF🍊💨 #Commit2Cuse @tommydevito007 pic.twitter.com/MyuWhvhI7k

— Dino Babers (@CoachBabersCuse) February 1, 2017
Syracuse has recruited some of its former greats to introduce the 2017 class. Here's Justin Pugh welcoming Patrick Davis to Syracuse. – ND
The latest üçä 1st round pick @JustinPugh welcomes OL @PatDavis_69 to the fam! #Commit2Cuse#OITNFüçäüí® pic.twitter.com/rfZdFiYPYm

— Cuse FB Recruiting (@Commit2Cuse) February 1, 2017
6:30am – Today's The Day!
It's the moment we've all been waiting for….National Signing Day 2017! Today Syracuse will officially welcome 18 players (and maybe a few more) to the program and The Fizz will have full coverage all day long.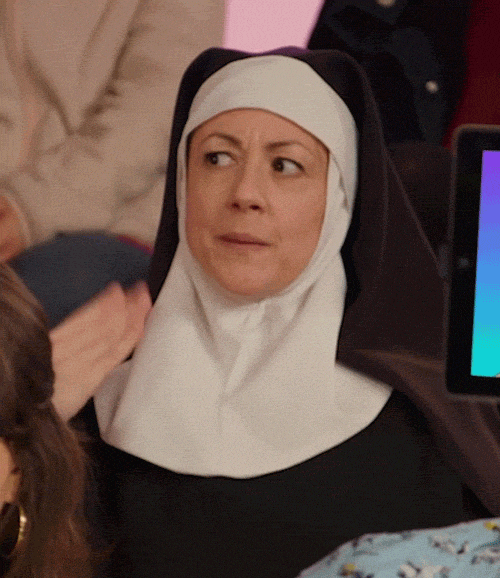 Last year there were no major surprises on Signing Day. Today, a player to watch will be Mykelti Williams. The Iowa Western Community College defensive back visited Syracuse last weekend, according to the Post Standard.
Williams redshirted at Notre Dame in 2015 before transferring. He has three years of eligibility remaining. Watch Williams' community college highlights here.
Here's what to look out for as the day progresses:
Beginning at 7am the majority of SU's commits will begin faxing their Letters Of Intent into the Syracuse Athletic Office.
At 10am, we'll have our first commit interview of the day with Russell Thompson-Bishop, a three star receiver prospect from Connecticut. Throughout the day we'll speak with every SU commit.
This afternoon make sure to turn on your TV! At 1:35pm quarterback commit Tommy DeVito will sign his LOI live on ESPN2.
At 2:30pm, Orange defensive back pledge Eric Coley will have his signing day ceremony at Fayetteville-Manlius high school. The Fizz will have full coverage.
Dino Babers' Signing Day Press Conference begins at 3:30pm. We will have live updates as Babers hits the podium on Signing Day for the second time as SU's coach.
At midnight be on the lookout for our Signing Day round table discussion. You'll hear from all of the Orange's commits and get reaction from Team Fizz.
(adsbygoogle = window.adsbygoogle || []).push({});