This year's SU Football team has plenty in common with last year's squad: head coach Dino Babers, starting quarterback Eric Dungey and starting running backs Dontae Strickland and Moe Neal. However, this year's group of linebackers couldn't be more different. The Orange lost defensive leaders Zaire Franklin and Paris Bennett, two players who showcased incredible lateral speed throughout the year. With the heart of the 2017 team's defense fighting for their jobs at the next level, SU has a huge question mark on its hands defensively.
The Squad: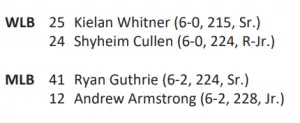 From Syracuse Football's 2018 Media Guide
Star of the Group: N/A
We haven't seen enough of any of these players to even come close to declaring them a "star." With no returning starters, there really isn't anything to talk about here.
Something to Prove: Everyone
On the other hand, there's plenty to talk about here. To put it simply: there is no one that plays linebacker that doesn't have something to prove. The guy that we've seen the most promise from is Ryan Guthrie. At 6-foot-2, 224 pounds, Guthrie has the size and strength to deal with opposing offensive lineman in the run game. Against Pittsburg last year, Guthrie put together a solid performance which included a number of heavy hits. Even with that, we're not sure if he can repeat that over the course of a full season. While the public may not know much about this group, current SU players like star lineman Chris Slayton have been quick to praise the bunch. Slayton said he's watched these players work for the past several years and knows exactly what they bring to the table. Meanwhile, the rest of us just have to wait and see.
Strength: Schematic Changes
With little experience at the position, Babers and his staff decided to make a major shift defensively. SU will now lineup in a 4-2-5 look, which means Syracuse will usually have one less linebacker on the field than years past. This will take the stress off this year's batch of linebackers. What this also means is SU needs one less inexperienced player to break through.
Weakness: Experience
This one is obvious. No matter what Slayton has seen during practices, the game is different. For the sake of the fans, hopefully Slayton's thoughts prove to be true. It's one things to do it in practice, but it's another thing to do it in the games when everyone is watching. The linebackers will have to adjust to ACC game speed quickly if the Orange wants to have a shot at a bowl game.
Projection
Who knows how this is going to turn out, but all signs point to a sub par group of linebackers. If anything is going to hold the Orange back this season, its going to be the group of guys in the middle of their defense. At the end of the day, an inexperienced group of linebackers could be the reason SU misses out on a bowl game yet again.
Be sure to keep it locked here at OrangeFizz.net and on Twitter @OrangeFizz to keep up with all of our positional previews. Look out for Friday's preview of return specialists. Check out our other positional previews with the 2018 season right around the corner:
OFFENSE: Quarterback  | Running Back |  Wide Receiver  | Tight End  | Offensive Line
DEFENSE: Defensive End | Defensive Tackle | Linebacker (8/22) | Cornerback | Safety
SPECIAL TEAMS: Punter/Kicker | Return Specialists (8/24)
(adsbygoogle = window.adsbygoogle || []).push({});