It's a rainy Tuesday evening at the Iocolano-Petty Football Complex, and the Syracuse football team has just wrapped up practice for the day. As far as Tuesdays typically go, senior running back Moe Neal is feeling fresher than usual.
"Usually on Tuesday practice, my body is hit or miss coming off the weekend game. Either I'm sore or hurting a little, but my body felt good today. That extra day of rest Saturday helped a lot," says Neal.
The Orange had Saturday off after playing Pittsburgh this past Friday. SU fell to the Panthers by seven, and dropped to 3-4 on the season. But, as a captain, Moe's message to his teammates has remained constant. 
"I just tell the guys to believe. Like I said [to the team] after practice, man, we've gotta believe. That's what it boils down to. I've been through two 4-8 seasons to a 10-3 season, so I know what it feels like. At the end of the day, you can do all the Xs and Os, but it comes down to who wants it more, and which team believes in one another," Moe stresses. 
Moe was recently elected as one of four team captains for SU, which he appreciatively calls "an honor." However, the road to this point hasn't always been a walk in the park.
Moe hails from Gastonia, North Carolina – a city about 15 minutes outside Charlotte where Neal, and approximately 70,000 others, call home. Growing up in Gastonia, Moe says things certainly did not always come easy.
"It was a struggle," Neal says. 
"I wasn't fortunate to have a lot of things growing up. My parents worked their asses off to provide for me, but it was just a struggle. Just moving place to place early on, from house to house," he adds.
Moe and his family moved around several times within the Gastonia area, and even if conditions were far from ideal, there is no doubt Neal remains unwaveringly loyal to his hometown. Whether it's celebrating touchdowns by throwing up four fingers (like in the picture above) to rep "the 704," or shouting out fellow Charlotte-area athletes on Twitter for their accomplishments, it's obvious that No. 21 does not forget where he comes from. This was also clear when I asked Moe about his music preferences. Immediately, the senior name dropped a pair of prominent North Carolina MCs – DaBaby and Stunna 4 Vegas. 
Back in Gastonia, Moe was the No. 1 athlete in North Carolina for the recruiting class of 2016 (Rivals.com). Ever since his days of dominance at Forestview High School, Neal has rocked the number 21 in tribute to his favorite NFL player, LaDanian Tomlinson. However, being the 704 native he is, Moe admits his childhood loyalty still belonged to the Carolina Panthers. So, with the Panthers currently on a roll behind Kyle Allen at quarterback in-place of the injured Cam Newton, I obviously had to ask Moe what he thought his childhood team should do when the former MVP gets healthy. Let's just say, he had a pretty definitive answer for me.
"We gotta keep Cam, man. He's struggling, but at the end of the day, Cam is a freak," says Neal.
Neal's answer makes perfect sense when the circumstances are considered. As a top recruit coming out of the Charlotte area, Moe is particularly fond of Newton from years past.
"I've seen him [Newton] in high school. I used to go to 7-on-7s and stuff like that. Actually, I was there for his first ever 7-on-7 in Charlotte. My high school came in second-place [in the state] and won $1,500 that year, so it was a great experience. But, seeing the man up-close in-person, he's an animal. Also, I think going into my junior year, I got to see a game. Me and another player from North Carolina got invited to sit in the press box with his family and watch the game," Neal recounted.
That's some pretty cool stuff.
Anyways, Moe's next stop on his journey thus far was to where he is now, the 315. Other than adapting to playing in the ACC straight out of high school, there were a few other things that took some adjusting for Neal after his trek up north. Perhaps one element in particular stands out, which Moe even admits he still hasn't fully adapted to.
"It gets cold in North Carolina, but not like here [in Syracuse]. We get like an inch or two of snow, but the snow up here is different, and it was definitely a big change for me. I feel like I've adjusted well, but I'm still not used to it though," Moe says with a slight grin and wide-open eyes – seemingly in a state of slight disbelief over just how cold and snowy Central New York gets.
Let's just say, Moe probably isn't alone on that one, and he's definitely fortunate that SU plays its home games indoors.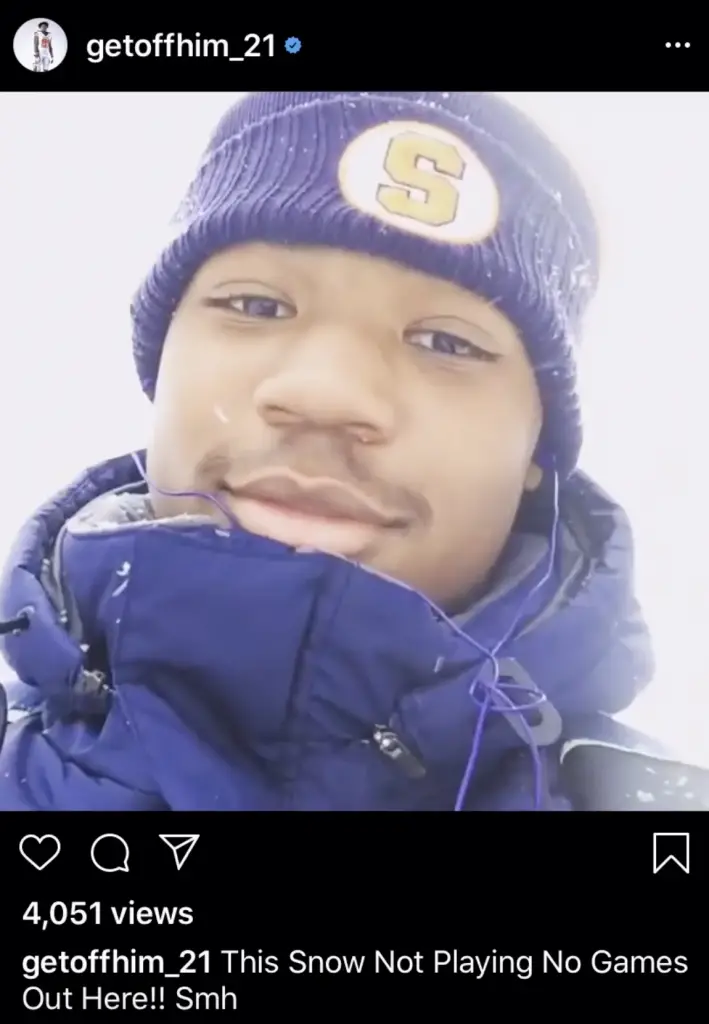 Nevertheless, Moe has certainly made the most of his time in the tundra. In three-and-a-half years at Syracuse, Neal has won a Mark Hoffman Award, never missed a single game and tallied over 2,500 yards from scrimmage, but it's possible that none of those feats are even his most impressive to date. 
Neal has already graduated with a degree in Communication and Rhetorical Studies, doing so last May, and becoming "the first in his family to graduate from a prestigious school." While Moe calls it "relaxing" to no longer have to worry about his studies AND football congruently, he certainly acknowledges that he still has to go grind on the field.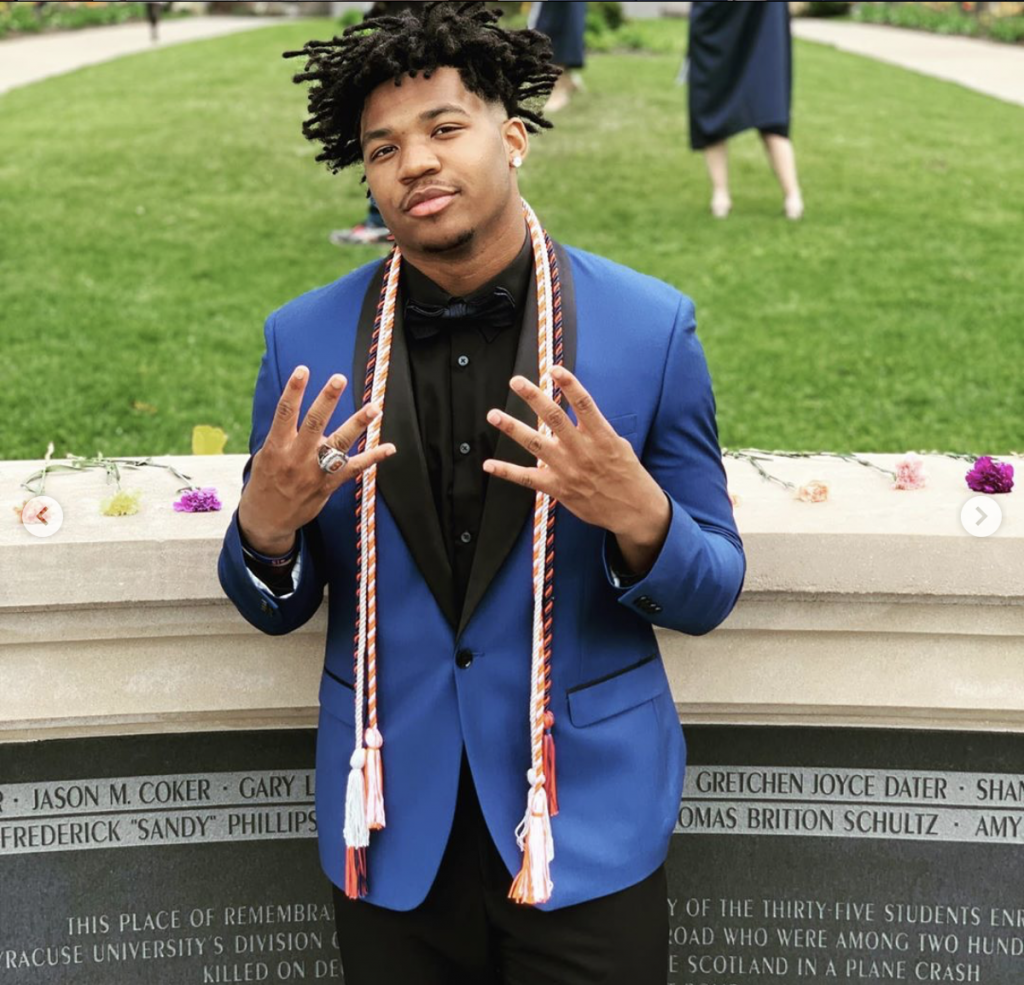 As far as what's next for Moe, well, that depends. After practice on Tuesday, the plan – similar to plenty of other 21-year-olds – was as follows:
"I'll probably go get something to eat. Maybe I'll go out and get something, or cook at home. I definitely might play a game (presumably Madden), or watch a couple shows," says Neal.
On a more serious note though, Moe has his sights set high in the long run, just like any other driven college graduate.
"The ideal situation after this season is to train, wherever that's going to be, and make sure I'm in tip-top shape. Then, put on the best performance I can at the combine, and get drafted," he says.
All told, after already reaching great heights, one thing remains certain. As Moe embarks on the next step of his journey and tries to live out his dream, he will do so with all of Orange nation behind him. But, for right now, it's onto to Florida State.
(adsbygoogle = window.adsbygoogle || []).push({});