Ahead of Syracuse's game against Wake Forest, SU Defensive Lineman Josh Black is headed home after practice to rest up, grab some dinner, but also run a particularly special errand. 
"I gotta run to Walgreens to get some pictures printed out," he says. "I'm doing a little project for my family."
Josh is putting together a collage of photos for his parents, who he says aren't very frequent users of social media. 
"They're a little old-school like that," says Black.
After his trip to Walgreens, Josh – a 2018 All-ACC Honor Roll selection – plans on banging out his calculus homework due tomorrow. Also a member of the SU Athletic Director's Spring '19 Honor Roll as well, Josh attributes his academic success to his parents, Cindy and Leon. 
"It's kinda just the way I was raised. Always do your schoolwork first, and the way I think about it is if you have schoolwork and get it done as early as possible, you have nothing to worry about for the rest of the night," says the redshirt junior.
Josh was raised by his apparently technology-hindered parents outside of Chicago, Illinois in "the 815" where he attended Harlem High School. Before accepting his offer to Syracuse to come wreak havoc on the Orange's defensive line, Black originally starred on the other side of the ball as well, at HHS.
"Freshman year, I played offensive line and defensive line. Sophomore year was strictly offensive line, and then junior year was strictly offensive line [as well]. It's kinda funny because my first Division I scholarship was to play offensive line," says Black.
In addition, Josh says he used to kick and punt for Harlem, which makes sense given his background in sports other than football. 
"I played soccer, like a lot of other kids growing up," Josh says. 
"I played goalie [in soccer] because I was large at that age and the goals weren't really that big, so my wingspan was already covering the entire net. It was around fourth grade when I started playing football," he adds.
Josh says he started playing American football because his older brother played it, which probably ended up working out for the best. He also says his time spent playing offensive line after his switch to football has helped him out in the long run as a D-lineman.
"It's come in handy a lot – thinking one step ahead of them because I know how they're gonna set on me, so it's definitely nice to get that offensive point-of-view," says Black.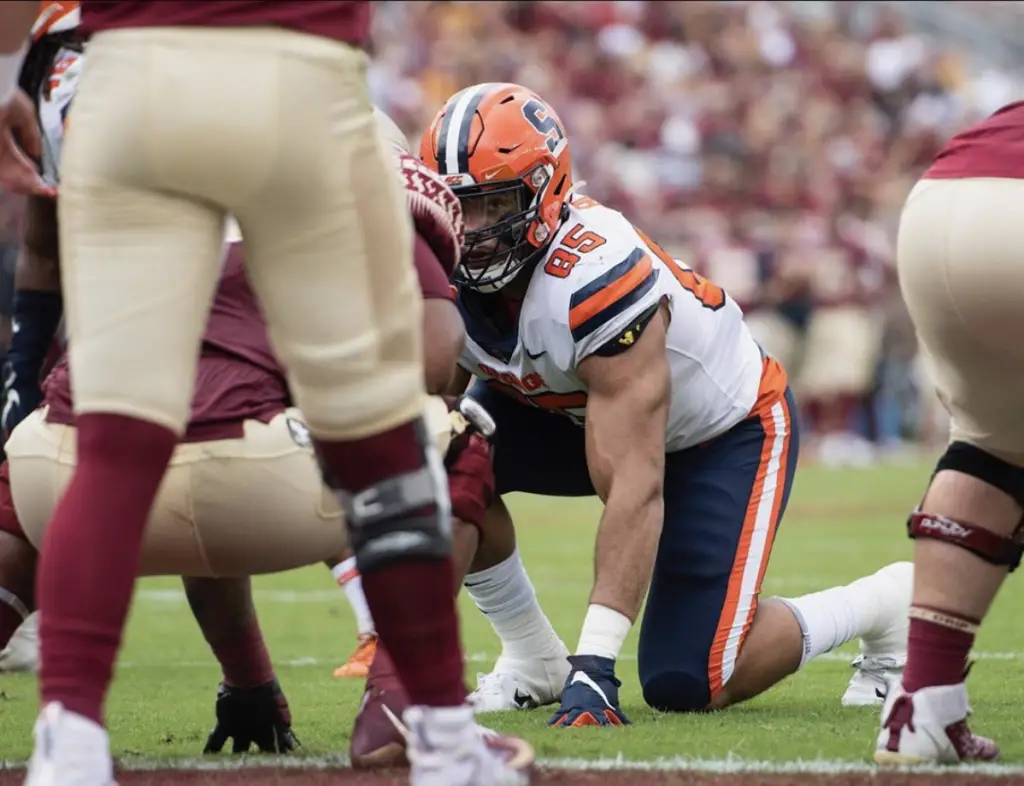 Clearly, the perspective Black gained playing offensive line has translated especially well this season, with Josh ranking third on the Orange in sacks. However, he hasn't reached this point without enduring at least one significant setback while at SU.
In Syracuse's 2017 matchup against LSU, Josh went down with a knee injury that ended his season.
'ÄúIt was definitely kind of a low point because I was like, 'man, why does this have to happen to me?' Like, why me out of all people? I was working hard that summer and felt physically in-shape. I thought I was gonna have a good season, and it just kind of happened. It was a nagging injury that finally suffered its final blow,'Äù says Black.
However, Josh says there was silver lining to be discovered in the midst of hardship.
"I also took [the injury] as a blessing. It was a blessing to kinda reflect on myself and say 'what more could I have done before that point?' I also used the whole year to gain a lot more knowledge about the game itself. Just watching everything, you start to understand the entire defense and the assignments you're doing. It's really interesting to get back and watch, and when I was rehabbing, we were doing a lot of technique work and were able to kinda hone those little fine skills. That was definitely a time of being low, but also looking back at that whole year, it got me so much better," Josh says.
Josh certainly wasn't shy to praise the Syracuse coaching staff either, who he attributes heavily in getting him back on the field and better than ever. He even refers to the strength and conditioning team at SU as an "inspiration," being that he may very well want to enter that field of work in the future someday.
"I'm a big fitness guy," says Black.
"My major is health and exercise science, and I aspire to be a college strength and conditioning coach. That's something I take pride in, and I just love being around athletes all the time. I love seeing people get stronger, and I feel like that's perfect for what I do because I love it. If I land a job like that, it wouldn't even feel like a job. Having great strength and conditioning coaches here [at SU], they've kind of been my inspiration. They talk to me all about the sciences behind why we do certain lifts as opposed to other things," he adds.
Josh even goes as far to say that fitness training is probably the one thing outside of playing football, which excites him the most. Now, that sounds like a player who is pretty driven.
However, outside of just football and fitness, Josh – like almost anyone else – enjoys a plethora of other things as well. For one, he's a big Netflix and horror movie guy, which shows in his impassioned love for the show Breaking Bad. In fact, he's currently re-watching it for the second time.
"I love being on the edge of my seat, being like 'oh, what's gonna happen next?' I like having that adrenaline also," Josh says.
It would also be foolish to not mention his girlfriend, Juliet, a recent SU grad now living out in Los Angeles. Josh went across the country to pay her a visit this past summer, which he says was the first time he'd ever been out to California.
"Oh, it was great," Josh says with a smile almost as big as the circumference of his biceps.
"It was actually my first time out there. My girlfriend moved out there because she got a job out there in Brentwood, so I went to go visit her for the Fourth of July because we don't really get to see each other now. We kinda have to plan our trips accordingly, but you know, we're dealing with the distance just fine," Josh adds.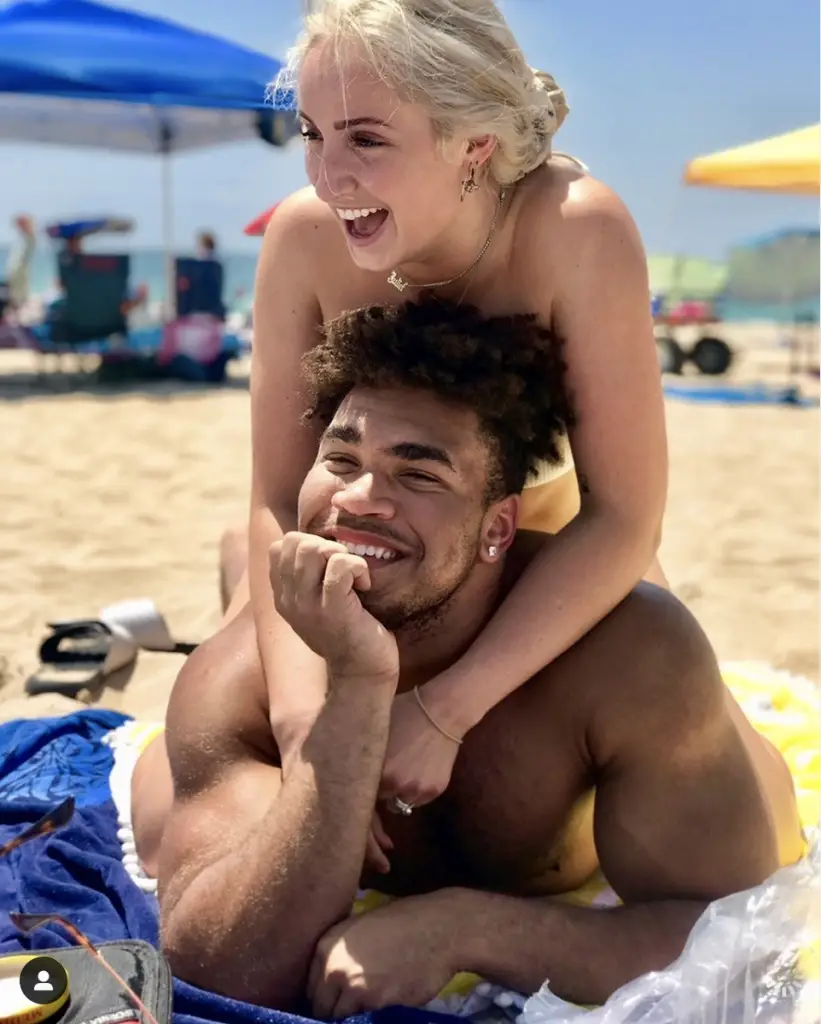 Josh also says he has plans to go back out to California in January, but until then, the focus is finishing off the season strong against Wake Forest (which the Orange just did, 39-30). Afterwards, Black has another year of eligibility because of his medical redshirt in 2017, but being the well put-together student-athlete he is, Josh rightfully isn't too worried about what his future holds.
"For plan A, I'm never opposed to playing football in the NFL because that's obviously the goal right now, but sometimes we've got to be realistic with ourselves, you know? If that doesn't work out for me, I'm not going to be bummed. It's not the end of the world by any means. I've just gotta move on with it, and then I'm going to try to become a strength and conditioning coach somewhere. I'll try and find somewhere to be a graduate assistant or an intern, and get my foot in the door," says Black. 
Being the outgoing, charismatic young man he is, it's certainly easy to root for Josh on his journey. In the meantime, after an underwhelming season for Syracuse, fans of the Orange will be able to fall back on the fact that the redshirt junior returns for another season in 2020.
(adsbygoogle = window.adsbygoogle || []).push({});