In 44 years as Syracuse's Head Coach Jim Boeheim has never started a season 4-4 through the first eight games. This year is special and not in a good way. The Orange currently hold the longest active record for consecutive winning seasons with 49, but big ole 5-0 is in jeopardy. The season started horribly with a blowout loss to Virginia. Then there was some hope as SU rattled off four straight wins in convincing fashion. Now, in the midst of a three-game losing streak, the future doesn't look too bright. Syracuse needs to figure it out and do it fast because a tough ACC slate is just around the corner.
SU's next test comes in the form of Georgia Tech. The Yellow Jackets host the Orange this Saturday at noon. GT heads into the game 4-2 on the season with wins over NC State, Elon, Bethune-Cookman and Nebraska. Two of those games were decided by two points or less. So, Georgia Tech isn't the most menacing of opponents, but they have beaten Syracuse six of the 11 meetings. With what seems to be a down year for the Orange, the Yellow Jackets could pose a threat.
In order to fully get to know Syracuse's opposition, you have to understand the 1-3-1 zone. Georgia Tech employs it and uses it to stifle offenses. It's so effective that GT ranks eighth in the country in field goal percentage defense. Opposing teams are shooting only 35% from the field against them. The zone allows pressure to be put on the ball up top, while also holding a strong line across the free throw line and having a big man protecting the rim.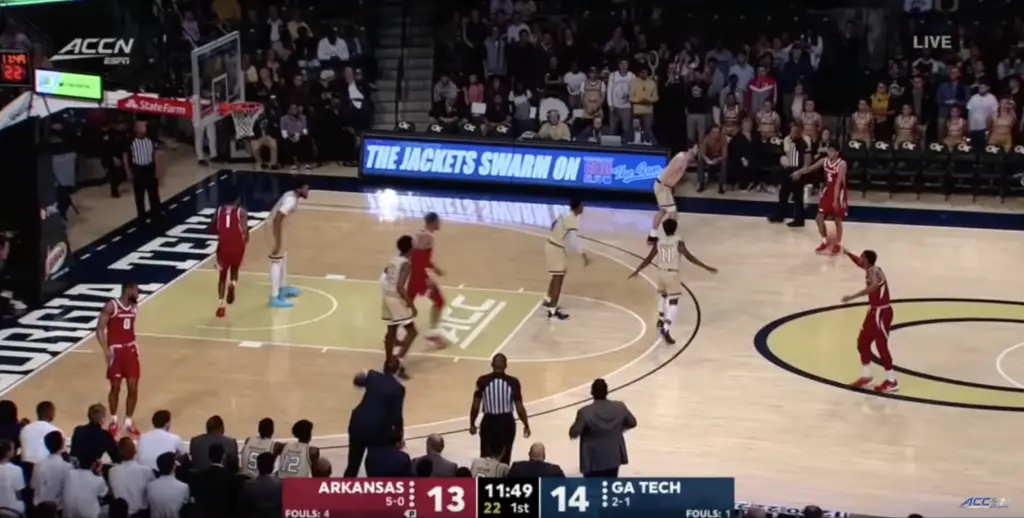 There are a few ways to beat Georgia Tech's zone. The first is to simply hit shots. If Syracuse can put together a good shooting night and knock down their looks from deep, the Yellow Jackets will have a long game. Another way is to penetrate and find the soft spots in the zone. Driving and using the dribble is something SU has struggled with this season, but the 1-3-1 zone allows for a lot of open area in the midrange.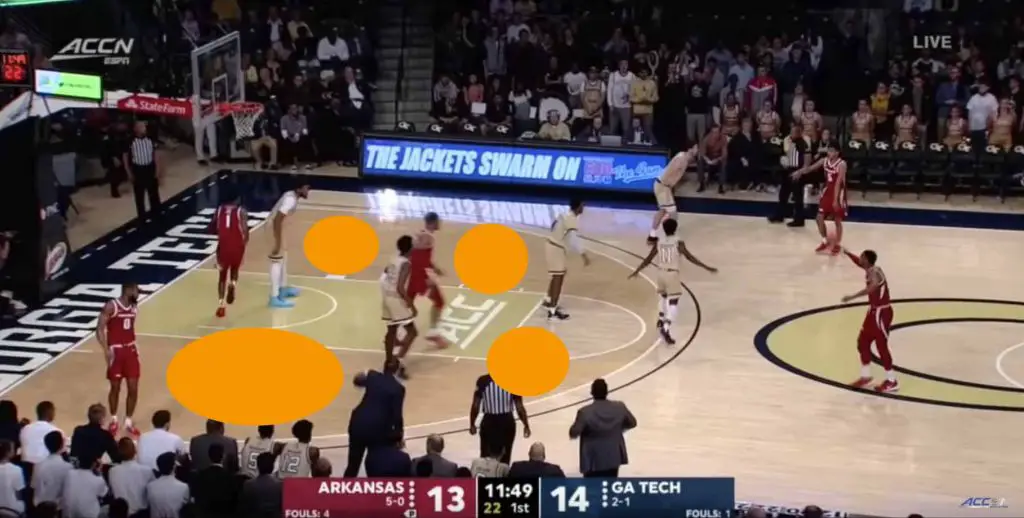 So, if they can work the ball into those spots and play high-low ball with Marek Dolezaj and Bourama Sidibe, they'll be able to score.
That's Georgia tech's defense, now let's get to know the Yellow Jackets. They are led by guard Michael Devoe. The sophomore is averaging 24 points and 3 assists per game. He can score from wherever he wants to. Devoe has a nice stroke from deep, is shifty with the dribble and can get to the basket, or can pull up from midrange with a plethora of floaters at different angles in his arsenal. He's a dangerous player that poses a serious threat to Syracuse's defense.
With the next two guys, you can't talk about one without the other. They're the big men down lowРJames Banks III and Moses Wright. Banks is tallying 12 points and 10 rebounds per game, while Wright averages 11 points and 8 boards. They form a one-two punch below the basket that Syracuse really cannot match. The duo crash the glass hard and already have a litany of highlight reel put-backs this year. The Orange have struggled against good big men so far, which could lead to Banks and Wright having a very good day.
The one player Syracuse won't have to worry about is Jose Alvarado. The junior guard is out due to a high ankle sprain he suffered during practice in early November. Alvarado averaged 12 points and 4 rebounds per game last year.
Finally, there's the coachРJosh Pastner. He's been at the helm at Georgia Tech since 2016, and before that he was the Head Coach at Memphis for seven years. There he led the Tigers to five postseason berths. He was recognized as the ACC Coach of the Year in 2017. Pastner is a young, innovative mind that is turning GT's program around.
Georgia Tech might not be up to the caliber of the other ACC teams, but they're no pushover. The Yellow Jackets could be an issue for the Orange, especially if SU continues to struggle with hitting their shots.
Syracuse and Georgia Tech square off Saturday, December 7, at 12 PM. The game will be broadcasted on ACC Network.
(adsbygoogle = window.adsbygoogle || []).push({});