The latest news is no news, which is good news for Syracuse fans. The major Bracketology projections still have SU in the Field of 68. Georgetown and Oregon State though, didn't help matters. The Hoyas stunning run through the Big East Tourney locked them into an automatic berth, robbing an at-large from another team. Creighton was going to get a bid no matter what, so Georgetown's win wasn't good for business. Once again, reason to hate the Hoyas.
The same was true late last night for Oregon State. By beating Colorado (perhaps a Round of 64 opponent for SU) to clinch the Pac-12 Tournament, another at-large bid got snatched off the table. ESPN has both the Hoyas and Beavers as 12-seeds, remarkably low for high-major conference winners, but good context for how bubblicious they both are. Those two wins may have locked the Orange into a First Four matchup. Here's where SU is currently projected:
ESPN has SU on the top line for the Last Four In, so think of them as the 65th team in the field, still comfortably in the Group of 68. In this mock bracket the Orange take on Drake as 11-seeds in the First Four, winner getting 6-seed BYU.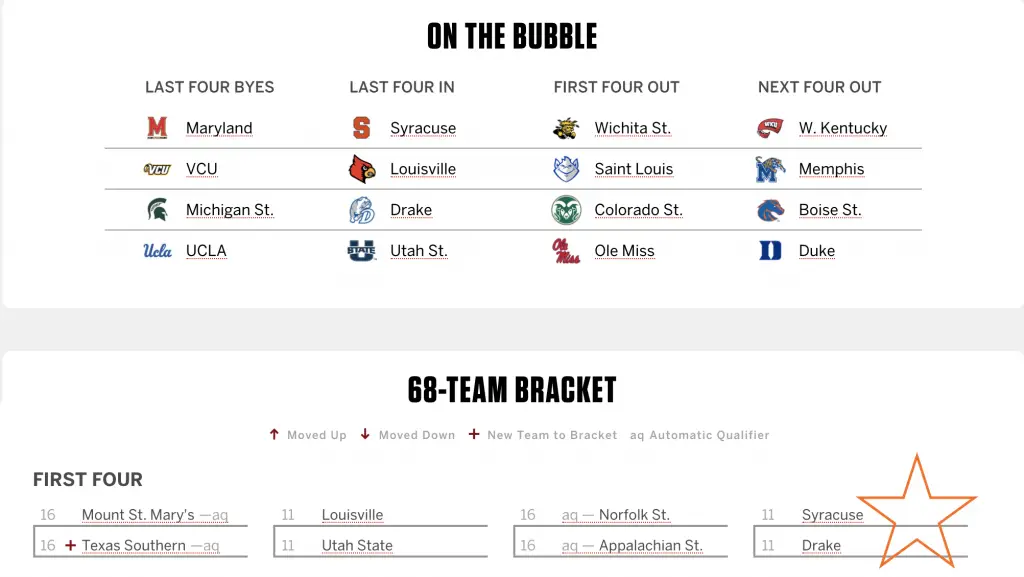 CBS Sports also has Syracuse in the First Four taking on Wichita State. Jerry Palm slots SU in as the second team in the "Final Four In," essentially making them #66. In this bracket the winner of the Orange/Shockers game would take on either Clemson or Creighton in the 6-11 matchup.
The good news is Syracuse appears solidly in the Big Dance as The Fizz projected before the weekend. The bad news is it appears the possibility of avoiding the First Four may have vanished.
(adsbygoogle = window.adsbygoogle || []).push({});