Oh, the fun we will have. A rollercoaster season continues for Syracuse hoops. Just days ago an embarrassing loss left the Orange looking meek and feeble heading into March. If they couldn't avoid getting lambasted by a mediocre Duke team, when in search of quality wins, what chance did they have at an NCAA Tournament slot?
Fast forward to this morning and there's a totally different feel. Wins over UNC and Clemson to finish out the regular season, plus some opportune losses by teams slightly ahead of them in the rankings, means SU has some real hope heading into the ACC Tourney. ESPN's Bracketology has SU as the 2nd team in the "First Four Out," meaning the Orange are basically #70 in a 68-team field.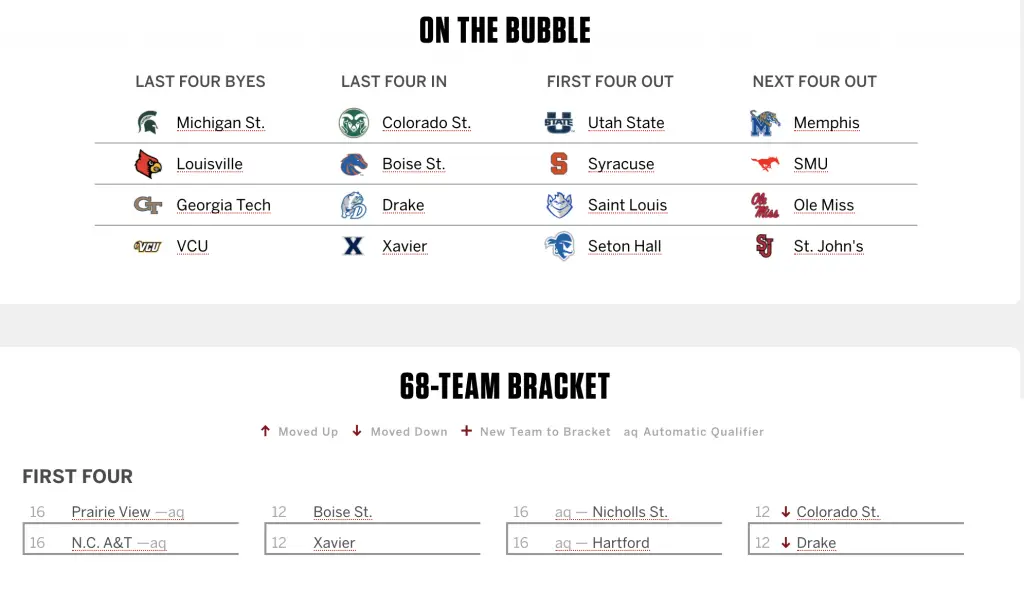 First up is NC State, a team Syracuse has beaten twice this year, but is also on a 5-game win streak of their own. SU must beat the Wolfpack to add to their resume. A loss on Wednesday would doom their chances. A victory after that against UVA would almost certainly push the Orange in, but first they need to take care of bsuiness against NC State.
SU fans should watch Utah State and the rest of the Mountain West tourney. The Aggies are the first in the First Four Out. Utah State earned the No. 2 seed and a first-round bye in Vegas. They'll take on the winner of UNLV-Air Force on Thursday.
Colorado State (3-seed) and Boise State (4-seed) will also play in the Mountain West Tournament. Both those teams are two of the "Last Four In." If any of these teams lose in their opening games, and Syracuse beats NC State, it opens the door for the Orange.
Another team to wonder about is Drake. They fell in the Missouri Valley title game to Loyola-Chicago, so Drake has to await its fate. With more work to do in Greensboro, could SU push past an idle Drake?
"This team more than deserves it," coach Drake head coach Darian DeVries said.¬†"Their body of work throughout the year is really impressive. If you look at the Quad 1 and Quad 2 (games), they'Äôre 6-2 right now in that category.¬†
The hand of fate has helped clear a few teams ahead of SU (at the moment), opening a path to slide into the bracket. Let's see if the hot hand continues this week.
(adsbygoogle = window.adsbygoogle || []).push({});