Syracuse Men's Basketball has a unique challenge on its hands when it comes to the Second Round of the ACC Tournament. The Orange are pitted against the Wolfpack of NC State, which makes it the third time these teams have met this season. First, Syracuse took down NC State 76-73 at home on January 31, then nine days later the Orange bested the Wolfpack again, that time in Raleigh.
Now, it's not crazy to see two teams go head to head three times in a season. With the way the ACC sets up its conference schedule, SU usually plays most conference opponents twice in the regular season, only with a couple of exceptions. So, depending on the seeding in the ACC and NCAA tournaments, you could see a team for a third time. This year, it just so happens to be NC State who Syracuse can't get away from.
There is a common saying in the college basketball worldР"beat a team three times is almost impossible." While the sentiment may be true and the law of averages says that makes sense, that saying is actually not correct in actuality. Let's take a look at the numbers, with a special thank you to Jordan Sperber of Hoop Vision for supplying them.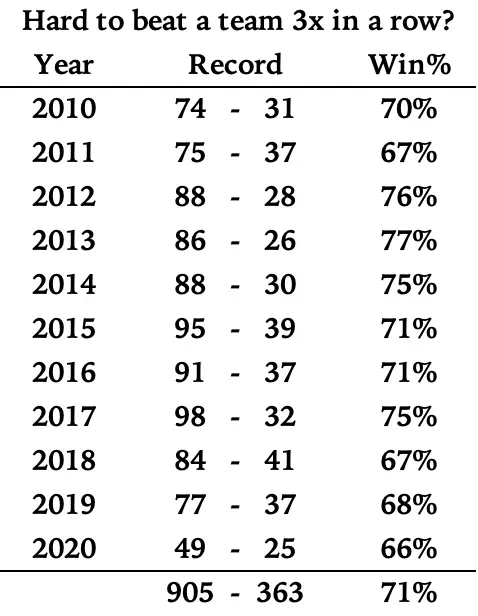 Numbers don't lie. A team that has already beaten another team twice in a season is actually very likely to win for a third time. Over the last ten years, 71% of the time the winning team completes the sweep. With some simple math, that means only 29% of the time does the series end 2-1 after being 2-0.
Now looking at Syracuse specifically, the Orange have a pretty good track record when being up 2-0. Since joining the Big East in 1979, SU has been in this situation 19 times. Cuse holds a 14-5 record when playing a team for the third time after sweeping the first two. Most recently, Syracuse beat Pittsburgh thrice in the 2018-2019 season.
So, is it impossible to beat a team three times in a season? No. Is it easy to do? Also no. NC State is a good team, but Syracuse has history on its side and has momentum on its back.
(adsbygoogle = window.adsbygoogle || []).push({});