We talked earlier this week here on the Fizz about Syracuse's struggles to compete when it comes to recruiting in the ACC. In case you missed that piece, it can be summed up in one sentence. The Orange have NEVER had a recruiting class finish inside the top 10 in the Atlantic Coast Conference. Ever wonder why SU is more often than not finishing at tenth or worse year after year? That's why. 
Today we'll continue to explore why this is happening by reviewing another horrific truth. Syracuse has done a very poor job recruiting in-state. Let's address the disclaimer right now though. This article touches on RECRUITING specifically. This is not about the coaches, the record on the field, or the fact that the weather sucks in Central New York. 
Yeah, obviously a prospect would rather play at Penn State and have a chance at a Rose Bowl versus Syracuse where a trip to the Pinstripe Bowl should require a parade. In addition, if a player had a choice between the 100 degree weather down at UCF versus the snow everyday between November and April of SU, of course they'd take the former every day of the week. 
Leave your theories about Dino Babers, the weather, and whatever else at the door. If you want to learn about the recent history of Syracuse and recruiting in the Empire State, then stay right here.  
We hate to steal SU's recent thunder on the recruiting trail. If you missed it the Orange added two verbal commitments from a pair of Florida prospects. Three stars Jeremiah Wilson and Mekhi Mason pledged to SU. Wilson is a cornerback that had some power five offers, but more group of five offers. Mason was a big get as he had blue bloods all over him on the trail and could've picked several great landing spots.
Today though we travel back north to New York. Admittedly, anytime SU could get a Florida high school football player to commit, it should take it. However, that doesn't mean you shouldn't recruit in your home state (like at all).  
Sandwiched between the pair of Syracuse commitments was news that probably got lost in the shuffle, but is very critical. Bronx, NY native Henry Belin IV was a long-time SU target on the recruiting trail and was believed to be a future Orange. Well two days ago he just committed to Dave Cutcliffe and Duke instead. 
Now that's not a 9-1-1 emergency situation because SU has a pretty packed quarterback room with young talent in true freshman Justin Lamson, and redshirt-freshmen Jacobian Morgan and Dillon Markiewicz. However, this is just another volume of the growing saga that demonstrates how poor of a job Syracuse has done recruiting in-state. 
Look, this isn't Florida where you have the Gators, the Seminoles, the Golden Knights, the Hurricanes, and even the Bulls. Not to mention, the myriad of other blue bloods invading the borderlines and plucking talent from the state. No this is Syracuse we're talking about in the state of New York.
How many college football teams can you name in the Empire State besides SU? Turns out there's several of them but none can compete with the combination of athletics and academics at Syracuse. If you go to the Loud House, the Orange are branded as "New York's College Team." So if the 315 is THE place to be if you want to play college ball in the Empire State, where is all this talent going? Because it's clearly not in CNY.  
Here's a look at the top in-state recruits since 2013 courtesy of 247sports.com: 
2013: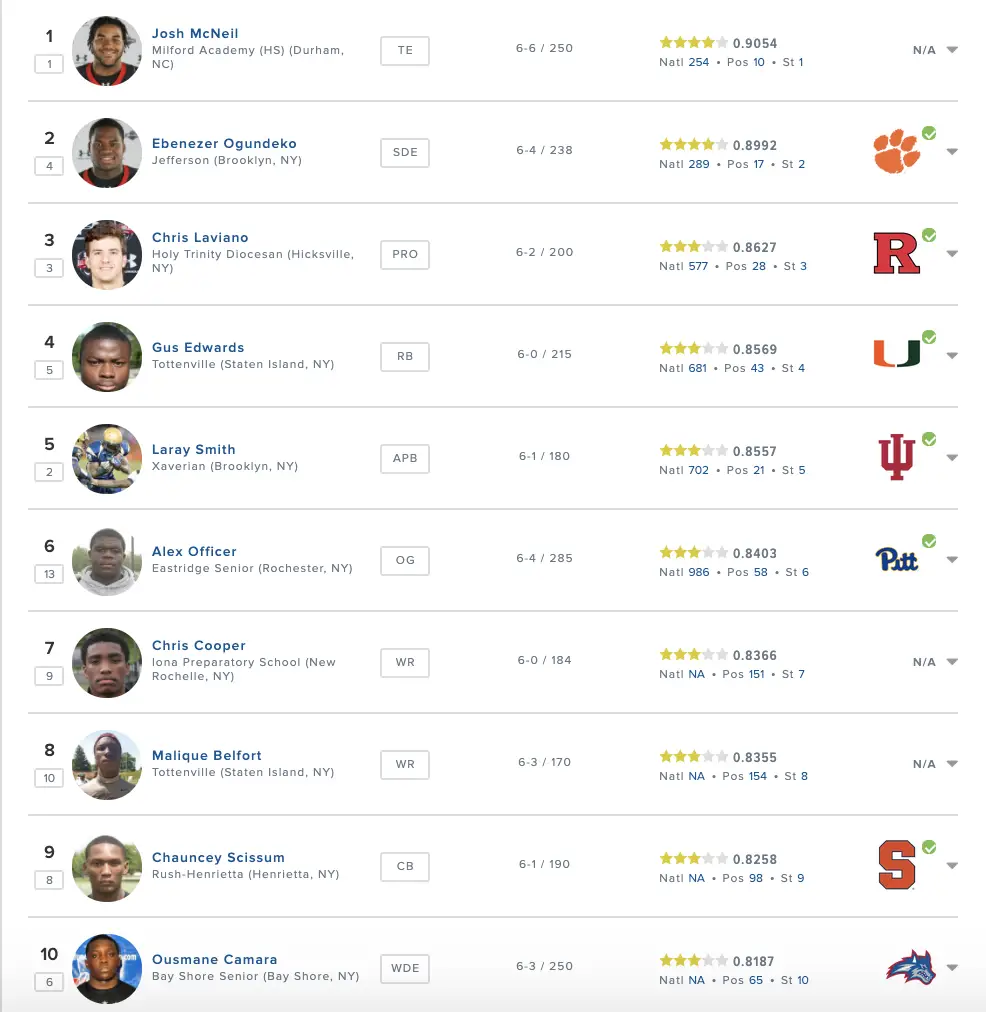 2014: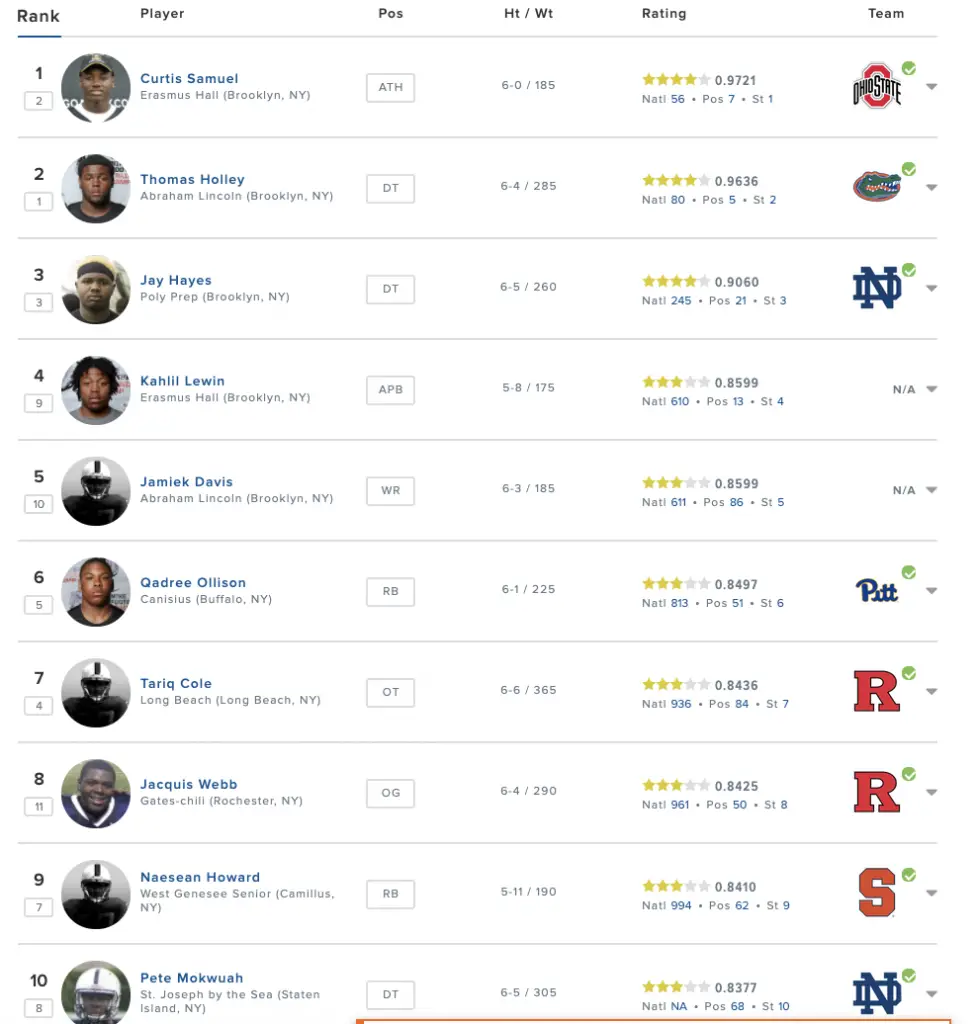 2015: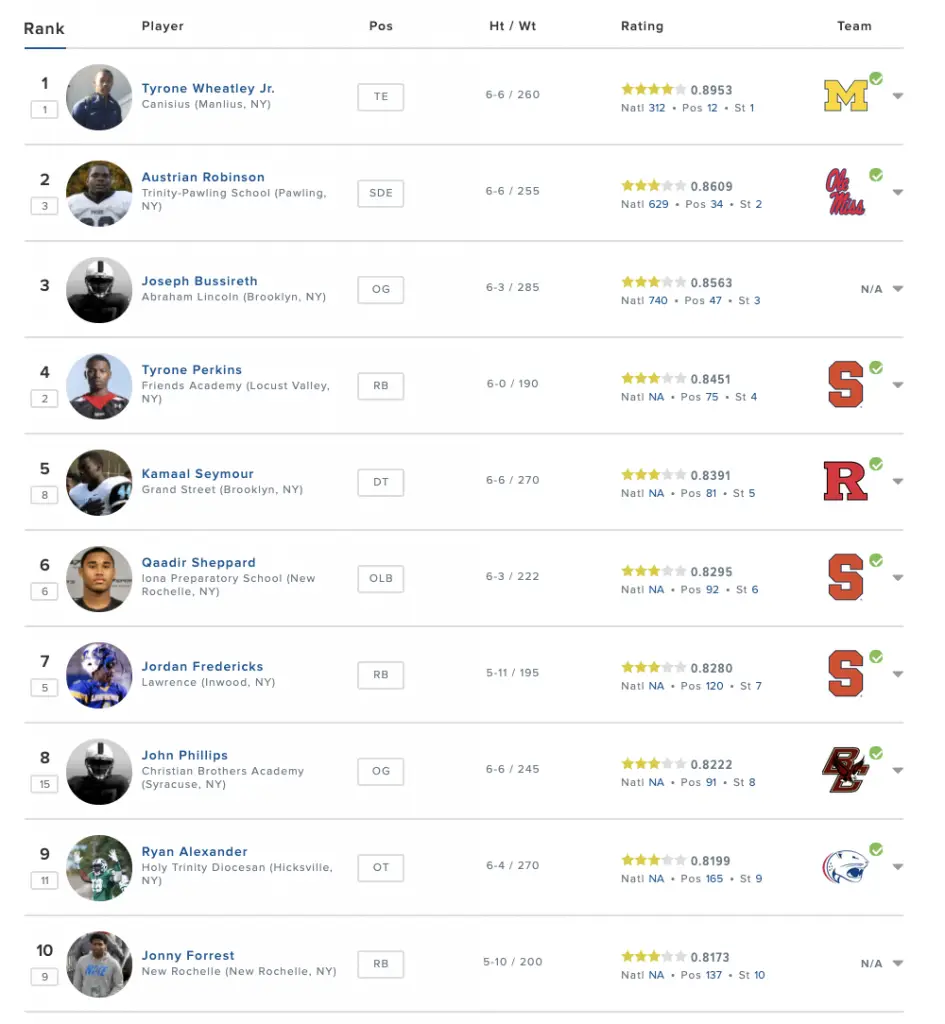 2016: 
2017: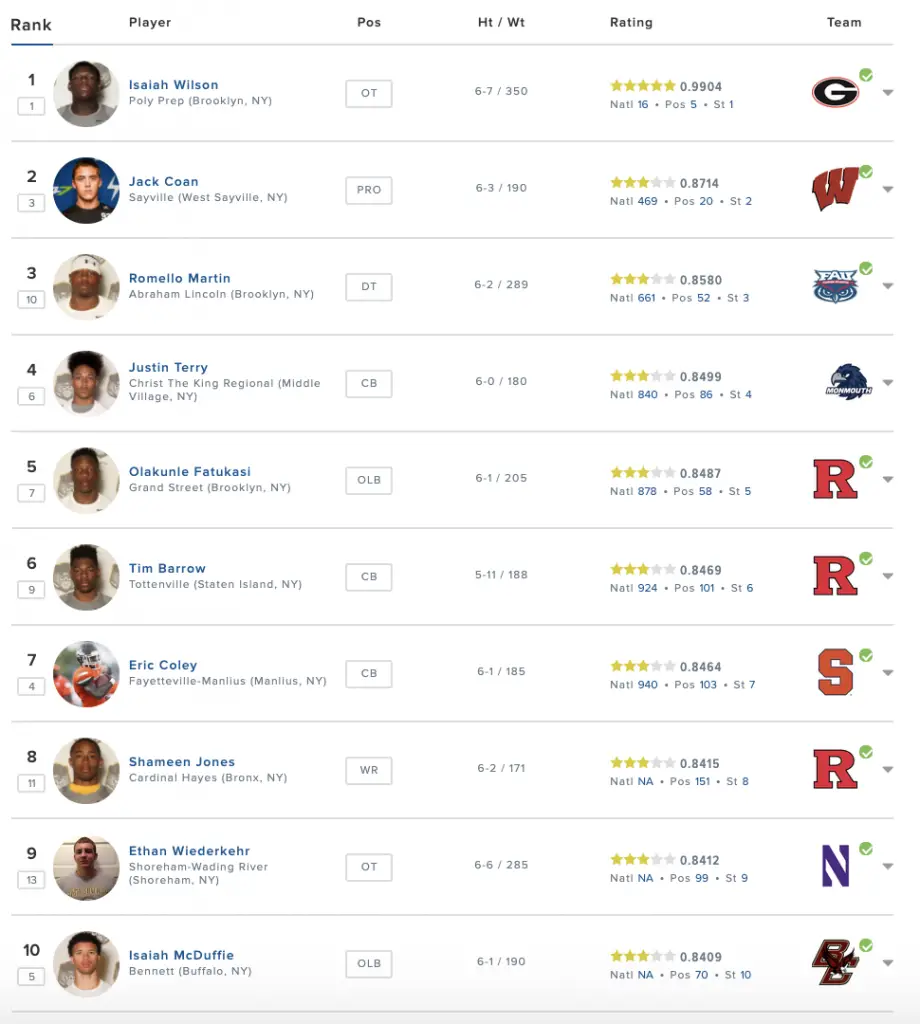 2018: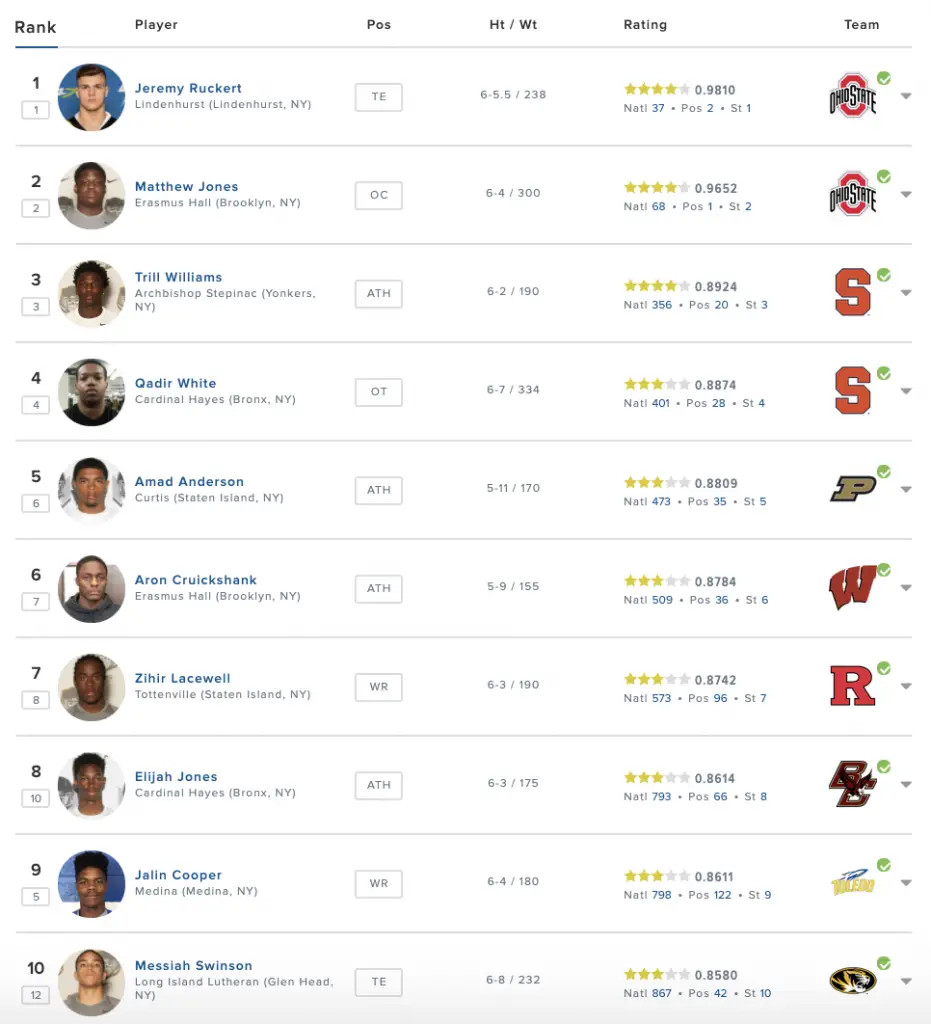 2019: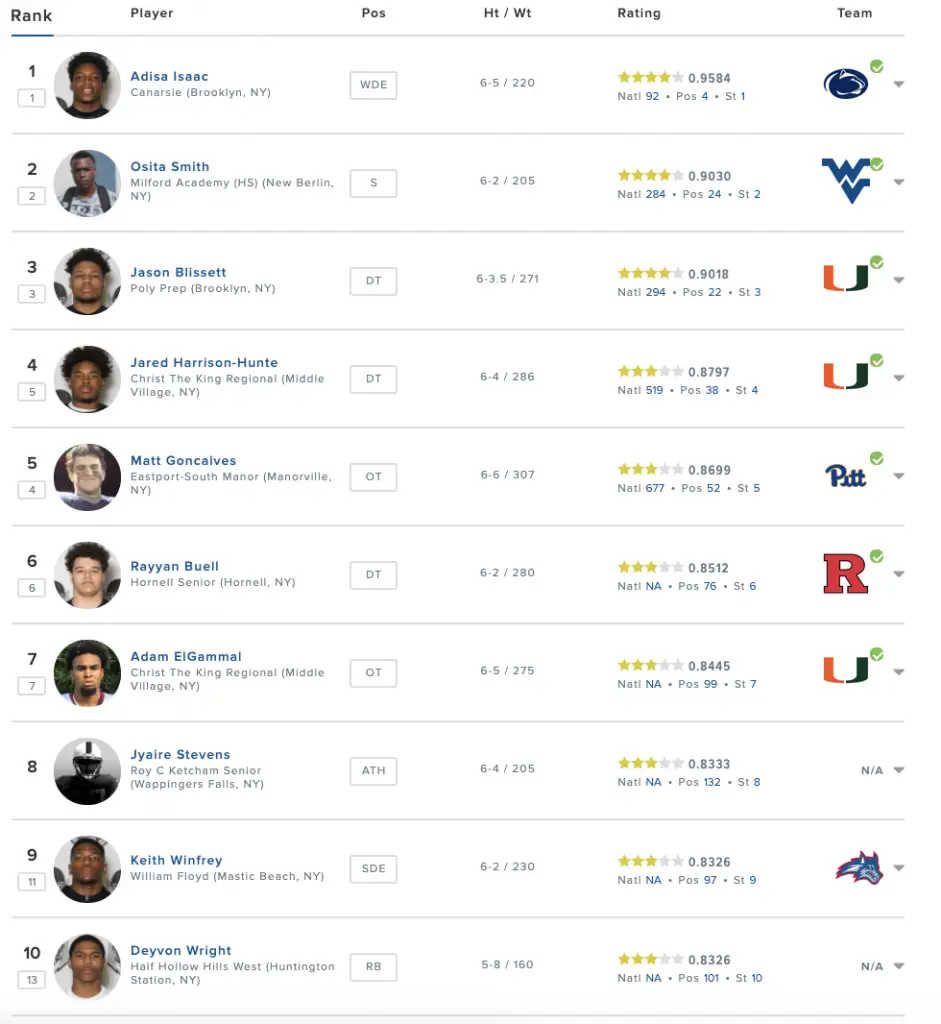 2020: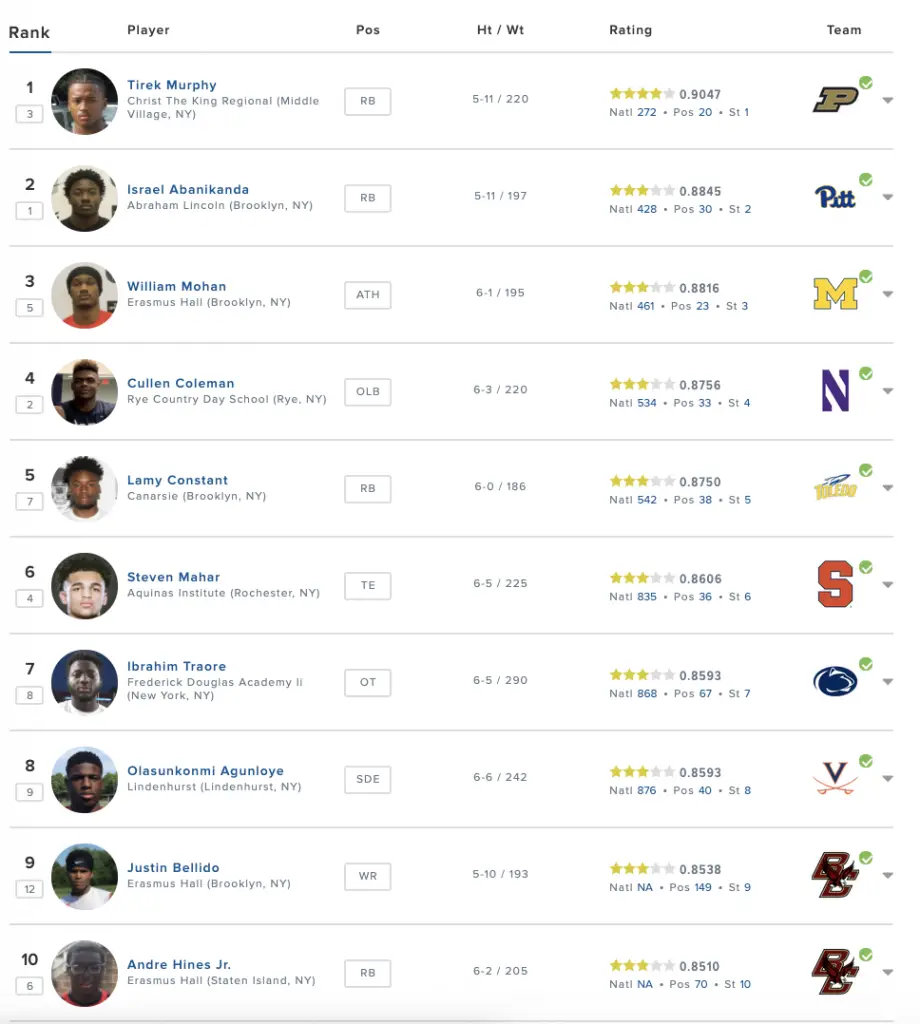 2021: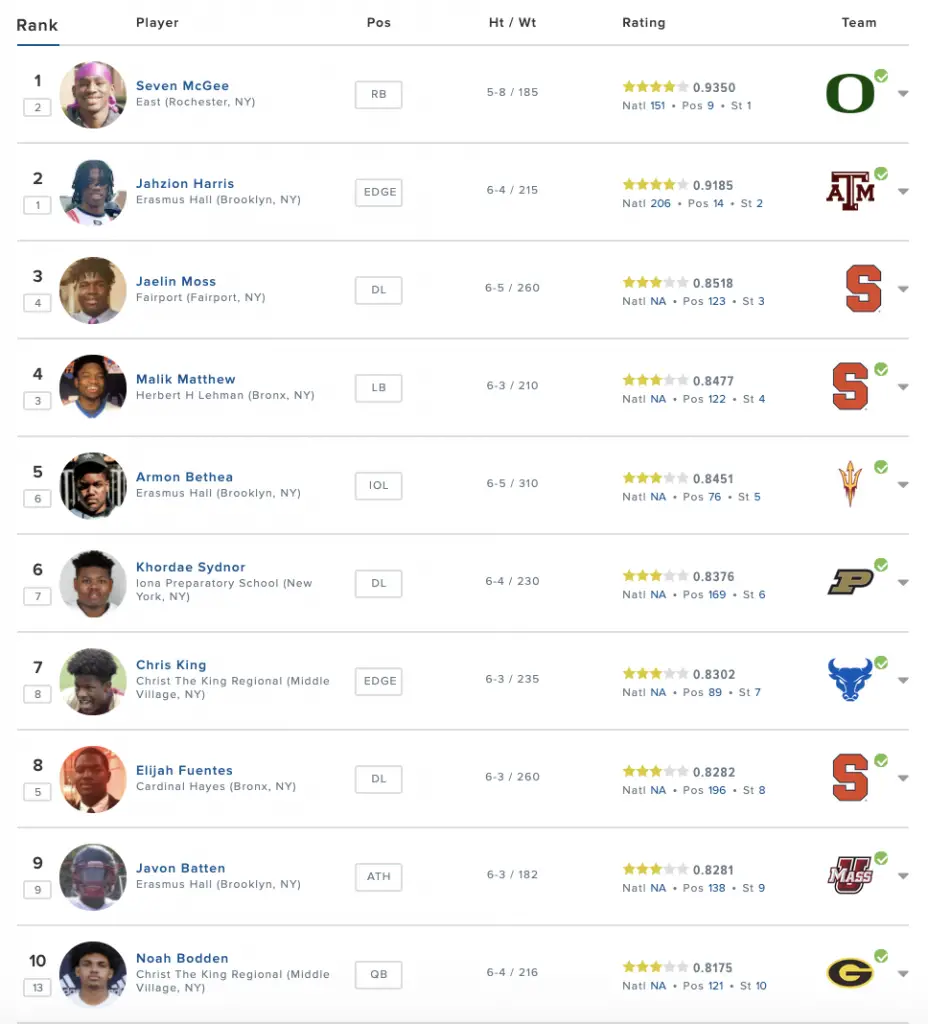 So there's some common themes that you'll see by looking at these top 10 rankings over the last eight or nine cycles. SU has had just one single in-state four star sign on with the program. That was Trill Williams as my colleague Ian Unsworth pointed out yesterday.
SYRACUSE HAS SIGNED JUST 12 IN-STATE RECRUITS IN THE LAST NINE CYCLES. Are you kidding me? That's 12 out of 90 prospects. Again we're only judging the top 10 because New York isn't absolutely loaded with talent. Guys outside the top ten are almost always choosing FCS or G5 schools.
But that's just unfathomable. There's already a limited sample size to begin with, but Syracuse can't even keep the talent that is in the Empire State, home!
Okay, okay stop typing right now. I know you're about to fire a flaming hot comment down below but don't. We aren't here to tell you that Syracuse should be competing with the Ohio State's, Georgia's, and Notre Dame's of the world.
We are here to tell you that there's no way Syracuse should be getting out-recruited by the Pittsburgh's, Rutgers', and Purdue's of the world. Hell, take a look at the 2016 cycle. Yes, we understand it was Dino Babers' transition class but you lost the #4 ranked NY prospect to Delaware…. huh?!
The two classes that stick out are that 2016 class and 2020. As you can see, SU didn't sign a single prospect from the Empire State in either of those cycles. That just can't happen.
Additionally, SU failed to sign a top five prospect in six of the nine classes shown above. Again that simply cannot happen to a program that is branded as "New York's College Team."
This trend is continuing into 2022, here's a peek.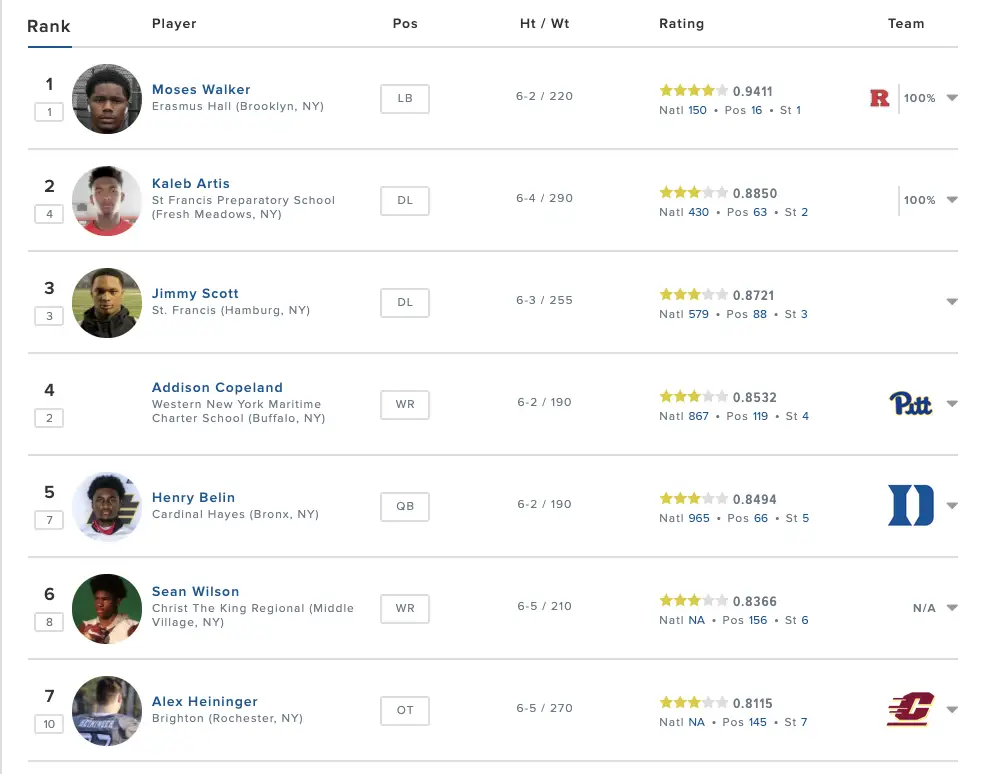 It appears that the cupboard is dry in terms of talent in NY but Syracuse isn't playing a factor in ANY of these recruitments right now. How about that too, the #1 prospect is trending to Rutgers, the #4 recruit is verbally committed to Pitt, and as we said Belin just chose Duke over SU.
This is another horrific look at the dismal job Syracuse has done recruiting in-state ever since it joined the ACC. Want to break the trend and sign a top ten class in your conference? Recruit New York harder. Want to compete for bowl games season after season? Recruit New York harder. Want to be the premiere program in the northeast? Recruit New York harder.
(adsbygoogle = window.adsbygoogle || []).push({});