Syracuse hushed some critics last night with its 29-0 blanking of Ohio. It was SU domination from start to finish on both sides of the ball and it could've been a whole lot worse. The offense moved the ball well, some young receivers had breakout performances, and the offensive line actually provided some protection.
Not to mention the 'Cuse defense got stop after stop and blanked the Bobcats. The performance marks the first shutout by a Syracuse defense since the 2015 season opener against Rhode Island. How about that for progress under second year defensive coordinator Tony White.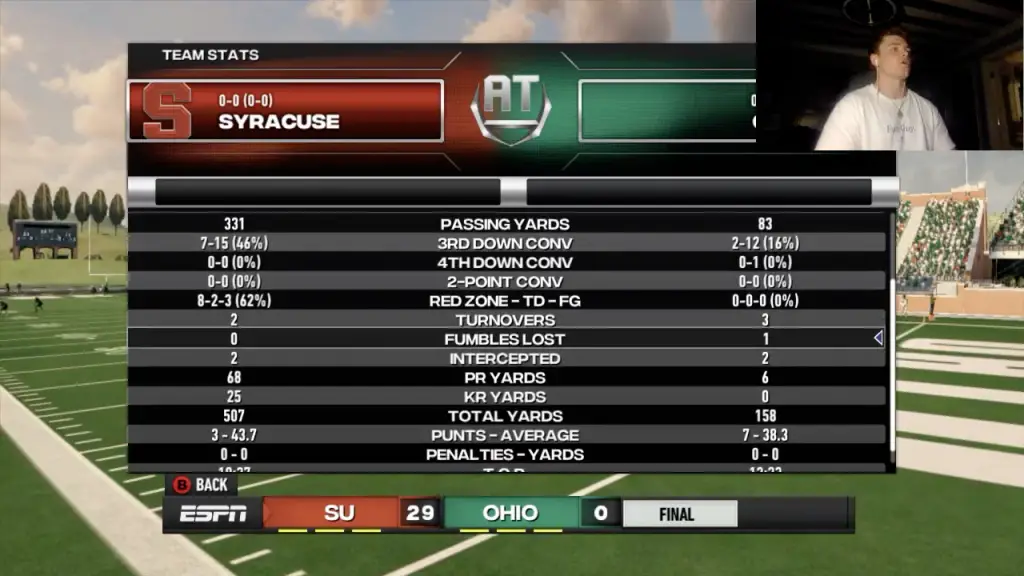 Many preseason pundits expected the Orange to be heavily tested in Athens, Ohio. Most people considered this game a toss up when it came to lodging predictions. Instead the final score reads a four possession differential and it could've been as many as eight. 
If you missed the game you can watch the replay by clicking this link. Be sure to like the video, subscribe to the channel, and turn on post notifications so you don't miss our next stream on Friday night.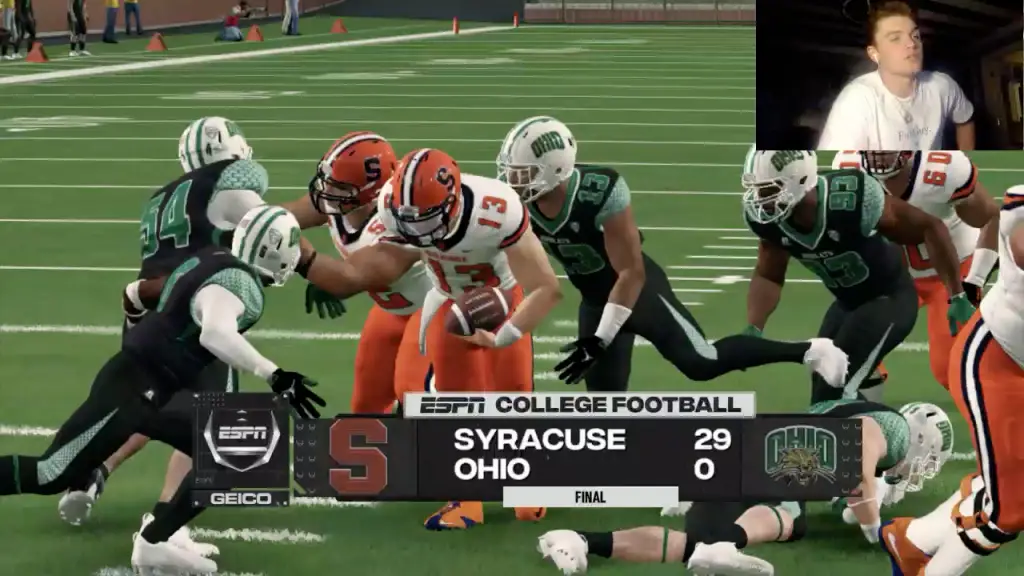 POSITION GROUP REPORT CARD:
Quarterback: A- 
Tommy DeVito played his best game in a Syracuse uniform. He created drives and extended them with clutch throws in third down situations and made more good decisions than bad. His final stat line reads 26/33, 331 yards, and one touchdown to two interceptions. The only thing keeping his grade from an A+ was the two red zone picks he threw. 
DeVito needs to stray away from forcing the ball in double and triple coverage. Now that he has some time in the pocket, he'll need to be smart and utilize his reads and progressions. The former four-star recruit also had a rushing touchdown early in the contest but ended up on the negative side of things due to being sacked five times. 
Running Back: B 
Sean Tucker was the main ball carrier all night. Jarveon Howard checked into the contest on mop up duty. The rising sophomore took 15 carries for 71 yards with an average of 4.7 per carry. Tucker racked up 20 yards after contact and had a few big hitters. All in all he did what he could with the opportunities allotted but hopefully he gets more chances going forward. The Maryland native also caught five passes for 22 yards and picked up some big first downs as a receiver early in the game. 
Receivers: A+ 
This group returned a majority of its production on the outside from 2020. Nykeim Johnson was the lone significant departure. In his place Courtney Jackson stepped up. The redshirt-sophomore shattered his career marks and led SU with nine catches for 108 yards. Ohio simply had no answers for 85 in white and he exposed the Bobcat defensive backs all evening. 
Anthony Queeley also had a career day with five receptions for 94 yards and a touchdown. The redshirt-junior is supposed to be the number two option at wideout behind Taj Harris but he certainly looked like the alpha in the room last night.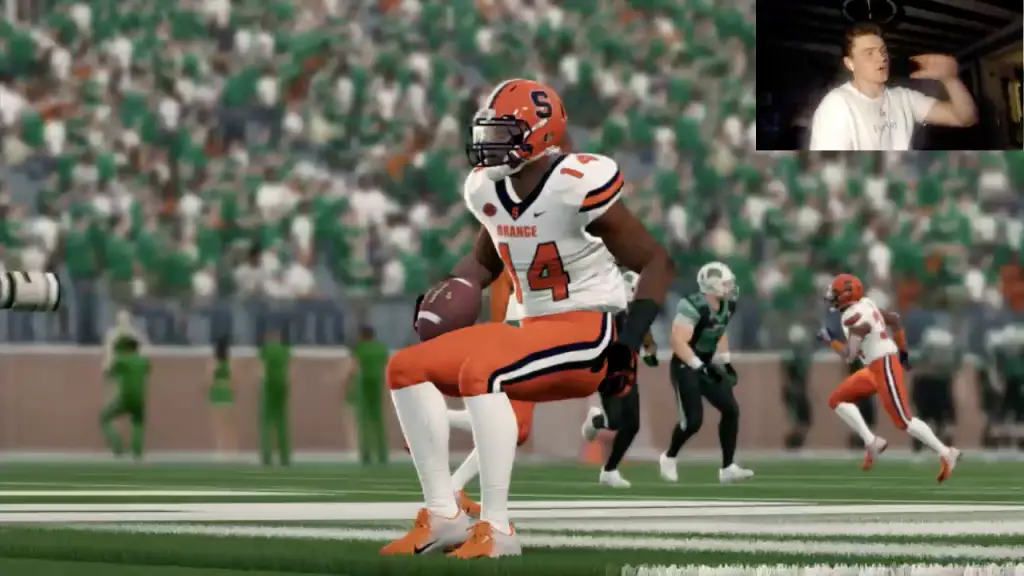 Ja'vontae Williams and Damien Alford provided a lift at various moments as well. Williams had two catches for 58 yards. Alford recorded a pair of snags for 23 yards and should continue to see his role grow as the season progresses. True freshman end Landon Morris provided the only receiving contribution in terms of tight end production. The Illinois native caught one pass for six yards. 
Offensive Line: C+ 
The front five was serviceable. At times the protection was dominant and DeVito had all day in the pocket to deliver strikes. At others, the protection broke down and individual players lost their matchups. Ohio defensive end Bryce Dugan gave Aaron Servais a tough time off the right edge. He sacked DeVito three times and was a major disruption. We need to see more consistency from this unit going forward but that was the best that the offensive line has looked since 2018 despite allowing five sacks.  
Defensive Line: A
Speaking of disruption, that's all the Syracuse defensive line was causing in Athens. The Orange totaled seven sacks and plenty more tackles for loss. Between the three down linemen and the linebackers, the SU defense rendered Ohio's offense completely ineffective. 
Mckinley Williams led the way with two tackles and two sacks with a fumble recovery. Josh Black had a sack and tackle for loss. Kingsley Jonathan recorded six tackles and a tackle for loss. The six tackles tied for second on the team with Eric Coley. Top to bottom the trenches on both sides of the ball performed admirably. The d-line could use some improvement in stopping the run but that also falls on the linebackers' shoulders. 
Linebackers: A 
Syracuse returned every linebacker from 2020, sans Tyrell Richards, and it definitely looked like it. Mikel Jones picked up where he left off with a team-high seven tackles to go with a sack. The former IMG Academy athlete wreaked havoc in Ohio's backfield and was very disciplined when spying the opposing quarterback. 
Geoff Cantin-Arku was solid, he didn't put up eye popping numbers with just three tackles. He was a steady presence in the second level and made some nice stops in the open field. Stefon Thompson excelled in the start of his second season with the program. The North Carolina native made three tackles, recorded a tackle for loss, and preserved the shutout with a sack and forced fumble late in the third quarter. Anwar Sparrow provided a cherry on top with a sack in his first extended game action. 
Secondary: A+
Ohio logged just 83 passing yards the entire game. Clearly the defensive backs were doing something right. The front seven getting pressure seemingly whenever it wanted definitely helped on the back end. When asked to make a play on the ball, several secondary members made plays. 
SU forced two turnovers via interceptions. One went to true freshman Duce Chestnut who got the start at nickel against the Bobcats. The other was reeled in by redshirt-freshman Chase Atkinson. Cuse' had three other opportunities at picks as Aman Greenwood, Neil Nunn, and Garrett Williams all dropped interceptions but are credited with PBU's. To Williams' credit he provided a big lift in run support with a pair of tackles for loss.
Special Teams: A+ 
Not too much to say here, Andre Szmyt earned player of the game for his 5/5 effort on field goals. The former Groza Award Winner's longest make was from 43 yards but he made each kick look effortless. As far as punting goes, James Williams stepped into the vacancy left by Nolan Cooney and performed well. The true freshman sent three punts for 131 yards with an average of about 44 yards.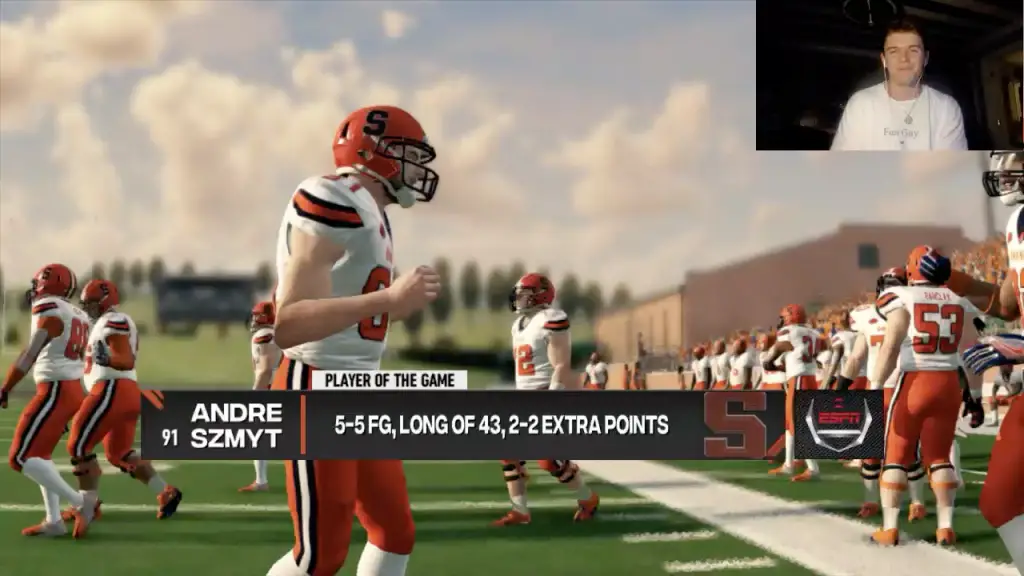 Overall an impressive season opening performance from Syracuse. Fans should be excited after the blowout win over the Bobcats. There was a lot of good that needs to continue and some bad that needs to be cleaned up and corrected. Mistakes are to be expected early in the season, but the wrongs need to be righted by the time Rutgers comes to the Dome in two weeks.  
Before the Scarlet Knights though, the Orange have a date with UAlbany. We'll have that game for you on Friday Night at 7:35 p.m. Stay tuned for more information throughout the week. 
(adsbygoogle = window.adsbygoogle || []).push({});