There's been a lot of discussion about Syracuse recruiting and what the state of the program is over the past few weeks. What can improve recruiting and change the narrative of the team is the 2021 season. If SU surprises all and makes a bowl game, it will have gained the respect of its ACC peers and perhaps curry better favor with high priority recruits. So how can the Orange get that job done? 
Well it's not an easy question to answer and really, there isn't simply one question that needs an answer. But here's one, who steps up and fills the void left by former slot wideout Nykeim Johnson? The speedster transferred to Kent State earlier in the offseason and will spend his final season of eligibility as a Flash. Johnson recorded 20 receptions for 323 yards and 4 touchdowns in 2020. The Washington D.C. native averaged over 16 yards per reception which made him Syracuse's most dangerous big play threat.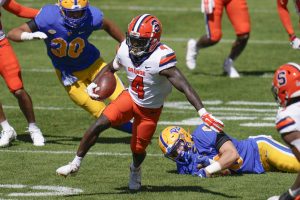 SU already has its number one and number two options in Taj Harris and Anthony Queeley. The tandem combined for over 1,000 yards last season and should take another step forward in the fall. Who joins the duo as the slot receiver and which other pass catchers could see an expanded role? 
Start with Courtney Jackson in the slot. The rising redshirt-sophomore made some contributions in 2020 racking up ten catches for 69 yards. The Pennsylvania native should have the inside track for the job as the number three receiver.  He flashed some speed and athleticism in his limited snaps but has the speed and short area burst to be explosive in the aerial attack.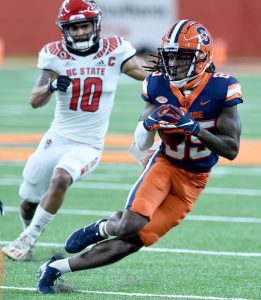 The other two possibilities aren't as likely but they could see some opportunities in four and five-wideout sets. 
Rising redshirt-senior (two years of eligibility left) Sharod Johnson should be the backup in the slot. The Florida native had just four catches for forty-one yards last season. Johnson struggled with drops and consistency. One play that should burn in all Syracuse fans brains is his dropped touchdown last season in the opener against North Carolina. If Johnson can eliminate those plays he could see more opportunities in receiver heavy packages.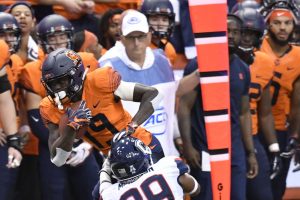 One more option SU fans could see is Cooper Lutz. Last time you saw the rising redshirt-junior he was running up and down the field against Notre Dame. The gadget player could still see snaps in the backfield but with Jarveon Howard and Abdul Adams returning it's not likely. Instead, Dino Babers and Sterlin Gilbert could think about placing Lutz in the slot. His speed and athleticism could be a weapon. In 2020, the Pennsylvania native caught eight passes for 56 yards.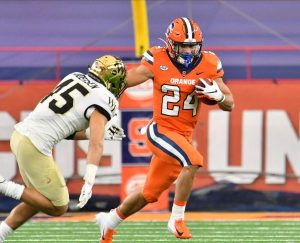 All the attention is being placed on who will throw the passes to these receivers in 2021. Let's not forget about the guys on the outside though, they'll play as big of a role in how successful this Syracuse Football Team will be this fall. Harris and Queeley are both proven commodities, but who steps as the number three option in the slot? 
(adsbygoogle = window.adsbygoogle || []).push({});