I just want to start by acknowledging that 2020 has understandably been a rough year for a lot of people – and for several reasons to-boot. Certainly, this sentiment can be applied to the players, coaches, trainers and all else involved with Syracuse Football, at the moment.
The Orange is currently 1-7, in what has truly been an underwhelming campaign – to say the least. Sure, SU has disappointed with its play, but one thing that's been particularly frustrating is the team's seemingly never-ending list of key absences. Also making matters worse, that list has only continued to grow – both in quantity and quality – since before SU even kicked off its season.
Syracuse began the year, already without several top players. Among a handful of opt-outs this season (amid the COVID-19 pandemic) were the team's presumptive top two running backs, Abdul Adams and Jarveon Howard, as well as junior linebacker Tyrell Richards. Richards was back on the field by the Orange's second game, but his return has not been enough to offset the blows SU's been dealt – by a continuously growing list of significant absences.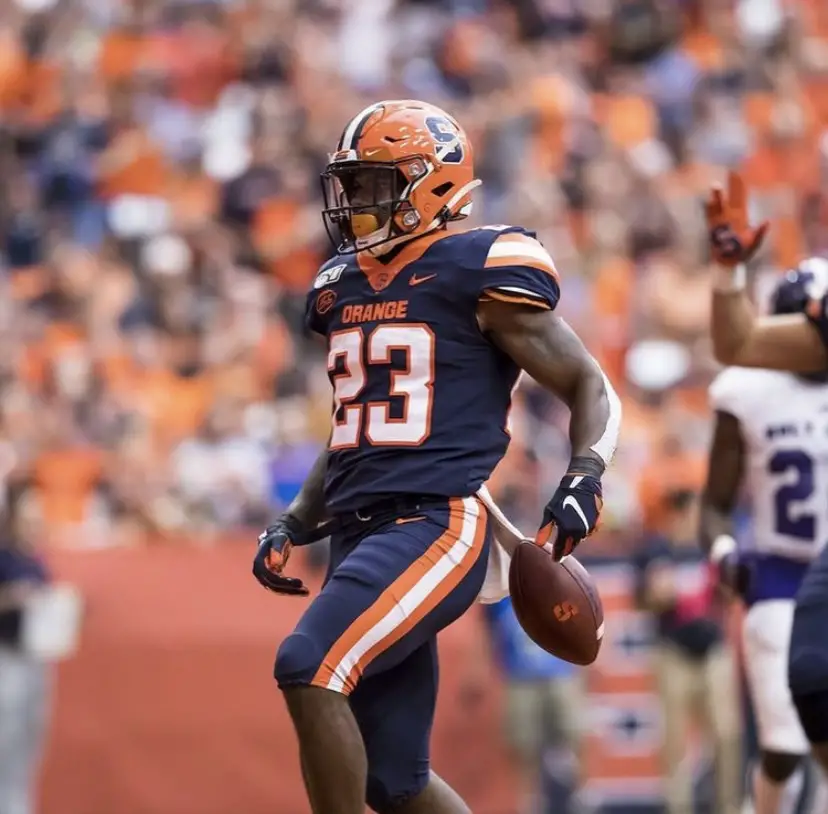 Andre Cisco played in just two games before having his season wiped out by a torn ACL. Not long after that, Syracuse lost quarterback Tommy DeVito – who had been inconsistent to begin with. Then, adding insult to an already overwhelming amount of injury (literally), defensive back Trill Williams opted out of the rest of this season and, like Cisco, declared for the NFL Draft. 
So, yeah… any fan of the Orange knows 2020 has been a rough year for the program. But, now that we'Äôve gotten all that negative out of the way, we may as well switch to something a bit more positive'Ķ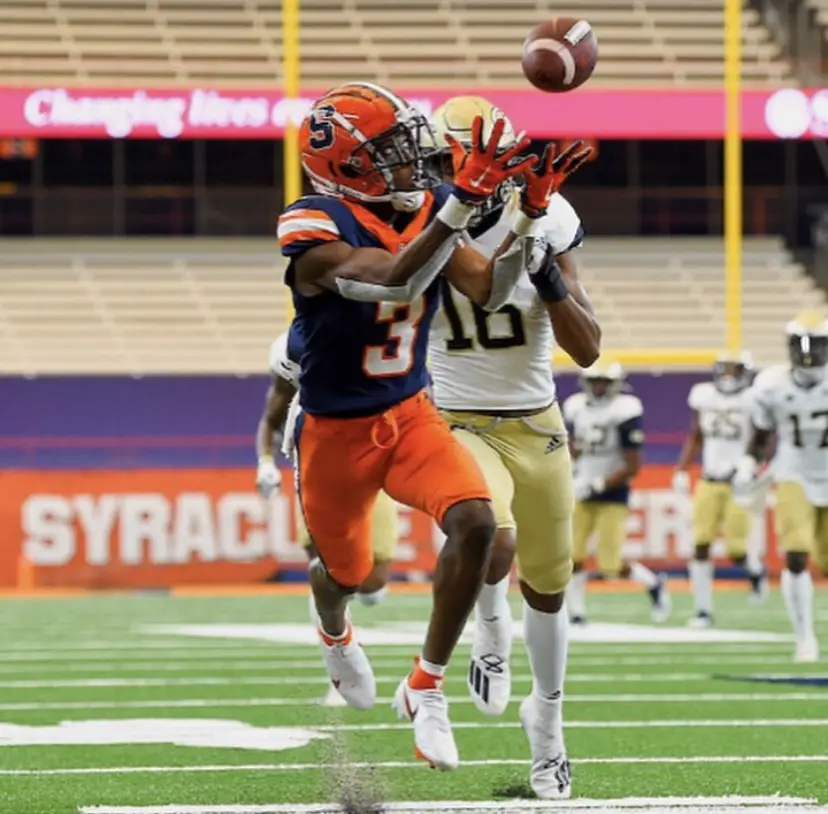 Receiver Taj Harris has been a rare bright spot for the Orange this season. It's also worth acknowledging Harris's contributions given they'll likely fly under the radar, in the midst of SU's underwhelming campaign.
The Orange is currently last in the ACC and has lacked consistency and stability at the quarterback position. Yet still, Harris sits 11th in the conference, in both receiving yards and receptions – and I'm not even sure those ranks fully do him justice.
The 10 receivers ahead of Harris are spread out across eight different schools. The graphic below includes: the ACC's top-15 receiving yards leaders, and where each of their teams' primary quarterbacks rank on the conference passer rating (RTG) list. It's also worth noting, the graphic only accounts for ACC quarterbacks who've thrown at least 96 passes this season. This was the number of pass attempts thrown by SU's Tommy DeVito, before the redshirt junior was lost to injury.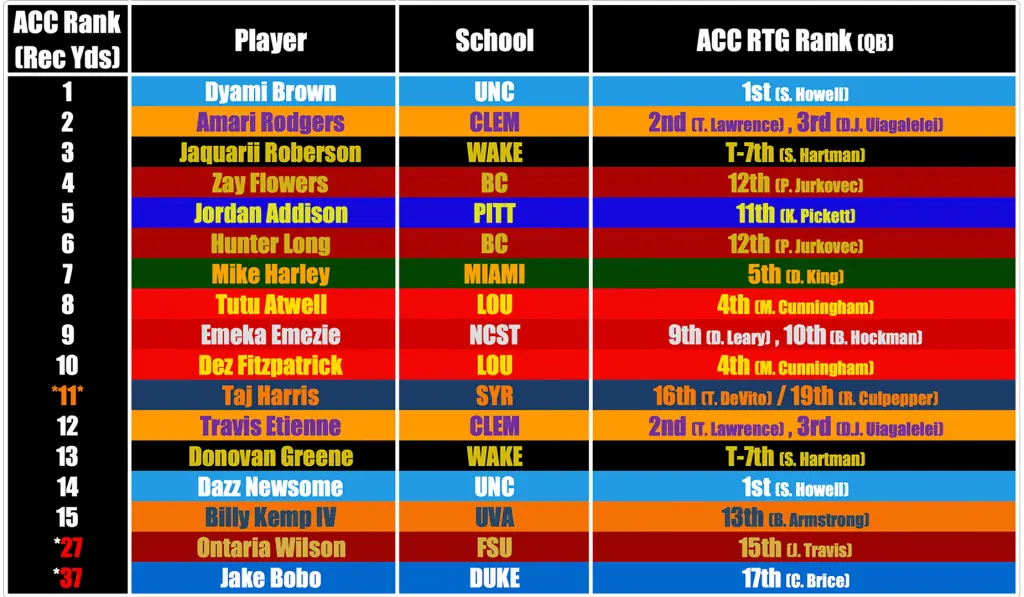 Starting with one particularly significant takeaway from the graphic.
HINT: It has to do with Taj Harris, and… unlike most things currently pertaining to Syracuse Football… might actually provide an elusive dose of optimism, for Orange faithful.
As a reminder, the 10 players ahead of Harris (in receiving yards) play at eight different schools. At those eight schools, a total of 10 quarterbacks have thrown at least 96 passes this season. Let's compare those 10 quarterbacks to the SU signal-callers who've been feeding Harris the rock…
At the moment, Harris is just seven yards short of cracking the top-10. That, in itself, is an impressive feat. Yet, what's even more impressive is how all 10 players ahead of him have been catching passes from better quarterbacks. Seriously… all eight ACC schools with top-10 receivers have at least one quarterback (sometimes two) with a higher passer rating than either Tommy DeVito or Rex Culpepper (again, min. 96 pass attempts).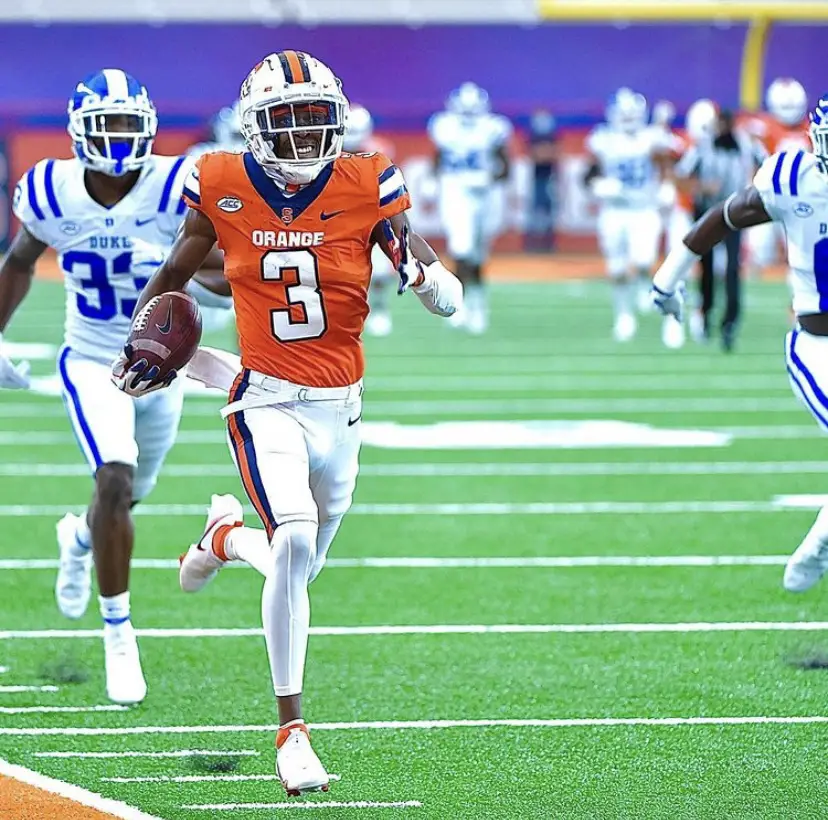 A total of 19 quarterbacks (in the conference) have thrown at least 96 passes this season, and two of them play for the Orange. A shelved DeVito sits at No. 16 on that list… while a benched Culpepper brings up the rear, in dead-last place. Hopefully, freshman JaCobian Morgan – just hours away from his second career start – can provide Harris and co. with a spark to close out the year… because they sure as heck need it.
No other premiere receiver in the ACC has endured quite the same levels of inefficiency under-center, like the ones seen at SU. Statistically, there's not one quarterback situation – on a team with a top-10 receiver – that adequately compares to that of the Orange (and no, not in a good way). Perhaps more troubling is how poorly Syracuse's quarterback numbers stack up, even against teams that don't have a top-10 conference leader in receiving yards.
Remember, Culpepper – who leads the Orange in pass attempts – currently has the lowest passer rating among all ACC quarterbacks (with at least 96 attempts), and well… you can't do any worse than last, right? DeVito gave it a shot in the early going, but now ranks fourth-to-last after hitting the mend – which is also bad. All told, being stuck with two of the conference's bottom-four-rated passers is a recipe for disappointment and frustration, for any receiver. Yet still, some of the things Harris has accomplished this season are truly eye-opening. One example can be observed, when comparing Harris to other top receivers on ACC teams plagued by inconsistent quarterback play.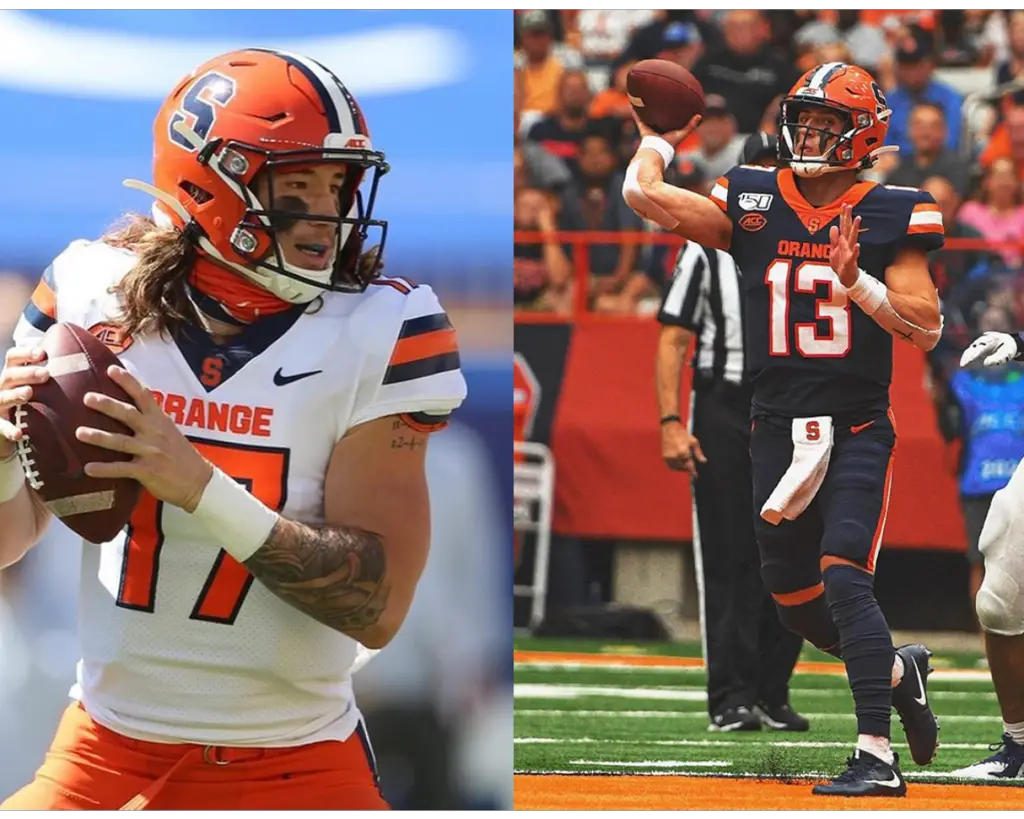 For instance, with DeVito ranked 16th¬†in passer rating and Culpepper 19th¬†(last), only two ACC quarterbacks sit between the pair of SU signal-callers. One of those two QBs is Duke starter Chase Brice, who'Äôs 'Äì just one spot behind DeVito, and only two above Culpepper 'Äì at No. 17. The thing is, DeVito'Äôs and Culpepper'Äôs top receiver, Harris, ranks No. 11 (in the conference) in receiving yards. In comparison, Brice'Äôs top target at Duke 'Äì Jake Bobo 'Äì is all the way down at No. 37. Furthermore, a nearly identical observation can be made when looking at Florida State, and the connection between quarterback Jordan Travis and receiver Ontaria Wilson. Despite Travis clocking in 'Äì just one spot above DeVito (and four ahead of Culpepper) 'Äì at No. 15 on the passer rating list, FSU's top receiver (Wilson) doesn't appear on the conference receiving yards leaderboard until No. 27.
All in all, it's safe to say Harris has fought tooth and nail to put up the numbers he has. Clocking in at No. 11 on ACC leaderboards, for receiving yards and receptions, is extremely impressive when considering the underwhelming, inconsistent play of Syracuse's QBs this season. Consequently, Orange fans have every right to wonder what could have been, if the team had more stability at quarterback this year. Heck, currently just seven yards shy of the No. 10 spot, I'd say Harris would be even higher than No. 10 in the conference right now, for receiving yards. Nevertheless, with that all being hypothetical, the attention should be geared towards reality. That shouldn't be too difficult though, as Syracuse trots out its freshman quarterback tonight for his second career start. Who knows… maybe from here on out, Morgan could be the one to finally restore some order in the Syracuse quarterback room.
We shall see…
(adsbygoogle = window.adsbygoogle || []).push({});