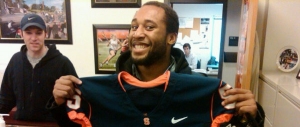 This afternoon, we shed a tear for a true hero of Orange Nation.
Averin Collier, best known as "Uniform Deep Throat," has been ruled academically ineligible for 2010.
Football-wise, this is not good. Collier was listed 2nd on the preseason depth chart at running back behind Antwon Bailey. Luckily, Delone Carter has been reinstated, so the team's presumed strength avoided becoming nearly wiped out.
Informationally, also not good. The last time we saw Mr. Collier he was beaming that endearingly impish grin while posing with the new Syracuse football jerseys. He posted the photo on Twitter, knowing full well he had scooped the university's official release announcement. One has to imagine the "hand-in-the-uniform-jar" look has been replaced with a frowning emoticon 🙁
While Orange fans would like their running backs in place, give Doug Marrone credit. Urban Meyer would've bought Carter the best lawyer the SEC could buy and he'd be in camp. Lane Kiffin would've found "History of Dance Dance Revolution" for Collier to ace (and then furnished him with the answers to the final exam) and he'd be eligible.
Marrone has been different since the day he stepped back on campus. No excuses. All accountability. Even if it has come at the expense of the on-field product. Mike Williams was not coddled. Averin Collier will not play. Life is simple in Marroneville. Even if it means good bye to our Dark Knight of Duds.
Posted: D.A.
(adsbygoogle = window.adsbygoogle || []).push({});