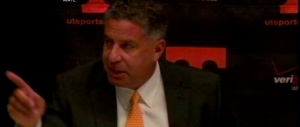 If you're on campus this semester, there is no way you haven't seen Fab Melo, C.J. Fair, Baye Mousse Keita or Dion Waiters yet. These guys are larger than life. Consider the Fizz Tweet archives:
"Fab is at Schine. He dwarfs CJ Fair who's right next to him. Defense anyone?"
We've seen plenty from the incoming class already around school, and Midnight Madness is sure to impress next month.
However, as an avid reader of The Fizz, you know it could have been more. The Orange was finalists for two other high-profile players. Recent events suggest, though, it may not have been a fair fight based on recent transgressions with both coaches.
The two players in question: Tobias Harris and Brandon Knight.
In everyone's mind, Harris fit with the star-studded SU class of 2010. The Fizz monitored his Twitter Feed as he visited campus and all signs pointed to the Hill.
That was until the last minute trip to Knoxville for a chat with Bruce Pearl, a dead giveaway to Couzens at the time.
'ÄúMaybe the least surprising thing I'Äôve heard all day. After the extra visit to UT on the way back from Georgia Tech, it was pretty much a giveaway. If anything, give the kid credit. He kept us captivated all along and jacked up his Twitter following."
Now headlines for Tennessee's vaunted recruiting class have been replaced with these: "Facing uncertain future with Vols, contrite Pearl hopes for the best." Bruce Pearl is more worried about keeping his job after having made impermissible phone calls to recruits and pictures of them in his house surfaced.
Meantime, Brandon Knight's trip to Kentucky seemed a little more run-of-the mill. Star point guard + John Calipari + One year rule = Big Money for UK and the expected number-one overall pick.
Cal expectedly pulled in the top recruit in the country and seemed to dance around the rules with other commits.
Eric Bledsoe became a genius before his freshman year. Enes Kanter's probably not getting cleared to play.
In fact, there's a good chance Calipari doesn't have a validated season until 2013!
Knight is an exception to this academic problem that has existed in the Cal-pliance Department because of his 4.0 GPA. However, Cal's reputation for shadiness has followed him to Lexington.
Did SU get a fair shake at two of the top players in the class of 2010? Good chance it didn't. But not because of anything the Orange staff has done. It's what they haven't done – which is getting the whistle blown on them.
Posted: Ted Conroy
(adsbygoogle = window.adsbygoogle || []).push({});