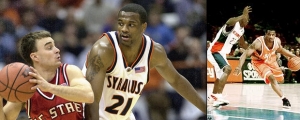 While both Syracuse and Iona play D1 college hoops in the same state and even battled in a dramatic 1998 NCAA Tournament game, there is a much more meaningful connector between the two programs.
Deshaun Williams.
Who, six years later has evolved into the Legend of Deshaun Williams.
The insanely talented guard from Paterson, New Jersey had All-Big East potential but was certifiably bonkers. Incorrigible, undisciplined, unapologetic. If you watched Deshaun as an Orangeman, you remember as I do that he could explode for 20 points in 20 minutes of work. He could also sleep walk through an entire game and barely give a sh*t. Ironic timing since The Fizz just spoke to another Boeheim headcahe, Paul Harris, about his frustrating end as an Orange and Scoop Jardine joked about his sexual assault allegations on Twitter.
A seminal piece of SU hoops lore is the D.O.'s 2004 documentation of Deshaun's transfer to Iona. You are strongly encouraged to read the entire article. It's a never-ending cascade of "you have to be kidding me" and "holy jeez" moments.
Here's The Fizz's Top-10:
10) His background on the mean streets of inner-city Jersey described everything. "During childhood, Williams concerned himself more with survival than revelry. When his mother, Jackie, disappeared on week-long partying binges, Williams, then in his early teens, stole food for his two younger brothers. He walked to and from basketball practice on streets where others from Paterson Catholic High School have since been shot and killed."
9) Teammate Tony Bland on the culture of late-night partying on that squad. "We lived it up," Bland said. "Girls, booze, parties, autographs, scuffles – just a crazy life. I still remember a lot of wild nights and a lot of early mornings. I think that's why DeShaun and I got so close, because we were the partiers on the team. He was the only other guy who could stay up drinking all night and still make it to practice in the morning."
#8) Jerome Smart, Deshaun's high school coach, was on Louis Orr's speed dial. Orr didn't know how to handle Deshaun. "It almost got to the point," Smart recently recalled, "where I didn't want Coach Orr calling my cell phone anymore. DeShaun was part of their family. Not mine."
7) Deshaun on Deshaun. "With basketball I had fun, and being a student I had fun. Being a student at Syracuse, I loved every bit of it, and I would not take anything back if I could change it. I just had fun. I did things that dudes do: women. I didn't have a favorite. I just took advantage of everything that came to me."
6) James Theus on the feud between Deshaun and Shumpert: "There was definitely tension between him and Preston, though. That cost us big time. There would be times in a game where those guys would look each other off, not pass the ball when they would have before. They both wanted the shots and the glory."
5) Deshaun on women. "I just think she was trying to be an asshole. I think certain students are just jealous of athletes, especially some women. Because certain girls – maybe you say groupies – we would mess with, and others we wouldn't give the time of day. That's why, when you're drunk, everything comes out. Everybody wants something."
4) The legend of Deshaun's Marshall Street partying. "Early in Williams's career, he punched a Lucy's bouncer after the employee told him he could not enter the bar with a bottle of Hennessey, sources said. The blow broke the bouncer's cheekbone and cracked his nose. The bouncer spoke with Boeheim but decided not to press charges. Other Marshall Street employees said they remember Williams more for urinating inside of a bar, undeterred by the crowd watching him."
3) Deshaun's getting a BJ inside the stall at Konrad's while patrons were banging on the door, wondering what was taking so long. "Williams lived in the moment. For himself, only. That's what the crowd outside the bathroom was just finding out. The bouncers, tired of going unnoticed, stuck their shoulders into the door and forced their way into Williams' barricaded stall, into Williams' barricaded consciousness, where he ignored everyone and everything. Unnerved, Williams reacted as he sometimes did in such circumstances: He brawled."
2) The A-bomb, which if true, ripped apart a talented team midseason that crashed and burned to an NIT appearance. "What started as a private rumor turned quickly to public gossip, prompting whispers in the Carrier Dome student section and fueling the taunts of opposing crowds. Even Williams' teammates wondered: Had Williams really impregnated SU co-captain Preston Shumpert's girlfriend?"
1) The end. Nichole Cox worked at Otto the Orange. She meets Deshaun in the basement of Konrad's. "I wasn't an angel or anything. I yelled at him and stuff, but the bottom line is I never even touched him. Next thing I know, DeShaun brings his hand back and punches me in the face. I went down, and as I was trying to get back up, somebody punched me again. I didn't see, but later a bunch of people told me that it was DeShaun."
Posted: D.A.
* * *
Please vote for Damon from The Fizz as the Big East's Syracuse rep in Volvo's season-long competition within the conference. It's completely disastrous that Louisville is leading any poll. Thanks.
(adsbygoogle = window.adsbygoogle || []).push({});