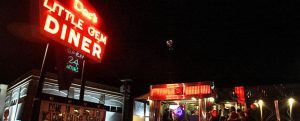 Last April, the greatest late night food joint in Syracuse closed its doors. The venerable Doc's Little Gem Diner was no more. After half a century of churning out incredible, classic short order fare, Doc's shut its doors.
Here's an actual quote from the Post-Standard story eight months ago:
"Old timers came Wednesday, some too choked up to speak about what the closing of the old stainless-steel diner meant to them. The cooks and dishwashers got called out of the kitchen for a round of applause after the last meal had been served at 10:32 p.m."
Are you kidding me? That's like Dr. J being flowered with standing ovations and Cadillacs during his farewell tour around the NBA. How many diners have a SRO crowd applaud the kitchen staff like the All-Star game introductions?
So, when the Cake Group asked each of the My Big East Challenge participants to make a list of the best late-night food options – The Fizz's has an asterisk. Because there would be no list if Doc's was still around. In deference to the greatest little diner in CNY that ever stood, here's the Honorary Doc's Little Gem Late Night Food List:
Acropolis. You're looking for a quick bite after a night at the Dome, Marshall Street is key. The meatball parm sub is a personal favorite. I also enjoy having cashiers scream orders across the restaurant in Greek.
Varsity. There's no way you make your way back to campus and not hit up the V. Check out which flags are flipped, grab a dozen wings and pitcher of beer. I've never been back on The Hill and not had someone say to me, "So, when are we hitting Varsity?"
Pita Pit. Another Marshall Street staple. The "assorted" was always the way to go during my college days. Wasn't as expensive as the roast beef or chicken, but you got plenty of bang for your buck with black forest ham and fresh turkey breast combo. Serves after last call. Clutch.
Ziggy's Wagon. (Defunct) Went a little old school on you there. But if you were at the 'Cuse in the 90's or early 00's, Ziggy's was key. Wagon that had a slew of late-night hot treats. I'll just give ya a little taste from the newspaper article of his arrest ten years ago. "A popular Syracuse University vendor who sold hotdogs and hamburgers will spend the next 37 months in federal prison for also selling marijuana and cocaine from his street wagon."

Shockingly, you will not find that in the university brochure.

Heid's of Liverpool. Grab two Hofman's white hots or coneys, gravy fries and a chocolate milk from Heid's on the lake if the game gets over early enough. In fact, more than once at SU I ate a pair of white hots from Heid's for breakfast. Metabolism is a wondrous thing.
Team Fizz is grabbing the Volvo s60 on March 5th and cruising through Syracuse for Senior Day and the De Paul game. We've already made our mix tape and must-do list. We've now added the menu options. Vote for Syracuse at My Big East Volvo and leave comments about any of the eateries on this list or some we may have missed. Help us polish up The Fizz's Road Trip Itinerary!
Posted: D.A.
(adsbygoogle = window.adsbygoogle || []).push({});