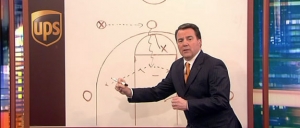 After enduring a pit of drama, controversy and a four-game losing streak, Syracuse stabilized the ship momentarily with victories against UConn and USF. The Big East, however, is an unforgiving road.
Next up for the Orange is the always emotional tilt against Georgetown. Wednesday's game is part of ESPN's "Rivalry Week" and analyst Fran Fraschilla will be on the call. The Fizz caught up with the former St. John's head coach to discuss Syracuse, the Big East and Bill Raftery's extracurriculars.
Listen to the FizzCast with Fran Fraschilla:
Fraschilla began by discussing how SU-Georgetown is the foundation of the Big East. In fact, without them, it wouldn't be the same at all.
"It'd be a different league. Syracuse might be in the Big-10, who knows where Georgetown would be. When you think of the history of what has become one of the grreatest basketball leagues in college history, the Georgetown Syracuse rivalry is a huge reason why it's become a great league."
On Wednesday's game, Fraschilla believes that the Orange can lock down Austin Freeman the same way they did Kemba Walker last week in Hartford (he was there).
"The thing about Syracuse's zone, when it's at it's best, is it's gonna take away an opponents their cutting game. And Georgetown relies on cutting and ball movement, to free up Austin Freeman. It's kind of counter-intutitive, but sometimes a good zone actually hurts a great shooter, because there's always someone in his are to defend him. And when Syracuse plays a great zone, it can certainly affect a great scorer like Austin Freeman."
So how to explain SU's four-game slide? It begins and ends with the guys at the top of the zone.
"The effort was not as good as it needed to be. And I think it starts with the guards, Jardine and Triche were not as active as they needed to be, and I also think that the young big Guys, Keita and Melo, are sitll not experienced enough in the back of the zone to really cover the kind of ground that Onuaku did a year ago."
Replacing A.O. in the piviot has been big man Rick Jackson, who has taken the league by storm. Fraschilla believes Rick will be in the league next year, and may have cemented his place among the best of the bigs in the history on the Hill.
"It's not a surprise to me that he's become one of the league's best post players. He's in tremendous company in my mind with some of the great post players in Syracuse History, and he's earned the right to be because he's a hard worker."
No mention of an ESPN college basketball crew can be complete without a question about their favorite places to eat or drink on campus. In the spirit of D.A.'s Naughty Volvo Return to Syracuse Top 5 Lists, I had to get Fran's take.
"I love hanging out near campus, there's some spots that I've eaten at, probably a couple places where I've imbibed after games, even without Bill Raftery by my side."
So is it Chuck's, Faegans, or a combination?
"I think I've been to both places, but I can't exactly remember how it turned out. In all seriousness though I love coming to Syracuse, even if there's snow on the ground. its a great college town. the area around campus is phenomenal, and there's nothing wrong with getting a bite to eat on a Wednesday night after a great college basketball game."
If you can't be inside the Dome like The Fizz Wednesday night, Fran will have your game call as part of ESPN's "Rivalry Week."
Posted: Ted Conroy
(adsbygoogle = window.adsbygoogle || []).push({});