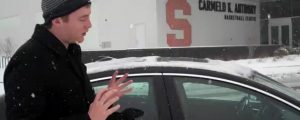 Friday morning I woke up in a flu-sickened haze. Something about the day after NyQuil makes it tough to get the motor running. However, the text I had waiting for me from D.A. got all 6'3″ of me spinning like the turbo I would be spooling up in a few hours.
"You're gonna f-ing love this car. #volvowinning"
A brand new jet-black Volvo S60 to play with, the SU hoops weekend, and a well-placed Charlie Sheen hashtag made my symptoms fall by the wayside. This was going to be fun. The Cake Group hooked us up with the Volvo as we helped D.A. attempt to prove he was the Biggest Fan of the Big East for the season-long competition (or at least the biggest alum partier).
Here's D.A.'s recap in pictures of his return trip to Syracuse for the Destruction of DePaul and his experience with the s60.
The weekend started with Hoffman and me meeting D.A. at Syracuse's Crowne Plaza hotel on Friday night. There, we caught up with him, his buddies B.Z. and Alex, and then headed out to dinner. With a flip of the key fob, I had $50,000 worth of Scandinavian hardware at my fingertips. I was in charge from now on. Our first stop? Dinosaur BBQ for some good old-fashioned smokehouse fare.
On approach of the car, I was blown away. This wasn't your grandma's station wagon. A raked roof, aggressive headlights and front fascia, 18″ rims, and smoothed and widened quarter panels made this a mean vehicle. It also had Orange leather. For real. It's Otto's dream-mobile. But don't just take my word for it, D.A. drove the car too.
Jeff Barsom, sales manager from Alan Beyer Volvo, ran D.A. through some of the cooler features and let us know what to expect. Jeff also ranked the top 3 aspects that separate the s60 from other vehicles. It's a high-powered computer with wheels.
We just started referring to it as a spaceship.
As I strapped in, D.A. informed me that the last thing Jeff Barsom, sales manager at Alan Beyer Volvo told him was, "have fun with it." He didn't need to tell me twice. As a former car detailer and absolute enthusiast, I was ready to turn it loose. We sped batmobile-style out of the parking garage, and bumped our top-five playlist thanks to the Bluetooth iPod connection. No wires needed, all you do is sync up the car's signal like you would a Jabra headset. After a request from B.Z. to "see how good the system is," I concluded the bass sufficiently destroyed my equilibrium for the rest of the weekend (that or the beers which would be consumed later on).
We pulled up outside the Dinosaur and BOOM! A car is pulling out of the spot right out front. Upon shifting to reverse, I was going to use my normal parallel parking form, until the nav screen switched to the backup camera with computer graphics, which guides you straight to the curb. This was just too easy.
The Dinosaur excursion was spent drinking (by all but me who was still on a DayQuil diet) sharing stories while waiting for the table, and eating some of the best BBQ in the country. I had a bacon cheeseburger, with my two favorite sides on the menu, mac-n-cheese and beans. While there were no Baldwin Brothers sightings, good times were had by all.
Back in the car was our five-man crew, and in the words of rapper Wiz Khalifa, "no keys, push to start." Literally. We barreled back down Genesee street, easily scooted along by 300 horsepower of turbocharged engine. There was more drinking to be done, so we hit Marshall Street. A typical bar night ensued (Faegan's, Chuck's, details not incredibly clear or non-incriminating) and at closing time, wiser heads prevailed, leaving our jet-black spaceship in it's parking spot outside Chipotle.
Saturday I needed to find some tickets to the game. After grabbing the Volvo back from its resting point, I started making calls. I had a good lead on some decent seats for the 4 o'clock game, but had to wait. I was itching to open up the s60's engine, so at 2:30p I figured I'd do my normal circular circuit around Syracuse: Harrison St. to 81 North, cutting to 690 East, and then 481 South before coming back through South Campus to the hill. I gunned it up the ramp, and as soon as I looked down, I was doing 80 mph and ten million lights and sirens were going off within the car.
But it wasn't the cops! Volvo equipped the s60 with blind spot detection, lane-departure warnings, and automatic tailgate braking; I managed to set all three alerts off in the span of seven seconds.
After reaching a comfortable cruising altitude, I got the call; "Four tickets, section 116, at $110 total." DEAL. I had to cut my loop short and take East Genesee Street back to campus. It was nearing 3:00 PM already, so I had work to do.
The low-end torque was incredible as I weaved in and out of traffic, the rubber on the Continental tires keeping up with the mashing of the engine and whir of the turbo.
10 minutes goes by… now 12.
Across Genesee, up to Euclid, over the river and through the woods, and BAM!
Read D.A.'s weekend log to get the vibe of how the game and Saturday night turned out. I enjoyed what is being called the DePaul Destruction with my girlfriend, who also gets dual credit as this weekend's videographer. We caught up with D.A. at halftime who was rockin' a FRESH Sherman Douglas throwback.
After the game, we dispersed, napped, and prepared for another night of bar-hopping and drinking. I was good to go on this night, so the s60 stayed parked.
Saturday's excursions put the best of all things Syracuse together, including the following:
A beer pong pregame in my off-campus slum (me and the lady-friend v. D.A. and Alex was a 1-1 split, with the rubber match supposed to take place during after hours. It never did).
A walk down to campus from the Euclid neighborhood
DJ's, Faegan's, Chuck's, and Lucy's
A #14 from Jimmy John's
Hitting the pillow sometime north of 4 a.m.
The next day was a somber farewell over a Cosmo's lunch. D.A. had a plane to catch and left the keys with me because of one wrinkle in the weekend: a half-foot of snow that descended upon the Salt City in March. Typical. It was time to see how the s60 and it's all-wheel-drive system did in the powder.
I made a point of taking it up Clarendon's steep, slide-inducing brick hill.
Victory was mine.
As I gunned it through the snowy slaloms of Dewitt and showing it to my parents ("this thing is fast, and I feel like I'm a part of it in the seat" claimed my dad, who's last sport-sedan purchase was an '02 Camry) I realized my weekend was coming to a close as well. The Big East tournament was approaching, sure, and I'd be there covering it for WAER Radio and The Fizz.
However, I learned there's no substitute for a weekend at home with good friends, good food, and good drink. A nice whip to get everyone around doesn't hurt either. This was one of those weekends, and I'll certainly remember it for the high speeds, jammin' beats, and good times with the best people.
Posted: Ted Conroy
(adsbygoogle = window.adsbygoogle || []).push({});