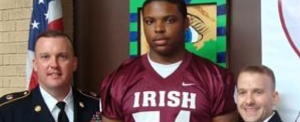 Chris Battaglia has the good fortune to have at his disposal something every high school coach would love – blue-chip Syracuse recruit Jarron Jones. He's one of the top 3 DT's in the country and the head man of St. Thomas Aquinas in Rochester talked with The Fizz about his star lineman and what kind of prospect he is.
"He's 6-7, 300 lbs and runs really well. He's a really good basketball player. I think what really helped him this year is he picked up his level of being physical. He has great potential, great upside. He works really hard at it and I think he could be a really good college player."
If you'Äôre face didn'Äôt just light up than you don'Äôt have a pulse. These are obviously the qualities SU, or any other college program, is looking for in a player. After watching Ishaq and Chad Kelly leave the state, Orange Nation is anxiously awaiting Jones' decision.
He has given a soft verbal to Penn State, but there's good reason to believe he hasn't made his mind up. What does Jones want in a program?
"The first thing he's looking for is a place that academically suits him. He's looking for a program that graduates their players. He's also looking for a place where he can play defense, which he really wants to do. I can imagine people moving him to left tackle once they get him, but he wants to play defense. And he's looking for a program where the coach is going to be there or the staff is going to be there for 4 years."
As far as we know, SU is 3 for 3 there. Penn State certainly can'Äôt say their coach will be there beyond next season, but that could be why Battaglia added 'Äúthe staff,'Äù since Joe Pa'Äôs succession plan seems to be in place. As for Penn State…
"The soft verbal was given because he was getting nine thousand calls from different websites, different programs and he was just getting nervous about that. He loved Penn State when he visited, but he also loved Syracuse and a couple of other schools when he went. In the end he's going to take about 5 visits, and whichever school he likes and has all the things he wants he'll choose."
What about SU?
"He really likes Syracuse. He really likes Coach Wheatley and the d-line coach there. He thinks Coach Marrone is a really great guy and one thing he thinks is that if he goes there he can play early and that might have a big influence on him."
As for Jones' timetable, Battaglia the goal is to narrow it down to 5 schools after he comes back from Notre Dame. The final decision will be made before he plays in the Army All-American game in San Antonio in January (the site of Ishaq Week last winter). The other schools in the mix? Notre Dame, Virginia Tech, UNC (who received its letter from the NCAA Tuesday regarding violations), Louisville and ('Äúalong with Rutgers still somewhere in there.'Äù)
The Fizz will be keeping tabs on Jones throughout football season leading up to his decision. For now Orange fans can take solace knowing the next big enormous gargantuan item on Syracuse's wish list also has SU high on his.
Posted: Craig Hoffman
(adsbygoogle = window.adsbygoogle || []).push({});