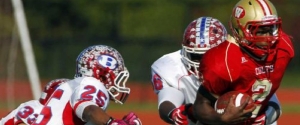 How excited should we be about the recent slew of Syracuse commits? On the one hand, it's always nice to see recruiting victories and the news seems to be flooding in at a quick pace. In fact, just this month SU has picked up six verbal commits. On the other hand, hardly any of the newest Orange are highly-sought after athletes that fans would consider "big wins."
Take DeVante McFarlane who chose Syracuse Friday. He's a three-star Long Island running back who is choosing to stay in state, something Doug Marrone has made a priority for this program.
"I'm definitely excited to be one of New York guys going there to do big things. I talked to Coach (Doug) Marrone and Coach (John) Anselmo, and they want to win with homegrown talent."
But McFarlane had only two other official offers – from football schools Syracuse does not want to be associated with: Vanderbilt and Kent State. The urban legend is other programs were poised to pounce on McFarlane once summer camp opened and as the P-S put it, a "feeding frenzy was about to commence." But is that true? McFarlane is listed as a three-star recruit, certainly worthy of a scholarship offer, but rarely the type of kid that creates chaos for big time schools.
Jason Emerich chose Syracuse yesterday, over UConn, Akron, Temple and Buffalo. The offensive lineman is spoken highly of by his coaches and SU could absolutely use new blood being filtered through the offensive line. But ultimately, these are the recruiting wars the Orange should win (outside of the Huskies) 100 times out of 100. And reports were UConn jumped in on Emerich late.
Last week DE James Washington was touted as "the most sought-after player the Orange has landed since Doug Marrone became head coach in December 2008.'Äù But The Fizz asked last week whether that was a fair assessment. Just two months earlier, only Duke and Cincinnati had offered Washington a scholarship. Officially, the Orange beat out¬†South Carolina, Boston College, Purdue, Illinois, Pittsburgh, and West Virginia. But many believed it merely became a follow-the-leader after FIU offered him.
By losing out on David Perkins, Chad Kelly and other elite recruits, Syracuse still has to prove it can land the elite prospects. The recent commits of this past week has pumped optimism into Orange Nation. But we're all still waiting for the big fish to be reeled in by The Dougie.
Posted: D.A.
(adsbygoogle = window.adsbygoogle || []).push({});