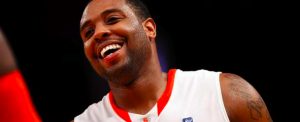 For all the flak that he tends to catch from the fans, Scoop Jardine has turned himself into a positive force for the SU basketball program on and off the court.
And don't underrate that second accomplishment, considering what the guard from Philly once was.
Scoop, not too long ago, was nothing more than a giant distraction. A player that didn't provide much on-court value, and whose personality and attitude were detrimental.
He had his share of legal problems, too. A sexual assault charge (he later joked about on Twitter) he was eventually exonerated from along with Rick Jackson and Jonny Flynn, and the infamous meal card mess that landed his cousin in jail and Jardine a suspension.
Fast forward a few years, and Scoop has transformed his game and his life. He's now a team leader, and always holds himself accountable when his squad falters.
He's spent the summer repping the Orange uniform admirably at elite-level camps. Confidence has never been something the point guard lacks, so it's no surprise to hear that he's fearlessly gone up against NBA-type talent.
ESPN analyst Jay Bilas shared his thoughts on the LeBron James Skills Academy in Akron, which Scoop attended with a lot of the country'Äôs other top college and high school players. Bilas only singled out a few participants out of the one hundred in attendance, and Syracuse'Äôs starting point guard was one of them. Fran Fraschilla also gave Scoop kudos by tweeting, "Solid first day at LeBron Skills Academy. Counselor drills were terrific and my guy @scoopjardine working hard. Big East well represented!"
Later this month, Jardine is set to play at the USA basketball training camp. Fans and commentators are sometimes uncomfortable placing him among the nation's most talented college basketball players, but based on the camps he's been touring this summer that's exactly where Scoop belongs.
His efficiency on offense clearly declined this part season, but what will help next year is that he shouldn't have to force as many shots. Though Scoop is often criticized for jacking up too many rushed attempts, he was a victim of an offense that had no one better to turn to as a go-to scorer. Next season, Kris Joseph should be ultra-motivated to become that scorer, and the rest of Scoop's returning teammates will be a year older and more experienced. And unless things go horribly wrong, the 2011 freshman class should be much more impactful on offense than the 2010 one.
Is it possible for a Scoop Jardine-led team to make the Final Four? Many would say no. Be careful writing Scoop off though, because the notorious loose cannon has developed into a level-headed leader for the Orange.
Posted: Andrew Kanell
(adsbygoogle = window.adsbygoogle || []).push({});