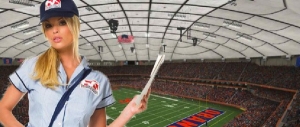 Another full inbox here at The Fizz as we wrap up an incredibly busy June, after a crazy football recruiting month and a potential addition to the basketball squad. Pigskin will be the main course, but we start with an appetizer of hoops.
@Adamstock1983: @OrangeFizz Any word on Brian Oliver coming to Syracuse? Where else is he considering?
There hasn'Äôt been much news since Kanell talked to Oliver'Äôs mom last week (more on their discussion in this week'Äôs FizzCast), but we do know SU is in the race. Essentially it's going be a school closer to home so Oliver can be with his dad. SU certainly fits from a playing time standpoint (he'll play the wing position and be outside on offense). But is it too far from his Delaware home (plus does he like the coaching staff? Campus? etc.).
Plavin compiled a list of other potential future Orange which of course resulted in plenty of feedback in the Fizz Inbox. (Note: this is also reason #1,478 why it should still be Orangeman. We are one letter away of having future Oranges. Like baby fruit.).
"Enough!!! We just had about 6 months of solid CUSE BB news and stuff. I'Äôm a big fan of CUSE BB but please put it on the back burner for a while. -Terry"
Ah, the ever cheerful Terry weighs in. Panties. Wad. Fix them. In the middle of a sea of football recruiting stories, exactly one basketball story might cause Terry's head to explode and his decapitated body hurtling through orbit. And this intense reaction to hoops is a full three months after the season ended. We should all be frightened.
"Coleman is the only big time recruit I could see picking Syracuse this year. From what I hear Ledo is really high on UK which isn'Äôt a surprise considering the way Cal utilizes scoring guards within his Dribble-Drive system. If Drummond doesn'Äôt end up going pro then I think he will most likely stay in state with UConn, and think Amile Jefferson will be the one to roundout Nova'Äôs dynamite class. -Iain"
"I think theres really a good chance of landing coleman and jefferson. I know the coaching staff is really big on jefferson and with all the philly talent at SU theres a good chance. I think if coleman commits there would be a better chance of getting ledo since they have played very well together up in albany. with those three alone that would be by far the best class in the country. -kevin"
The Fizz has been all over Coleman for a while now and he would be an enormous get for SU (or anyone else). Jefferson's¬†style fits right into what the Orange do offensively. As far as Ledo goes, Calipari always seems to get what he wants (especially at the guard spot) so it'Äôs going to be a tough get. UK is also after Coleman hard, so beating the Wildcats twice would be quite the feat.
Cal has the ability to adjust UK's offense to whoever his point guard is, whether it be a slasher like John Wall (where he ran the dribble drive) or the better shooting and uber intelligent Brandon Knight (where Kentucky ran far more sets).
Football dominated the headlines this month, and SU picked up another handful of verbals throughout the week. This included go-getter WR Ben Lewis (Maryland Рalso the home state of spider-hating wideout Alec Lemon), OL Jason Emerich (Pennsylvania) and RB DeVante McFarland (Long Island, NY).
The commitments created quite the buzz on our Twitter page:
@KevMonstah: @OrangeFizz DA: 3 Stars, schools interested include most Big 10 ones, he's a great pick up. 6'5″, 272, an HS senior to be. Sold!
@Shue_Box@OrangeFizz Getting recruits being targeted by Cincinnati is better than getting recruits being targeted by Akron…
Very true Shue, very true.
However, a debate began on D.A.'s article regarding McFarland and whether Orange fans should really be excited about another 2-3 star guy. And here. We. Go!
"HCDM recruiting has not been up to his walking on water status most CUSE fans see of him. In his 2 1/2 years of recruiting no real 4 star talent here. I hate to say it but GROB got 4 star talent here. HCDM is a control freak from what I understand. Great talented kids have ego'Äôs and we see what happens when HCDM does not agree with a player-they're gone. -Terry"
"Stop this madness now. Stop the criticism of Marrone'Äôs recruiting. Stop these type of articles now. As true Cuse fans, we need to be happy when any recruits commits to the Cuse and we certainly are not above a 3 star commitment. Marrone proved with his first class that he knows how to recruit period end of story. Look at the number of quality players from that first class. -Dr. Bill"
Woah! Doc! Take a deep breath!!! Happy with any recruits?! So if I bribe The Dougie with a bologna sandwich for a walk-on slot we should be excited? I do agree SU is not "above" any 3-star recruit and Marrone seems to be getting the most out of its talent (meaning the players were probably better than their "star" ratings), but the truth probably lies somewhere in the middle.
"Yes he should get fans excited. SU'Äôs recruiting is at a higher level now than it was. Previously recruiting against schools like UNH for talent, now recruiting against teams like FSU, Penn State, and UND. That'Äôs how you go from 1-11/2-10 to 8-5. -KevMonstah"
We can always rely on the Monstah to bring a bit of clarity.
"Yeah enough of these articles 'Äúdownplaying'Äù or taking the role of a 'Äúdevil'Äôs advocate'Äù Fizz. The Star system is a flawed evaluation, for kids who go to these showcases and camps to get rated. Maybe Washington and MacFarlane are not 4-5 star recruits, but they are what 'ÄòCuse can get right now, the coaching staff sees talent, and these 2 kids (along with Emerich) seem to be late bloomers for recruitment. They are also very well spoken of. IN2-3 years we'Äôll see how well Marrone did with these recruits. -OrangeCrush22"
I think this is a completely fair point. The star services can vary greatly. The mysterious disappearing recruit Defarrel Davis was 4-stars by one service and only 2-stars for another. Plus, his stats were underwhelming so tabbing him a 4-star was always strange. It's always hard to evaluate a class before they play a game. For instance:
"Delone Carter- ***

Ryan Bartholomew-***

Derrell Smith- **

Mike Williams- **

Arthur Jones- **

Doug Hogue-***

Chandler Jones-**

Shamarko Thomas- **

these are just some of the two and 3 star recruits sryacuse has signed who have gone on to be very good players for this team -Buck Nasty"
There's a lot of NFL talent on that list and not a whole lot of stars. Marrone and his staff have been extraordinary at picking the right 2 and 3-star guys and being able to maximize their abilities, but that is still missing D.A.'s point:
"Have to say I'Äôm a little disappointed there'Äôs this little critical thought being invested in SU football anymore. When I was in school 97-01 every recruiting class was analyzed meticulously and Coach P was under the gun to deliver 4-star kids. Now it'Äôs almost sacrilege to question Marrone in any way. I guess we have turned into a fan base of pom pom wavers. No one wants to hear that we are beating Akron and Temple and Vandy to kids. Just that everything is great. Strange culture shift. -DA"
How many highly competitive recruiting battles (against Big 10, SEC, ACC squads) has SU won under Marrone? Not many. That'Äôs why we at The Fizz have focused lots of attention on the Kellys, Perkins, and Ishaqs of the world. They are the truest indicators of whether the program is reaching the next level of athlete. There's no guarantee that even a 5-star recruit pans out. But beating MAC and Sun Belt schools is par for the course. No one should be disappointed in what Marrone is getting, but we have to also realize those are the kids SU has always picked up.
"I think it'Äôs partly because of how far down GRob dragged us and partly because, since the ACC raid, the Big East sort of feels like a football mid-major. When we can'Äôt even get a blue chipper like Ishaq 'Äì whose parents are both alums 'Äì it just underscores how we'Äôll almost never beat out the big boys for a big fish. -Boston Jay"
"DA is right the truth is everyone is agitated when Dougie gets questioned. I think the reason is that coming off of the Robinson era fans remember how horrible it was so anything postive Marrone does we consider Magic. -MC"
Maximizing the potential of lesser-rated players is great is clearly working well for The Dougie and company. SU can be very successful in the Big East that way and is the first steps in building the program back up. But that's not the goal of a program that historically was been successful on a national level.
In order to get back to the prominence Syracuse enjoyed as recently as the McNabb Era, you're going to have to land a few 'Äúbig fish.'Äù South Carolina grabbed Marcus Lattimore at the RB spot and he was able to carry them to the SEC championship game. Impact players who can come in and deliver immediately are program changers and would be an enormous step forward for Orange football. No one should criticize Marrone for what he'Äôs accomplishing. Instead, we're just analyzing whether we're seeing the next step in the evolution.
Great Fizz Feedback by you the readers this week, please continue to leave comments under all our posts and @reply us on Twitter (@OrangeFizz) to get your thoughts heard and questions answered. Stay tuned for a fresh FizzCast with much more on all of this and a "Fizz Fresh Take" on criminal trouble among college athletes with ESPN's Steve Bunin (SU '96). Football season's less than two months away and thank goodness no lockout can get in the way.
Posted: Craig Hoffman
(adsbygoogle = window.adsbygoogle || []).push({});