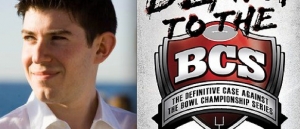 It'Äôs nearly crunch time in college football training camps 'Äì and for Syracuse there's unfortunately been plenty to discuss aside from the actual games, including injuries, arrests and realignment. A Doug Marrone-coached squad wouldn'Äôt normally have issues staying on schedule, but this year'Äôs bunch has had to deal with a monkey wrench or five thrown at it.
A rash of off the field incidents has left fans hoping that Syracuse won't take a step back from last year's Pinstripe Bowl victory. SU was given some respect in the preseason projections, but that was before losing so many players to injuries. Hoffman says there's visible evidence during practice that the Orange isn't ready for opening night yet.

"When you look at one of the injuries, like Alec Lemon's. He wasn't practicing Friday. He was out with Phillip Thomas and Shamarko Thomas doing a little strength and conditioning work on the side. He should be out there getting reps with Ryan Nassib. That was going to be a huge benefit for the Orange this year. By the same token you look at Phillip and Shamarko – those are two of your leaders on defense. If Phillip's not out there barking and pointing people in the right direction, it's going to be not as comfortable when he's out there doing it week one against Wake."
D.A. also checks into the Fresh FizzCast to analyze the Orange's injury situation.

"We all agree that Marrone's got it going in the right direction, that Marrone's recruiting better than clearly Greg Robinson was, they're getting better talent. But one thing is very obvious: It's still not a deep team. Is this team deep enough to withstand these types of injuries I think is absolutely a major concern."
Just as much as it's a mystery which defensive backs will be starting for SU in a few weeks against the Demon Decons, it's unknown which teams will be members of the Big East's lineup in a few years.
Perhaps it's not long until the Big East doesn't even exist any longer. Syracuse product Jeff Passan is a Yahoo! Sports columnist and author of Death to the BCS: The Definitive Case Against the Bowl Championship Series. He dropped by the FizzCast and was asked how quickly four super conferences of 16 teams could potentially form.
"A lot sooner than I think people realize or want to realize. One one hand if it gets us closer to a true college football playoff, I suppose I'm okay with that."
The possibility of four super conferences is intriguing, but Passan says the conferences sadly could hang certain programs out to dry.

"You wonder what happens to the schools that get left out of this group of 64 as it would seem to be. You wonder what the future of the Big East is. Of the University of Kansas, for example, a school that has had an amazing basketball tradition, and isn't a strong enough athletic department otherwise to be attractive to the SEC or even to the Pac-12."
Passan is certain though that SU will survive major conference realignment and find itself a place amongst the top 64 schools.
"I think thankfully for Syracuse's sake, there's been enough success, enough history, in particular the fact that you've got the New York market to be attractive to everyone still whether it's the Big Ten, or a combination of the ACC and the Big East, or even the SEC."
A solid legacy alone would have most likely cemented Syracuse's spot in a super conference, but kudos to Darryl Gross for branding 'Cuse as "New York's College Team" and to Marrone for turning the SU football around at this point in time. Those two factors enable Orange fans to sleep easy, knowing that their team will hold steady through the chaos that's starting to attack the power conferences.
Posted: Andrew Kanell
(adsbygoogle = window.adsbygoogle || []).push({});