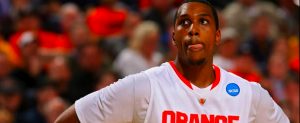 Kris Joseph's recent words to USA Today hang in the chilly Syracuse air, both exciting and terrifying.
"We've had great teams since I've been here, but, honestly, I think this is a team that could really make a push in the NCAA tournament. I think from one to 12, everyone can really help. And I think, if everyone buys into that and listens to Coach, we'll be great."
K-Jo is right. While SU has had tourney-worthy teams almost every season, this year's squad can attain "the big stuff." The '09-'10 team won the Big East, grabbed a top-seed and probably would've seen the Elite 8 and beyond with a healthy Arinze Onuaku. But this edition of Syracuse hoops can be even better than that one.
Follow The Fizz on Twitter for updates from Big East Media Day today
It's possible because this year's version is stacked top to bottom. Just look at the deep guard rotation, the experience, the bench, the incoming Three Amigos. It says something when the Big East coaches select you as the best preseason team in the nation's top conference (before it devolves into the Big MAC).
But K-Jo's last sentence is also haunting. "If everyone listens to Coach…" It sits there sneering at the hardened Orange fan who always seems to endure spring disappointments. It's an issue that clearly has dogged this program before. SU always has elite talent, but rarely performs to the concurrent level.
Will Dion go off the reservation again? Will Scoop make better decisions? Will this team choose to play defense? Will Fab finally digest basketball? Will they play as a unit, sacrifice for the betterment of the team or be a selfish, immature set of talented players who can't let go of individual wants and needs?
Syracuse basketball is about to change forever in the next 24-36 months. The only coach this program has known for nearly four decades has said he is mapping his departure. The only conference this school has ever known is imploding around us. This may be the last great chance as it stands to get back to the Final Four and accomplish "the big stuff."
If only they listen to Coach.
Posted: D.A.
(adsbygoogle = window.adsbygoogle || []).push({});