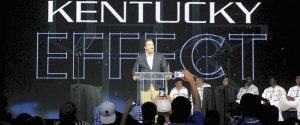 Syracuse's biggest target Dajuan Coleman, the top center in the 2012 class, attended Kentucky's Big Blue Madness on Friday night. DC 2.0 is one of the top 5 overall prospects and appears to be deciding between SU, UK and Ohio State. Coleman told The Fizz he's planning on making his choice by early November. He joined Shabazz Muhammad, Alex Poythress, Willie Cauley and Archie Goodwin at the Wildcat basketball kickoff party. Goodwin has already committed to Coach Cal.
Follow The Fizz on Twitter for the latest DC 2.0 recruiting news
Players are attracted to Calipari because of his advocacy for them reaching the NBA. UK's track record of churning out pros recently is unmatched. However, SU and OSU have also produced lottery picks over the last few years, so that angle is not a slam-dunk for Calipari.
We know Coleman is very familiar with Jim Boeheim's record as a coach, since the Orange has been recruiting him for years. SU has clearly benefitted from its impending move to the ACC in both football and basketball recruiting. Could the opportunity to play at the Dean Dome and Cameron Indoor a few years from now help nudge DC 2.0 to stay home?
Dajuan sounded impressed by the aura at UK before Friday.
"I am excited to experience the phenomenon known as Big Blue Madness."
It's a little discouraging Coleman chose UK's madness over staying in his backyard where SU also rolled out its A-list: Carmelo, Wes, Donte and Rautins. Perhaps the most important guest that DC would've been with at the Dome was his former teammate Brandon Triche. Although, Triche has said he will not politic for Coleman to join the Orange.
On the bright side, there was one DC in the house at Syracuse's Midnight Madness. Too bad former legend Derrick Coleman (DC 1.0) is about 100 lbs. over his playing weight at SU, because The Per'fesser wouldn't mind having another choice in the pivot.
Ohio State is using their superstar big man Jared Sullinger to appeal to Coleman. Sullinger is a longtime friend of DC 2.0, and hopes to bring him to Columbus with the angle Coleman can have similar success. Dajuan says Sullinger's success makes OSU attractive.
"Ohio State, I like how they use their big man and develop big men so that'Äôs one thing about them. They push me harder, give me the ball, put me in the right spot. You know, make me better as a player."
The stretch run is on for Coleman. In less than a month, we'll know which school is the big winner for the biggest target to come out of CNY in years. The urgency to reel in DC 2.0 is heating up for Syracuse.
Posted: Jake Moskowitz
(adsbygoogle = window.adsbygoogle || []).push({});