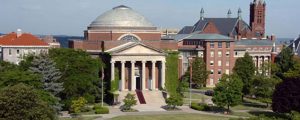 This is a time of swimming emotions for Syracuse fans and alumni. My guess is you're scattered and all over the place personally. We all learned an important lesson from Penn State in sensitivity to the horrors of sexual abuse. For the last two weeks, we've all stumped for a greater understanding of the problem, more compassion for the victims, and harsher punishment for the abusers. Yet, with this wind at our backs we are forced to address the same allegations at our own school.
How do you assess yourself when you look in the mirror? Do you use more critical judgement than you would others? Do you rationalize some of it because it's far harder to grade yourself? This is the quandary the Syracuse community is faced with.
There's no doubt, some of this looks dubious at the moment (admittedly, we're less than a day removed from the initial report). The Post-Standard, ESPN and the university all investigated the story back in '05 and none could corroborate the accusations.
The Fizz's Coverage of the Allegations
We've seen a string of victims at Penn State resist any public notoriety. No names, no faces, no news interviews. Even the mother of one victim had her face blacked out and identity hidden when she spoke on camera. For Bernie Fine's accusers, Bobby Davis and Mike Land, the stepbrothers are front and center, lights, camera, action on ESPN. This is, of course, not enough evidence to dismiss the allegations.
If you're looking for evidence to believe in Fine, Jim Boeheim has been your best reason. He has immediately denounced it as lies, identified a motive (money in the wake of the Penn State coverage), and thrown full support behind his assistant coach. This is obviously much different from Joe Paterno, who had distanced himself from Jerry Sandusky even before it became public, had removed some of his privileges (not nearly enough) and admitted his own mistakes last week in not doing more at the time.
Former SU players have all immediately supported Fine also (then again, I'm sure former Nittany Lions at first glance disbelieved). If you're leaning towards believing the accusations, there's red flags there as well. Boeheim has said he's never been inside Fine's hotel room. That seems virtually impossible when you've spent 40 years traveling to games and events together. The Post-Standard reports multiple boys have stayed with Fine over the years (which unfortunately after Sandusky is no longer seen as a good deed). The police chief at the time of the accusations years ago, when it died a quick death, was a former Syracuse basketball player.
These are still two very different cases. Sandusky had been charged with 40 sex crimes. Fine has been accused and the investigation has been reopened. The impossible part to predict is whether more kids come forward against Fine. The best thing I've seen from the Syracuse community is patience and a resistance to make any grand proclamations. It shows we've all learned lessons from the severity of the PSU scandal, and become more compassionate toward the crimes of sexual abuse.
Naturally, as an SU alum I'd like to hope this isn't true, but understand we cannot be hypocrites if the facts stack up. It feels like public opinion is questioning whether Davis and Lang are just acting out a money grab. Unfortunately, as Syracuse fans, even if we feel this way too, it's hard to declare it for risk of sounding ignorant and tone deaf. Three weeks ago, maybe we all just disregard this as extortion. But the PSU scandal taught us many lessons, primarily to be attentive to this type of accusation. Meaning the growth we've all gone through is actually making our personal turmoil greater.
Posted: D.A.
(adsbygoogle = window.adsbygoogle || []).push({});