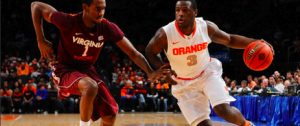 Now is the time to solve the enigma that is Dion Waiters. Last night'Äôs win against Virginia Tech at the Garden could have been foreshadowing of things to come. Questions have surrounded The Per'fesser on he will use his 10-man bench, and how he'll spread out the minutes. We might have learned important information from SU'Äôs 69-58 win was on who Boeheim trusts down the stretch.
Dion Waiters stole the show in the second half, leading the Syracuse comeback – looking like a seasoned vet, and no longer a troubled freshman. He played the cleanest stretch of basketball of his season alongside Brandon Triche and CJ Fair, a combo Dion said was 'Äúreally clicking."¬†The Fizz¬†spoke to Waiters postgame and the sophomore said he loved every moment of running the show late, when his team needed someone to step up.
"It's a great feeling knowing you helped your team to a great win tonight. And that's the first time we played a big time game with a team like that because we got jumped on." 
The best word to describe Dion early this season? Efficient. He's playing effective and smart basketball right now. Waiters scooped Jardine'Äôs minutes in the second half and fired up the lackadaisical Orange, which might have been more focused on MSG'Äôs new renovations than the game at hand.
Should Boeheim kick the fifth year senior to the end of the bench? Absolutely not, but it'Äôs all about chemistry. And there's growing support for Dion to get more minutes.¬†CJ Fair told The Fizz¬†the Orange might be better off with Dion getting more PT at the point, after his performance on Wednesday.
"I feel comfortable with Dion. He's able to break his man off and dish or finish at a high pace. Dion came in there, and got us really fired up."
Unfortunately, energy is exactly what we have not seen from Scoop. When Dion has his head screwed on right, the intensity and energy is there, and so is the ability to lead. Waiters said it hurt seeing his cousin on the bench in the second half, but he handled it the right way.
"One of the things that stuck out to me the most was seeing Scoop as a senior on the bench cheering us on, still being involved as he sits on the bench. It probably was tough, but you couldn't see it in him because he is a great team leader. That's what really got me going."
Waiters is a competitor and has remained upbeat during this early stretch of the season. Boeheim referred to Dion as a 'Äúveteran'Äù on this team now. So it's up to Dion to remember to channel his inner Tobey McGuire – with great power comes with great responsibility. What can we expect going forward in the breakdown of minutes between Dion and Scoop? Hard to say, but Waiters got a passing grade in the season'Äôs first test against a relevant D-1 school. He's made the most out of every second he's on the floor and his intensity has propelled the Orange, but rendered his cousin to the bench.
Posted: Kevin Fitzgerald
Photo cred: Getty Images
(adsbygoogle = window.adsbygoogle || []).push({});