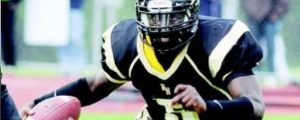 It took a little longer than initially expected, but Ashton Broyld and Myles Davis are finally enrolled at SU and members of the Orange football team. The pair spent the times at Milford Academy playing football. Broyld played there this season. Davis competed two years ago, but has been rehabbing an ACL injury.
Just in case anybody forgot, Broyld has plenty of talent. He was the New York State Class AA Player of the year after going undefeated as QB of Rochester's Rush-Henrietta. However, Broyld spent much of the spring dealing with the embarrassing exposure incident, which immediately gave fans reasons to question his maturity.
With another semester of football at Milford, and time and space from the controversy, Broyld joins a very crowded quarterback position. Broyld threw the ball only 56 times last season, but certainly displayed his impressive physical tools. He threw for six touchdowns, while running for six more. Broyld won't supplant incumbent starter Ryan Nassib, but there could still be a role for him to get on the field.
The Orange offense crashed and burned late last season, and the pro-style offense of Hackett and Marrone didn't seem to fit. Perhaps one of the more athletic quarterbacks on the roster (Broyld or Terrell Hunt) could play a wildcat or option role.
The offense grew stale last year and Nassib struggled mightily at times. Mixing up the offense with an athletic guy like Broyld could be just the kick start it needs. Broyld must be more mature, especially after the locker room issues Syracuse ended the season with. But he definitely deserves a chance to finally have fans cheer instead of sneer.
Davis had a very impressive senior year at Penn High School, and was selected as an All Star. Davis spent fall of '10 at Milford and was rated 14th by Rivals in the Prep Top 50.
Davis should have a chance to compete for playing time in camp. He's a strong big-hitter, and can get to the quarterback. This is a huge need for the Orange with the loss of both defensive ends and Phil Thomas, who liked to play in the box.
While Syracuse adds its newest members of the class of '12, add Broyld and Davis' names to the list. They could become immediate contributers for an SU team in need of some.
Posted: Alex Plavin
(adsbygoogle = window.adsbygoogle || []).push({});