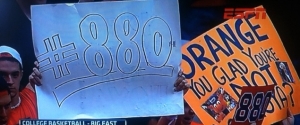 Everything may not have gone as planned against Georgetown, but Syracuse's 64-61 overtime victory still counts. And although he may not be in the mood to do so, Jim Boeheim still gets to celebrate his 880th win. He's now all alone as the 3rd winningest coach in D1 history, and the owner of the most victories at one school.
Who better for Boeheim to reach those milestones against than the Hoyas? And when better to bring back our¬†'ÄúFizz 5'Äù series¬†than now? It's the morning after a win over hated Georgetown and¬†the debut of our new "My 5 Orange" t-shirts.
Here are five things to take away from SU's defeat of its archrival.
The Orange is mentally tough.
Last year's version of SU basketball had comparable talent to this year's team. But when Syracuse faced adversity last season, the results weren't pretty. See: the four-game losing streak to close out January. Also see: the season-ending Marquette loss. A classic example of a college hoops front-runner, the Orange fulfilled all of Doug Gottlieb's hopes and dreams by comfortably blowing out inferior opponents, while failing to seal the deal in close games against the opponents that mattered most.
That's why it's been a pleasure to see this year's team win several grind-it-out games against tough squads. Despite failing to score in the final four minutes of regulation, Syracuse somehow emerged victorious last night. That's simultaneously a positive and a negative. More on the negative side later, but it's encouraging to witness SU grab a W against all odds.
Defense is still the key.
By going ice cold offensively in the final 3:55, it meant the Orange had to rely on its defense to hold onto the game.
Fab Melo is a monster. He made opposing center Henry Sims, one of the most improved players in the conference, look downright awful. Sims shot 1-12 from the field, totaling only six points. Georgetown had its moments (freshman Otto Porter in particular was impressive), but overall the Orange kept the Hoyas' offense contained. Georgetown scored just four points in the final 4:24 of regulation.
Good to know the defense will always be there for Boeheim even when the offense falters.
Kris Joseph can without a doubt be the "go-to guy."
The senior forward usually collects his points quietly. Not so in his final crack at Georgetown in the Dome. As Boeheim acknowledged postgame, Joseph was the only player with a pulse on offense. And it wasn't just the Montreal native's career-high 29 points, or his 6-11 mark from distance. It was the way he grabbed hold of the contest. Joseph wanted the basketball at all times, and assertively carried his team to victory almost single-handedly.
Rebounding continues to be a problem.
You know it's become an large scale issue when SportsCenter is all over it. ESPN  tends to stick to the most surface-level content available. And sure enough, following a crazy night of college basketball, there was Scott Van Pelt grilling Gottlieb about Syracuse's rebounding woes. Since SportsCenter was gracious enough to interrupt its wall-to-wall coverage of Blake Griffin alley-oops to provide a little rebounding analysis, we'll give you some as well.
Georgetown hammered SU on the glass, winning the rebounding battle 52-35. That clearly infuriated Boeheim, and with good reason. The Orange doesn't need to be the best rebounding team in the nation, but there's no excuse for a performance on the boards like last night's. Syracuse routinely wields the advantage in nearly every other facet of the game. It would be a shame to see its season cut short because of one glaring weakness.
Success hasn't changed The Per'fesser.
In fact, it seems like it makes him even grumpier. Following the game, he emitted a clear sense of urgency to make sure his team knew it got away with playing like crap. And that it shouldn't expect to get away with playing like crap.
"This is a disaster game as far as I'm concerned."
Boeheim knows the Orange has Final Four potential. He also knows the lack of concentration and/or a sense of entitlement could lead to yet another premature NCAA Tournament exit for his squad.
'ÄúRight now, I don'Äôt think we'Äôre a good basketball team."¬†
Syracuse laying an egg down the stretch of a big game + Syracuse victory = Boeheim postgame fireworks. He's desperately trying to keep the Orange grounded. His response was predictable when a reporter asked him about passing Dean Smith on the all-time wins list.
"I'm upset with this team right now and we'll address all that stuff when I retire."
The 880 wins are nice, but Boeheim's priority is to retire with more than one national title. And if he thinks the best way to do that is to pretend his 880 victories don't exist, then all the power to him.
Posted: Andrew Kanell
(adsbygoogle = window.adsbygoogle || []).push({});