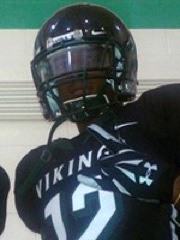 It's official: Western PA defensive back Dontez Ford is coming to the Hill next season. Ford verbally committed to the Orange in the early summer and said he found something in the Syracuse program that no other school could match.
"I built a relationship with Coach Conley that I didn't build with any other coach at any other school."
Dontez and many recruits The Fizz has talked with stress the Orange coaching staff's personable, down to earth attitude, and the program as a family. A lot of these prospects embrace the love and passion schools put towards them. Ford said the friendship he built with Dan Conley was "more than just a football relationship. That is the best part about it."
Syracuse's engineering school and academics sealed the deal for Dontez. He's thrilled to play for the Orange but understands that there is life after ball. What's Dontez's greatest strength?
"I try to limit the mistakes I make.Before I actually go out and try to play fast, I make sure I know exactly what I have to do. I make sure I do my reads, and know where the play is going before I actually get there."
Dontez, along with "Lights Out" Wayne Morgan and Sunshine State product Julian Whigham, will be called upon to help solidify the secondary that was shaky last season.
Posted: Dave Van Moffaert
(adsbygoogle = window.adsbygoogle || []).push({});