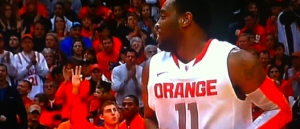 With all that ice water in his veins, Scoop Jardine almost went into anemic shock yesterday. The senior guard led SU past a young and pesky Rutgers squad to secure Syracuse's seventh straight win. Some critics believe not having a single go to guy will hurt this team. But the formula just keeps working. Despite the criticism #11 gets, he was stone-cold in the final minutes against RU and sent the Scarlet faithful packing for the Greasetrucks.
The Fizz caught up with Scoop postgame about the win. Jardine doesn't care about the doubters.
"This is why I am who I am. I'm not trying to be cocky, but confident. I work on my game just for these moments. I can take criticism, I've been taking it my whole career, and it helped me for these moments. It allows me to make winning plays for this team."
This isn't the first time recently Scoop led his¬†team to victory. Against UConn he also went off late. Everyone points to Dion Waiters or Kris Joseph¬†as guys who should have the rock with the game on the line. But SU proves it's simply a question of what the game dictates. Scoop wasn'Äôt hesitant to pull the trigger on some deep jumpers against RU.
The timing for Jardine's late game heroics was perfect. With Dion and K-Jo struggling to find their shots from the field yesterday, it was vital Scoop took over. Scoop also set up high-flyin' C.J. Fair for a set of nasty alley oops.
"You know that guy who always makes the right play, at the right time, at the right moment? That's CJ. He's always in the best position to make a bucket. If he keeps playing like this, we have a really great chance of winning the National Championship"
The beautiful thing about this team is the different game plan each night. Scoop was 0-for-8 from the field against Louisville last week, and decided to just dish  that game. Yesterday, he had the hot hand and looked to score. That inconsistency could be alarming. But SU feeds off this style of play. Each player's role can change from game to game, but the Orange expect that.
"Coach gives us the freedom at the end of games. We have guys that make plays at the right moment. We don't have just one guy, we have four or five guys. We get criticized sometimes because we don't have that one superstar, but I'd rather be on a team like this where any guy can make a
play at any given time."
Granted, Syracuse was sluggish for a second straight game offensively. But this team never looked uncomfortable. SU was cool, calm and composed, led by a steady Scoop in the 2nd half. Georgetown and Louisville went ice cold from the floor, which is a testament to SU's defense. Scoop's turnovers are down (3:1 assist/TO ratio in his last 11 games), and he's taking over in crunch time.
Once again the depth of Syracuse elevates this team. Hopefully, Jardine and his boys will be talking about it all off-season, after the nets are cut down in New Orleans.
Posted: Kevin Fitzgerald
(adsbygoogle = window.adsbygoogle || []).push({});