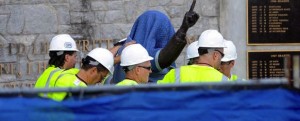 The NCAA levied several debilitating penalties against Penn State football following the publication of The Freeh Report. Especially damaging is the provision that essentially allows other programs to pluck the Nittany Lions roster without limitation. All current players on Penn State are now permitted to transfer elsewhere over the next 12 months without having to sit out a season. From the NCAA:
"Penn State cannot restrict in any way a student-athlete from pursuing a possible transfer. Student-athletes must simply inform Penn State of their interest in discussing transfer options with other schools. Before communicating with student-athletes, interested schools also must inform Penn State of their intention to open discussions with the student-athlete."
A huge chunk of Penn State's Class of 2013 will end up decommitting without event. It's routine for verbally committed recruits that haven't signed LOIs to decommit if a program is undergoing turmoil. The Fizz has already detailed which 2013 PSU verbals could wind up in Orange (cornerback Ross Douglas has already switched his commitment to Michigan).
The 2013 class was in trouble regardless of how hard the NCAA came down on Penn State. But by allowing other teams to pursue current Nittany Lions, the NCAA has immediately decimated the on-field product in Happy Valley.
As always, Doug Marrone has shown superb class in comparison to his coaching peers. Penn State Head Coach Bill O'Brien asked for coaches pursuing his players to give him a courtesy call, and Doug Marrone was one of only a handful of coaches to oblige. O'Brien:
'ÄúI have a lot of respect for the coaches in the Big Ten, but a lot of coaches, they're playing under the rules, no question about it, but they have recruited our players without the courtesy of calling me to tell me that they are doing that. There are some coaches who have called. I can tell you that Doug Marrone's called, George O'Leary's called. You know these are guys that understand the profession and I think, have done a heck of a job of reaching out to me. If a guy contacts them, they are going to listen, that's what they've said, and I understand, but at the same time, they are just letting me know that 'hey, if somebody contacts us, we'll probably take a peek at him.'Äô'Äù
So Marrone definitely has interest in raiding the Nittany Lions'Äô cupboard. There'Äôs no telling how much success he'll have in that endeavor, but let'Äôs put together a list of the players he will likely focus on.
After a large group of Penn State players convened Wednesday morning to affirm their commitment to the program, this list was compiled over at the blog Black Shoe Diaries. It shows which Nittany Lion players are staying at PSU, which are considering transferring, and which have not made their intentions clear. As of Wednesday (with some additional developments following the release of that list), 49 scholarship players have said they will remain at Penn State, one is definitely leaving, and six are on the fence. The statuses of an additional 27 scholarship players are unknown.
Players looking to transfer will likely want to rekindle relationships with coaches and programs they already know. Of the 34 players that could possibly leave Penn State, 12 were offered scholarships by Syracuse out of high school.
Definitely Leaving Penn State:
OG Ryan Nowicki (R-Fr., Glendale, Arizona)
He is is strongly considering Illinois, Washington, and Arizona State. Syracuse doesn't look like a possibility.
On the Fence: 
RB Silas Redd (Jr., Norwalk, Connecticut) 
The Doak Walker Award candidate is likely headed either to USC or back to Penn State.
RB Curtis Dukes (R-Jr., Evans Mills, New York)
The universe is screaming for the 6-foot-1, 242-pound Dukes to transfer to SU. It just makes sense for too many reasons. First and foremost, his hometown is a 90-minute drive on I-81 north away from Syracuse. He's already told The Post-Standard he has interest in coming back home to SU and finish up his college career.
"It would be nice to play in front of a home crowd," said Dukes, who helped lead Indian River, near Watertown, to a 50-game Section X winning streak during his career, which concluded in 2008 when he ran for 1,168 yards (13.4 average) and 16 touchdowns. "It's the reason why Syracuse was so high for me. It's a good program and a great distance (away from home)."
Then there is Syracuse's lack of running back depth. Keeping in mind that other players, including Redd, could also be departing from Penn State, Dukes may have a much easier battle for playing time at Syracuse. The Orange has a couple of backs with bright futures in George Morris and DeVante McFarlane. But they are only true freshmen. Jerome Smith and Prince-Tyson Gulley are untested as featured backs, and the highly-touted Adonis Ameen-Moore was a bit of an enigma as a freshman. Dukes (a former Scout 4-star, Rivals 3-star) could give the Orange a much needed veteran in its running back corps. Backing up Redd in 2011, Dukes rushed for 237 yards in 2011 averaging 5.8 yards per carry.
His Penn State bio says he's related to Ohio State basketball star-turned-NBA-draft-bust Greg Oden. Which I find to be an extremely fun fact.
Status Unknown: 
OT Luke Graham (R-So., Harrison City, Pennsylvania)
He switched back to offense after playing on the d-line as a freshman, and Marrone loves positional flexibility.
TE Kevin Haplea (Jr., Annandale, New Jersey)
His high school coach said that Haplea may be open to transferring, but that it will be a difficult decision. Haplea has a twin sister who attends PSU. If Haplea leaves, Rutgers would seemingly be a more likely destination than SU. The Orange already has plenty of depth at tight end, and the RU campus is close to Haplea's hometown.
WR/DB Malik Golden (Fr. Cheshire, Connecticut)
All signs point to him going to Iowa if he transfers. Golden previously had lots of interest in the Hawkeyes. He visited them in high school, and they were a runner-up for his services.
RB Akeel Lynch (Fr., Athol Springs, New York)
This is a name that has always enamored Syracuse fans. Rivals ranked Lynch the third-best New York prospect in the Class of 2012. Originally from Toronto, the three-star recruit moved to the Buffalo area to finish out his high school career in order to get more exposure from D-I schools. He committed to Boston College, then decommitted and chose Penn State instead. SU has always had interest in him, but Lynch has never reciprocated with much interest in the Orange.
WR Brandon Moseby-Felder (R-Jr., Fort Washington, Maryland)
He never appeared to have that much interest in the Orange, but he's a talented player that could benefit from increased playing time if he came to SU.
DE Sean Stanley (Sr., Rockville, Maryland)
Stanley is probably the second best player on this list behind Redd. The havoc-wreaking defensive end has one year left of collegiate football, and if not at Penn State he'll likely want to spend the season playing for a winning program. He committed to PSU very early out of high school, so there are no obvious front-runners based on how his high school recruitment wrapped up.
LB Nyeem Wartman (Fr., Archbald, Pennsylvania)
Former Pittsburgh and current Arizona State Head Coach Todd Graham is pursuing Wartman, according to multiple reports. Graham, who himself knows a thing or two about jumping from one school to another (and that's about as flattering as I could put it), is looking to re-establish a connection with some of the players he met on the recruiting trail for the Panthers.
LB Mike Yancich (R-Sr., Washington, Pennsylvania)
He has some versatility but Yancich probably just stays with the Nittany Lions at this point. He's a redshirt senior who is a role player, not the type of athlete another school would have much interest in for only one season.
RB/FB Zach Zwinak (R-So., Frederick, Maryland)
Virginia Tech would make the most sense. His father played there, and the Hokies made Zwinak's final two along with Penn State. But hey, the Orange could use a fullback after losing Adam Harris and Tombe Kose to graduation. Who better than the Rivals-rated number two fullback in the 2010 class?
* * *
One program to watch out for that could put a dent in Penn State's roster is Maryland. 10 players currently on the PSU roster are from Maryland. And having examined all the players that could leave the Nittany Lions, it seems like almost all of them had an offer from the Terps out of high school.
The best match for Syracuse is clearly Dukes, but Orange Nation will keep a close eye on all of these possible transfers. This is a tremendous opportunity for Marrone to accelerate the growth of his program. High school recruits can take years to impact a program. But a transfer like Dukes can immediately propel a team to the next level.
Posted: Andrew Kanell
(adsbygoogle = window.adsbygoogle || []).push({});