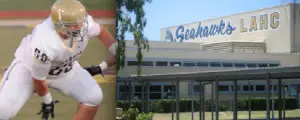 While Newhouse is one of the great broadcasting schools in the country, the newest name connected to Syracuse is John Miller, not longtime ESPN play-by-play announcer Jon Miller. SU continues to look for JuCo help on both sides of the ball, as Miller commits to play his final two years along the offensive line.
The 6'3" 317 lb. lineman out of LA Harbor Community College made his official visit to the Hill earlier this month. This has added to an already big month for Doug Marrone.
Brett Peabody, head coach at LA Harbor,¬†talked with The Fizz last week and told us Miller'Äôs stock would be rising in the coming weeks. Syracuse found a way to nab the all-conference stud. Peabody tells¬†The Fizz¬†about SU's interest in Miller:
"Syracuse is really excited about him. Coach Adkins really likes his versatility, the fact he can play both center and guard. John'Äôs also one of the biggest centers out there and one of the most physical ones.'Äù
Miller tells The Fizz it all started with a familiar name:
"It was Greg Adkins. The first time I spoke with him on the phone he actually offered me and it was kind of a shock. Sort of a 'ÄòGet to know you, but I am going to make you an offer.'Äô So it was it was a pretty open experience."
During his visit on the first weekend of December Miller already was envisioning himself in an Orange uniform. Plus, we've found out what restaurant SU is using as the closer.
"It was nice. It wasn'Äôt too cold. It wasn'Äôt snowing or anything. They took us on a tour of the business school. We got to tour through all the football facilities, to see the practice field and the Carrier Dome. They took us out to a nice restaurant, Dinosaur BBQ. It was top-notch and there were no complaints."
Miller, my man, give a shout over to Malik Brown, who was tweeting about wanting a Dinosaur closer to his home. The Big Ass Pork Plate may become SU's best recruiting weapon.
Miller was also in town when Syracuse got the news of heading to the Pinstripe Bowl. That moment was his cherry on top:
"It was kind of exciting. The week I was out there they had just found they were co-Big East champs. The intensity was a little bit higher than you would expect and finding out where they were playing at. Just that experience alone was an added bonus. It can'Äôt get any better."
Whether Miller plays center or guard has not been set in stone. But the coaching staff wants to see Miller play everywhere with his versatility.
"I think I am athletic enough to pull outside. Get out on screens and get to the second level, and they don'Äôt expect that with my size. I pride myself for this off-season on working hard and making sure I am in great shape to do those types of things. I had an exceptional season because linebackers weren'Äôt expecting me to be able to get them because they thought I was too big. Syracuse and Coach Adkins told me they'Äôd like me to play guard. But they said it doesn'Äôt matter to them wherever I play they just want me to compete for a starting spot, whatever guard spot or center spot in the next year or two."
Another compelling component to Miller's decision is the move to the ACC next season. Miller says he can't wait to flash his talent on the national stage:
"Just the fact that they are moving to the ACC, that'Äôs an automatic qualifier conference. That is automatic to try and go to a BCS game. It definelty weighted my decision. They are up and coming and the coach [Marrone] has only been there a few years. They are already starting to go to bowl games, something that appealed to me the most. The ACC conference is something that was added on, a chance to compete, get some better competition, and get some more TV time."
What's he looking forward to most? Believe it or not, Miller is anxious to experience some Syracuse winters, and getting started on the field.
"Probably spring ball and getting that experience in the snow a little bit. It'Äôs probably going to be cool. Hopefully it doesn'Äôt snow too badly. Definitely get that experience and see what it'Äôs like. Playing D1 football would probably be the best thing about it."
Posted: Brendan Glasheen
(adsbygoogle = window.adsbygoogle || []).push({});