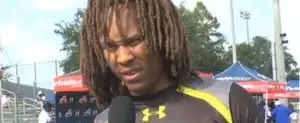 George McDonald is looking to mine the fertile grounds of Florida, and with his connections within the Sunshine State, he could be on the verge of hitting a geyser. Reportedly the Syracuse offensive coordinator offered two scholarships to players at Blanche Ely High (Pompano Beach), and giving a long look at a third.
Looks like SU has offered LB¬†Terry McCray ('14) and wideout Therrell Gosier ('15).¬†McCray is listed as a three-star OLB and has scholarships from Minnesota, Miami, Florida Atlantic and Tulane. He says the Hurricanes are at the top of his list, but he plans on visiting the Orange and Gophers before making a decision. Gosier is a huge target, listed at 6'6″, 200 lbs., and has an offer from USF.
Another tall WR, Kenneth Rawls (6'3″, 179 lbs.) was also a subject of GMcD's scouting. He has offers from¬†Minnesota, Bowling Green and Florida Atlantic, but says SU would become the front-runner if the Orange offered. While Rawls has plenty of nice things to say about SU, he's still unrated according to Rivals. Gosier, on the other hand, has a made a name for himself in two other sports. He came off the bench for Ely's hoops team which won the state in April, and¬†broke Cardinal Gibbons'Äô (his previous school) 34-year-old freshman record for the 300-meter hurdles last spring.
McDonald has plenty of recruiting ties in the state of Florida, and how interesting would it be if he's able to scoop up a player in McCray away from The U. McDonald was the Wide Receivers Coach for the Canes in '11 and '12. It's also intriguing whenever GMcD goes after wideouts since he's worked closely with them in the past. So both Rawls and Gosier should be on Orange Nation's radar.
McDonald's arrival on the Hill is perfect timing. While SU has always had a foot in Florida, and Doug Marrone tried to build a better pipeline down there, it's nearly impossible to compete in the ACC without having athletes from the Sunshine State. Obviously FSU and Miami will always own the region in conference, but all schools grab players from the endless Florida supply. Clemson (Sammy Watkins – Ft. Myers), VaTech, (Luther Maddy – Delray Beach) and N.C. State (Jarvis Byrd – Pahokee) have all culled major talent from there.
There's always talent in Florida, but potentially offering three teammates is still fairly unique unless it's a factory like Booker T. Washington or St. Thomas Aquinas. But McDonald could be betting on encouraging all three player to come up to the Hill together, a chance to bring friends together so far away from home. It's time to stretch even deeper for athletes in Florida, and McDonald is the best guy to do that. Looks like he's making his footprint at Blanche Ely right now.
Posted: D.A. 
(adsbygoogle = window.adsbygoogle || []).push({});