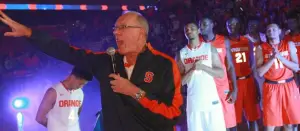 Good news if you're a Syracuse basketball fan! Hoops season starts on Friday with an exhibition game against Holy Family. There are many questions going into this season, which is the first in the ACC. Jim Boeheim enters his 38th season at the helm of the Orange, and the competition is about to get tougher, but in a different way.
The names of the teams Syracuse will face this season are exciting. Duke, UNC and Miami games will get Orange fans to actually bleed orange with all of the excitement, whereas last season was completely mixed. In the last week or two of the regular season, the team looked like one that would lose in the first or second round of the NCAA tournament. Then the Big East tournament came and this team looked refreshed and reborn. Syracuse had lost both games against Georgetown in the regular season and then upset the Hoyas at Madison Square Garden. The Orange had upsets against Indiana and Marquette en route to the Final Four, but we all know how it ended.
It's a new season. A fresh start. New memories will be made against new opponents. Here are some of the big games this season for the Orange and ones that'll make you go crazy.
November 8 – Cornell
It may be a non-conference game, but it is the official season opener. This is when it all starts for Syracuse. The Orange can finally bring on big 40 or 50-point wins over non-conference opponents and get the Dome rocking for an event other than a football game. This will be the first real feel of this team. Which players are good? How do the freshmen look? How does Tyler Ennis look in the starting role? Will Rakeem Christmas and DaJuan Coleman maximize their full potential? This is a game to get excited for.
November 18-27 – Maui Invitational
Syracuse will take on St. Francis Brooklyn, Minnesota, and Arkansas or California. One could argue that these games aren'Äôt too exciting, but it'Äôs definitely a little bit more of a challenge than playing Long Beach State or Pace. This is a fun week of sports for Central New York sports fans. Three straight days of Syracuse basketball (Nov. 25, 26, 27) and then chow down on a turkey leg…or two…or three.
December 3 – Indiana
This is one to mark on your calendars! The Hoosiers team isn't as exciting this year now that Victor Oladipo and Cody Zeller have left for the NBA, but Indiana was a No. 1 seed in the NCAA tournament and Syracuse did upset the Hoosiers. This is the ACC/Big Ten Challenge. Indiana got the No. 24 preseason ranking, so this team is still legitimate. This game is two ranked teams playing each other. Syracuse may be a favorite, but it should still be a good one to watch.
January 4 — Miami
This is it! The ACC tipoff! The stretch of exciting games begin and the national televised games hit the screen. The non-conference games are fun to watch because who doesn't want to see Syracuse beat schools like Colgate and Binghamton by 40 or 50? There's more of a thrill when Syracuse beats Miami on a buzzer-beater shot. Closer games are far more incredible to watch.
January 11 – UNC
Bring on the baby blue! UNC had a disappointing season behind Roy Williams last year. Before Syracuse joined the ACC, Duke and UNC were the No. 1 and No. 2 teams in the conference. With the addition of Syracuse and the great season it had last year and the maybe not-so-great season UNC had last year, some may be rethinking this order. But don't sleep on the Tar Heels! They'll be back. The downside of this game is that it's still during winter break for students. It's the Saturday students return, so it may be full, but not as full as it might be in the middle of the semester.
January 25 — @ Miami
This is the same as the first game against Miami. It's just a rematch. Miami is not in the Top 25 and the biggest loss is Shane Larkin. It's tough to know what type of team the Hurricanes will be. NCAA tournament-worthy team? Or NIT team? It's still a conference game, so don't sleep on it.
February 1 – Duke
Highlight this. Underline it. Bold it. Let your kids or pets just write it in big letters on the wall! Don't miss this game. This is the best one of the year. Two of the best programs in the history of college basketball going at it. This will probably be the largest on-campus crowd for a game. Boeheim and Coach K happen to be good friends, but their teams are different. Duke has done well with guards and being quick and speedy to the hoop. Boeheim said during media day that this year's Duke team is a little smaller, but Boeheim's team is huge. Oh – and College Gameday will be on hand for this one at the Dome. Just. Don't. Miss. It.
February 22 — @ Duke
This is just about the same as the February 1 game, but it's at Duke. This is a tougher atmosphere for Syracuse because that Cameron crowd is nuts. They're the Cameron Crazies. It's very tough to play in that environment, so expect this game to be tight and close throughout.
This season has a lot going for it. It's a young team in the backcourt when you consider the lack of experience for Trevor Cooney, who is thought to be the other guard. Obviously Ennis lacks experience as well, but the frontcourt of Fair, Christmas and Coleman has the experience. It's just a matter of showing the talent and living up to the potential.
Posted by: Austin Pollack
(adsbygoogle = window.adsbygoogle || []).push({});