Follow The Fizz on Twitter for the latest SU football news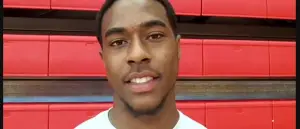 We mentioned last week how important the annual spring game is to impress interested recruits. One of those interested recruits who took a trip up to the Hill was 2015 Union City (NJ) athlete Daiquan Kelly.
Kelly is labeled as the coveted "a-word" we have spoken about before on the Fizz. Athletes are hard to come by and can play a crucial role because of their versatility. At 6'3", 200 lbs, Kelly certainly has to build to be successful especially after his senior season. We have seen players such as Ashton Broyld see early playing time after a position change to wide receiver. Kelly has played wide receiver and free safety in high school, while running a 4.5 40-time. The 3-star recruit has offers from Syracuse, Pittsburgh, Rutgers, Virginia, Michigan State and Boston College.
After his visit to Syracuse this weekend, Kelly put SU on the top of his list. Kelly would be a great recruit to snag to regain prominence in the Garden State. The Orange used to pluck top talent from New Jersey before the Groobers Era, but has struggled to develop a strong pipeline after largely due to Rutgers' recruiting success under Greg Schiano. Kelly is largely looked at as a Top 15 player in the state of New Jersey after going 9-2 for Union City last season. His teammate, 4-star recruit Steven Gonzalez, committed to Penn State in late March.
The Orange has a lot going for them right now on the recruiting end despite a lack of 2015 commits thus far. The LSU announcement, along with the new uniforms, can only help recruit kids and a new indoor practice facility does not hurt either. Although the coaches would have loved to have the facility completed by the spring game, they will have to wait longer as the facility still has to be completed.
Kelly's highlights can be found here. 
Hopefully, Kelly is a sign of the type of caliber of recruits the Orange will see over the next few months.
Posted by: Zephan Mayell
(adsbygoogle = window.adsbygoogle || []).push({});