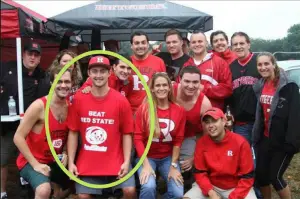 Rutgers lost its first B1G game Saturday night, and a little conference respect as well. The university had to apologize for inappropriate behavior from some of its tasteless fans. There were offensive t-shirts calling Penn State "PED State" and a tasteless sign that joked about sexual assault on a child. AD Julie Hermann knows a little something about PR missteps (she basically has cornered the market on them in her tenure), said in a statement:
"We would like to apologize for the regrettable actions of a handful of Rutgers fans on Saturday that do not convey the message of good, competitive spirit that we look forward to having with our new Big Ten rival Penn State University. Some of the signage and t-shirts that we have been made aware of were both inappropriate and offensive."
Solid move by the Rutgers social media genius who included these pics in their official Facebook page. Nicely done.
The Daily Targum also noted the embarassing behavior: 
"Some fans who took things too far. Chants of "F— Penn State" and other profanities were to be expected, but some people completely crossed the line when they brought up references to the recently exposed child sex abuse scandal at Penn State. T-shirts with the words "Ped State" were being sold by some people before the game in a poorly attempted mockery of Penn State's former assistant coach Jerry Sandusky's charges of pedophilia, and a few even started up a chant of "Sandusky" during the game. In another instance, someone had a flag in the stadium parking lot depicting a disgusting image intended to make light of child sex abuse at Penn State."
There was also this:
"Zach Berger, writing for Penn State's independent online news site Onward State, accused Rutgers fans of acting terribly. In his article, "Takeaways: Penn State Chops Rutgers," Berger claimed that Rutgers fans "screamed at players and spit on people walking on the field."
All in all, a classy night in Piscataway. Rutgers fans showing that a feel-good night in beginning its B1G era should not be without some awful behavior. Obviously, a few knuckleheads don't represent an entire fan base. But sounds like there was enough crude stuff going on that plenty of people were guilty. Hope Maryland can keep its molestation jokes to a minimum. Jeez.
Posted: D.A.
(adsbygoogle = window.adsbygoogle || []).push({});