We did it. We have officially made it through our SU Top 100 list. To do something like this takes a lot of time and effort. It's definitely not easy. The staff at Orange Fizz is proud of the list we came up with, but obviously nothing is perfect. So this week, we will be looking back at our work to see where we can improve.
Today, we begin with the "Biggest Snubs." Each staff member has picked an SU athlete that should have made our list, but didn't. Take a look at who we missed:
Brad: Rakeem Christmas
When Rakeem Christmas came to the Hill in 2011, he was a 6'9", 222 lb ball of clay. The Orange coaching staff molded him into one of the most underrated bigs in program history. Christmas's entire career was leading up to his breakout senior season. 
After a modest freshman season with very limited playing time, he put on 20 pounds of muscle. That propelled him to an impact role in SU's 2013 Final Four run. Despite starting each of the 40 games and swatting nearly two blocks per game, Christmas continued to take a back seat to C.J. Fair, Brandon Triche, Jerami Grant and James Southerland. His junior season was more of the same. 
The Salt City became Rak City in 2014-2015, his senior season. Christmas catapulted from 5.8 points per game as a junior to 17.5. His rebounding numbers swelled by four. The country quickly took notice. 
"He is the most feared low-post player in the country," former Louisville Head Coach Rick Pitino said. "That is a tremendous credit to him and the Syracuse coaching staff. When he was a freshman, you could leave him alone… he couldn't score."
It's not a surprise that Christmas was the ACC's Most Improved Player in 2015. He was also selected to the conference first-team and all-defensive team. Jim Boeheim described his impact on the 18-13 Orange very simply. 
"Without him we wouldn't have won 10 games."
But Christmas should also be acknowledged for his consistency. Even though he only strung together consistent dominance in his final year in Orange, the Philadelphia native started 140 games for SU, second to only Triche.
Gill: Rakeem Christmas
Brad did the leg work for me. I'll say this. Syracuse fans have been starving for a talent like Christmas for seasons now. You've surely missed this big man more than some of the other players on this list. 
When is the last time you watched a Syracuse game and thought, "you know, the Orange could really use Trevor Cooney (#91) out there."
What about Malachi Richardson (#81)? Were you clamoring for Tyus Battle (#75) last season? 
No disrespect to any of the players I just named. They're all great. But they were all well replaced. Syracuse is still trying to find someone to fill Christmas' shoes in the paint. 
Ian: Scoop Jardine
 Antonio "Scoop" Jardine wasn't necessarily a "star" for the Orange, but Jardine deserves a spot on the SU top 100. There were many factors that pushed fans to watch Jardine play. His ability to change speeds and glide to the rim, or hoist that catapult-style three point shot, all with the nickname "Scoop" and the creamsicle arm sleeve. Taking over the point guard spot from SU folk hero Eric Devendorf is no easy task, and Jardine did it with confidence. He hit big shot after big shot in his junior year (two threes to top UConn), and was the heart and soul of the SU team that lost to Ohio State in the 2012 Elite Eight.
However, the argument against Jardine can be convincing. He had his "Scoop moments," where he'd make a questionable decision or pull up early in the shot clock and made SU fans roll their eyes. He only averaged double-digit points for one year. He never made a Final Four, although he was surrounded by elite talent for the majority of his four years in Orange. Although his accomplishments weren't noteworthy, he was a steadfast presence in the Syracuse backcourt, and certainly should be recognized in the back half of the list.
Thomas: Scoop Jardine
Scoop Jardine could be considered as brazen before even stepping foot on Syracuse's campus. Eric Devendorf, Andy Rautins and Josh Wright were already on the roster, and Jonny Flynn was arriving as a heralded freshman. Still, the gamble paid off for Jardine. After Devendorf and Rautins suffered injuries, Jardine moved into the starting lineup.
While he was benched again in his sophomore campaign, fans had to admire his commitment to Syracuse. Jardine stuck it out on The Hill for all four seasons after arriving as an underdog. By his junior season, his determination paid off as he won the job as the starting point guard. With Wes Johnson, Arinze Onuaku and Rautins all gone, Jardine had the best offensive season of his career, averaging over 12 points per game. Sure, his career statistics aren't eye popping. But Jardine was a staple of the SU teams from 2007-2012. He was also a great team player, sacrificing his own numbers and success to benefit the team as SU had the best record in program history in Jardine's senior season.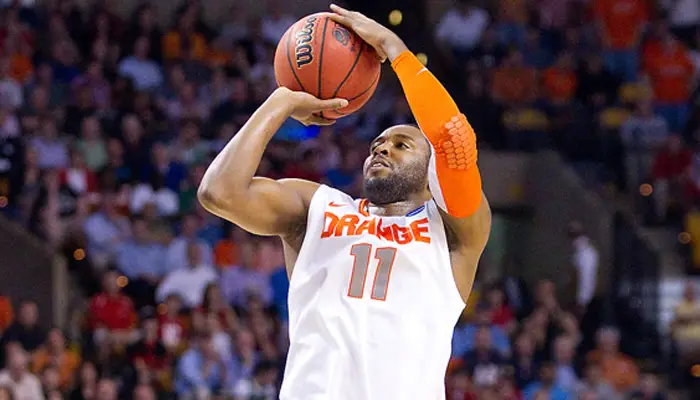 Jaron: Dennis DuVal
The only thing that was better than Dennis DuVal's basketball skills was his afro. Wow, that was cheesy, but it's true. The guy had a beautiful head of hair back in the '70s. "Sweet D" was also a very talented basketball player. When he graduated in 1974, he was second on the career points list and is now 22nd. He averaged 16, 20, and 21 points respectively from sophomore to senior year. DuVal's senior campaign included 3.4 assists and 4.6 rebounds (as a 6'2 point guard) per game, which earned him a Third Team All-American nod. He went on to play for the Washington Bullets and have a 26 year career in the Syracuse Police Department. Not to mention, DuVal is a member of SU's All-Century Team, the Syracuse Hall of Fame, and has his jersey retired in the Dome. Dennis Duval is one of the best basketball players in program history and absolutely worthy of a spot on our SU Top 100.
Matt: Walter Reyes
First in program history with 45 rushing touchdowns, second in career rushing yards with 3,424, first and second in rushing touchdowns in a season with 20 and 17, Walter Reyes was a monster in his time at SU. There's no reason for him to have been left off this list. The ball-carrier from Struthers, Ohio was the main weapon of an offense that made a trip to a bowl game. Reyes, while not on the most successful SU football teams ever to grace the college football landscape, had personal accolades that best those of some of the SU football greats.
It's simply indisputable that this guy deserves to be named a top 100 SU athlete of all time. He carried the program while he was in Syracuse and left his name all over the record books. Reyes' name should even be mentioned when discussing the greatest backs in the history of the program. It's not a stretch to say he deserved to resurrect and wear number 44. It was an idea that was even thrown around by then Head Coach Paul Pasqualoni. At one point Jim Brown, the original wearer of the fabled number was asked his opinion on the matter, and agreed Reyes deserved to wear it, but Reyes himself shot the idea down, instead wearing number 39.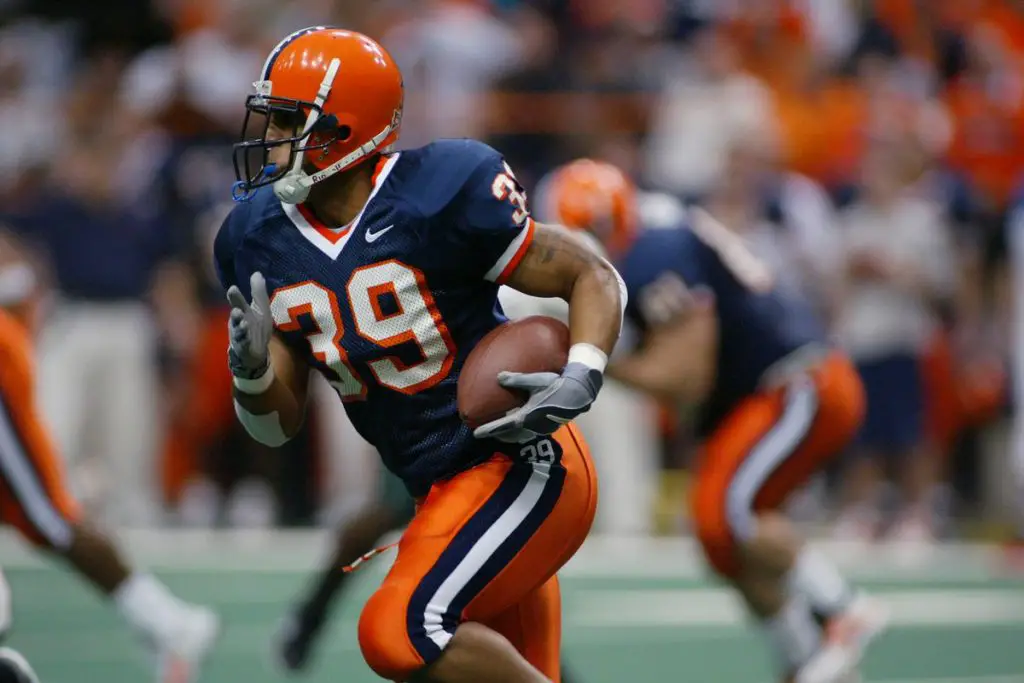 D.A.: Chris Gedney
There's not many consensus All-Americans in Syracuse football history, and Gedney was one of them. As a senior he caught 34 passes for 587 yards and 5 TDs which earned him his All-American nod. For his career he had over 90 receptions for 1,300 yards at SU. Post-career struggles tragically cut short his life after being part of the Syracuse broadcasts and hired by the athletic department as an assistant to the AD. He was a friendly face around the city, a Liverpool native who had gone onto a solid career in the NFL. He was part of the only senior class at SU to win five bowl games. He was named to the program's All Century Team, and helped lead the program to a 35-12-2 record. 
Gedney became the most productive pass-catching tight end in team history. He holds the school records for most receiving yards by a tight end in a season (587 in 1992) and career. His 91 receptions were the best for a Syracuse tight end for nearly 20 years until the record was broken in 2011.
As a senior in 1992, he helped the Orange to a 10-2 record, including a 26-22 triumph over Colorado in the Fiesta Bowl. Syracuse captured the Lambert Trophy as the top team in the East and finished the season No. 6 in the final AP Top 25 poll.
Harrison: Vinnie Cohen
An absolute force both on and off the court for SU. Vinnie Cohen played three years for Syracuse basketball and led the team in scoring in each one. However, after being selected in the NBA Draft, Cohen opted to stay at school where he continued working towards a law degree. That decision would end up paying its dividends as Cohen later became one of the first Black attorneys in the United States Department of Justice and a renowned lawyer in D.C., breaking several racial barriers in the process.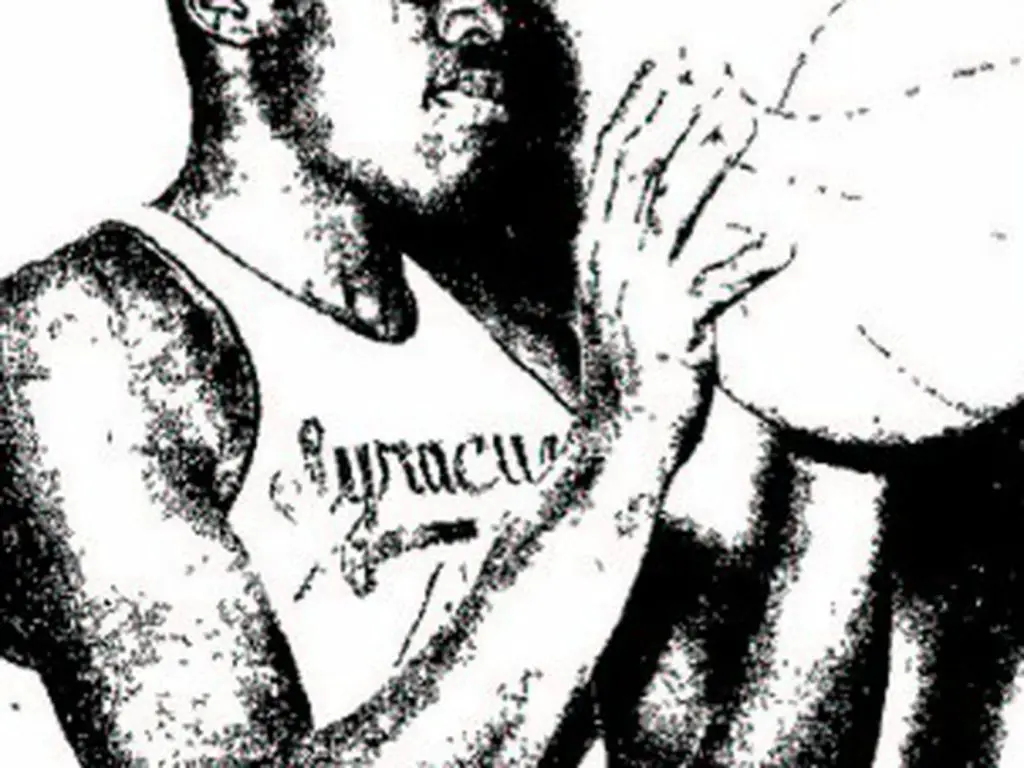 You can find the full SU Top 100 list by clicking here.
(adsbygoogle = window.adsbygoogle || []).push({});