Four-star cornerback prospect Jacolby Spells is making his rounds on the visit trail. The Florida native has already seen West Virginia and Miami (FL) with Georgia, Indiana, and Syracuse supposedly on the horizon. 
Yesterday, Spells tweeted that he's ready to drop his top three schools.  
Spells released his top five back in mid-march with Syracuse, Indiana, Miami, West Virginia, and Georgia making the list. The Bulldogs and Hoosiers were reported to be on the outside looking in, while the Orange were tabbed the "dark horse" by some pundits.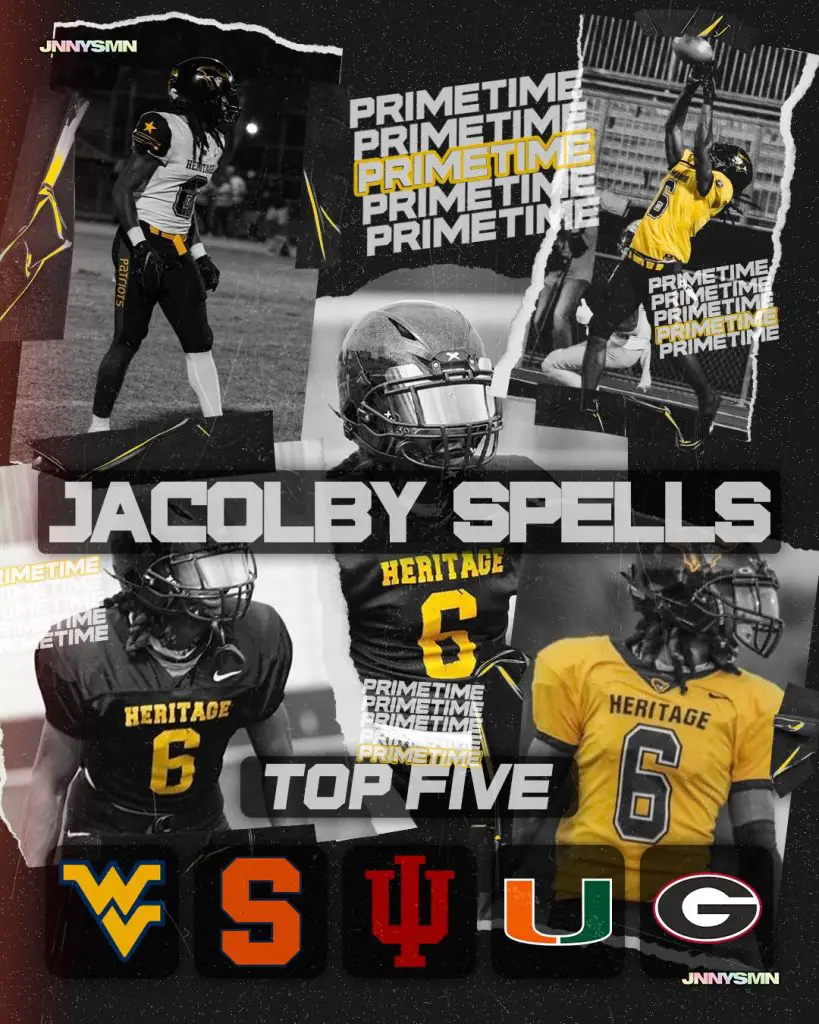 The elite defensive back has set his commitment date for July 4th and that's huge for SU. Spells is scheduled to visit the 315 on June 25th and that should be his last visit on the trail. This is one of those big visit days for Syracuse with several current commits and high priority targets making their way to Central New York. 
Being the last visit for a prospect is huge because that's the school and experience that's the most fresh in their mind. If Dino Babers and Company can roll out the red carpet and leave a delicious taste of the Orange in Spells' mouth, then 'Cuse has as good a chance to land the highly touted cornerback as anybody. 
With that said, Spells' top three should be Miami, West Virginia, and Syracuse (not in that order). This is because Spells hasn't tweeted confirmation of official visits to Indiana or Georgia, but he has for "The U", WVU, and SU. 
As it stands right now, Spells has a crystal ball in for Miami which was logged back in February by a Miami Insider whose predictions sit at a solid 95% albeit with 20/21 predictions. 
The Mountaineers recently earned a crystal ball from Steve Wiltfong who is one of the most respected and well connected recruiting insiders in the industry. He logged that prediction on the tail-end of Spells' visit to the country roads and placed a confidence level of six (out of ten) on it. Wiltfong's accuracy all-time is 91% with 2958/3247 and that number grows each day. 
Don't overreact, recruits tend to be very high on the school they just saw because it's so fresh in their mind and they're "high" off the experience. That's why Syracuse has a great chance because they'll have the final say and the final visit in Spells' recruitment.  
Miami will be tough to beat as the in-state program that seems to be on the rise. West Virginia presents a challenge in its own right as well with the lure of early playing time and development under head coach Neal Brown. The Orange have perks of their own and have shown they can develop defensive back talent recently. 
Stay tuned for the top three when it drops, we'll be sure to share it via @orangefizz on Twitter. 
(adsbygoogle = window.adsbygoogle || []).push({});