Now that the extended dead period is over (finally) top recruits have begun to book and participate in official and unofficial visits. The Orange have done well to schedule many high priority targets thus far.  
Three-star linebacker Mehki Mason visited SU last week, and several other big targets have penciled in June 18th for their trips to the 315. Current commits Cornell Perry and Malachi Davis plan on being in attendance on the 18th and will no doubt put on their recruiting hats. 
Another huge visit day is June 25th. Guests for this day include SU commits Belizaire Bassette and LeQuint Allen as well as four-star corners Jahlil Florence and Jacolby Spells, amongst others. 
Florence and Spells are both top priorities for the Orange in the secondary, but the latter is very intriguing. Syracuse has had success recruiting in the state of Florida under Dino Babers. Spells also seems to fit the mold of what defensive coordinator Tony White and Company seek in defensive backs. Those attributes include speed, athleticism, and strength.  
Last cycle, 'Cuse nabbed ¾-star corner Duce Chestnut from the East Coast and he figures to play a prominent role as a true freshman in the fall. Can Syracuse steal Spells from the likes of Miami, West Virginia, and Indiana?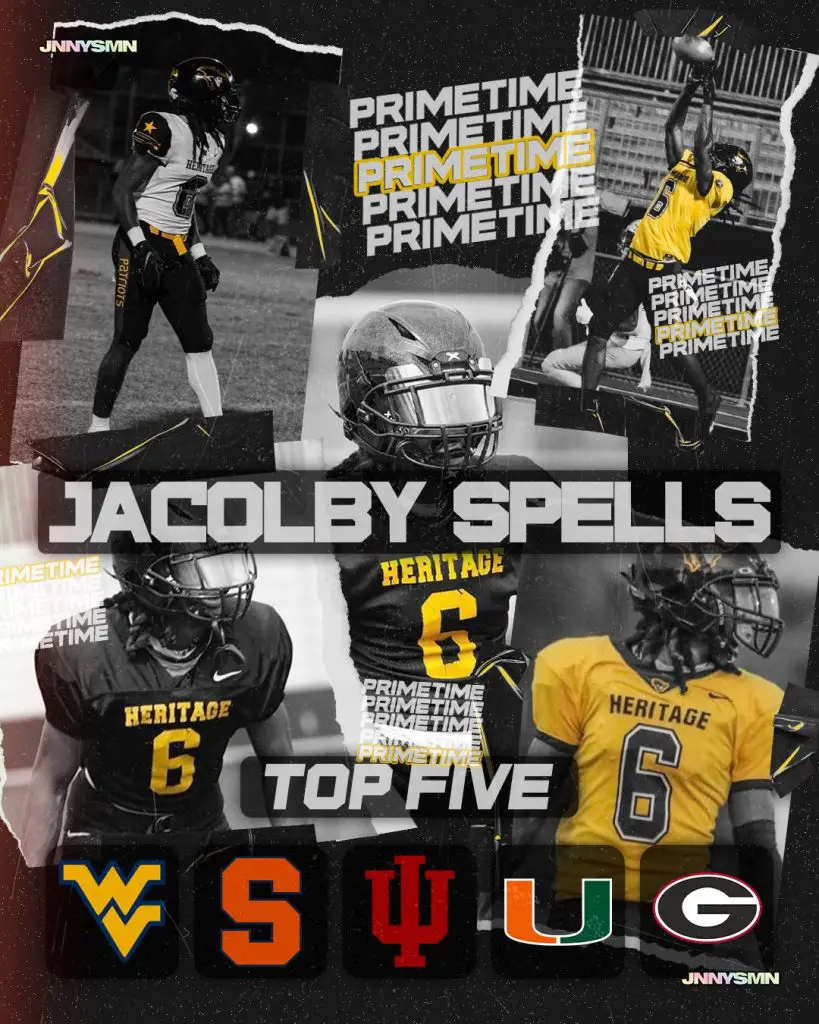 As it stands right now, there is one crystal ball on 247sports.com from a Miami Football Insider. That doesn't hold much weight though because it was logged back in February of this year and is the only prediction on Spells. That means there hasn't been much released on his recruitment and he doesn't plan on committing in the near future. Also he's from Florida and pretty much every recruit seems to receive a Miami crystal ball at some point. 
Spells did take an unofficial visit to Coral Gables on the 1st and plans to head back for his official visit on the 11th. Sandwiched in between those dates is an official to West Virginia. Following his official to "The U," the Fort Lauderdale native takes a short trip north to Georgia on the 15th for an unofficial visit. 
Next up on the list is Indiana on the 18th of June. The Hoosiers have recruited Florida very well under Head Coach Tom Allen and are very much in play for Spells. The last official visit scheduled for now is Syracuse on the 25th. A trip to Florida at some point is reportedly possible as well. 
Spells is really high on Miami and West Virginia, they've been on him for a while as some of the first schools to offer him. Georgia offered in August of 2020, but just recently started to put on the full court press. Florida is very late to the party and only offered Spells just a few weeks ago. The intrigue to stay home and play for a blue blood program is very interesting for prospects from the Sunshine state, but it seems like Spells doesn't mind getting away from home. 
Syracuse isn't a blue blood in today's college football and can't compare to the Florida's and Georgia's of the world. However, SU has plenty of opportunities for early playing time as you saw this year. For Spells specifically, they may also have an in with the family. 
" "I like how they got a family up there with all of the coaches," Spells explained. "They are all close with the players. [Dino Babers] is real close with my mom. He's always communicating with her and she likes that." 
Experts say that this is something that can't be discounted and gives the Orange a legitimate chance in this recruitment. 
"The Orange might be a dark horse of sorts in the recruitment and that's in large part because of ace recruiter Nick Monroe."
~ Andrew Ivins, 247sports.com
If Spells doesn't end up visiting Florida after he makes his trip around the nation in June, SU will have had the final chance to sway his recruitment. The four star corner said he wants to have his decision made by July or August. That means he'll commit to a school without taking visits in the fall to see gameday atmospheres. So for now it appears to be a race between Syracuse, Miami, West Virginia, and Indiana. Georgia and Florida are on the outside as well, but SU is very much in play for Spells. 
One last interesting note, Spells plays at American Heritage High School. The same program that churned out current SU player Oronde Gadsden II, as well as 2022 commit Belizaire Bassette who will be in attendance for Spells' June 25th visit.
(adsbygoogle = window.adsbygoogle || []).push({});