SU had an opportunity to begin a season 2-0 for just the second time since 2015. Instead Dino Babers and Company squandered an opportunity for an impressive early season win over Rutgers. A victory over the Scarlet Knights would've undoubtedly earned the Orange some respect in the ACC and across the nation. However, the same flaws 'Cuse fans have become accustomed to dirtied what was otherwise a solid performance. 
Some fans may have gotten confused at halftime because the score read 29-24 and the final score 57-40. No just to be clear, you weren't watching a simulated version of Syracuse vs Virginia basketball. The SU defense started off hot forcing a trio of Rutgers field goals to stay in the game. As the contest wore on, the 'Cuse defense got worn down and the Scarlet Knights effectively ran the ball at will. 
A 23 point second quarter blew this open for RU. Incumbent starter Noah Vedral was removed from his quarterback spot after an injury knocked him out of the game in the second quarter. Johnny Langan stepped in at the backup spot and performed admirably. 
Despite being known as the wildcat quarterback in goal line packages, the backup moved the Scarlet Knights up and down the field in the second half. The 1-2 punch of Isaih Pacheco and Aaron Young was lethal to the SU defense. Orange nation saw a replay of 2020 as the run defense was gashed all night long. Young was voted the player of the game for his 14 carry, 90 yard, and three touchdown performance.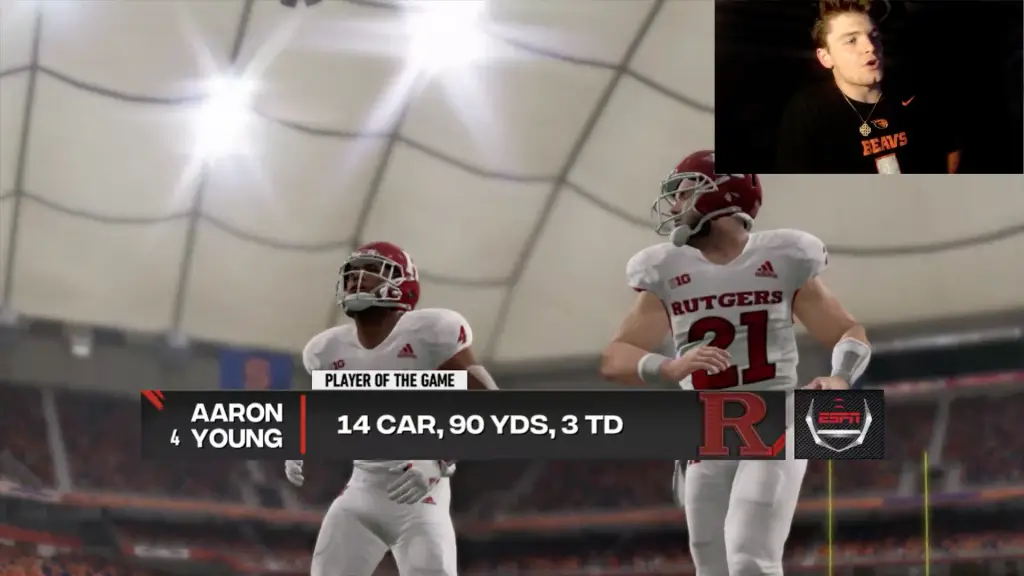 Ultimately, Rutgers put up 542 yards of total offense on 362 yards passing and 180 on the ground. The Scarlet Knights also did a decent job of converting on third downs. RU was 8-19 (42%). Syracuse did force three turnovers to its credit as Duce Chestnut, Garrett Williams, and Neil Nunn each had interceptions. Those takeaways led to a grand total of three points and that continues to be a problem.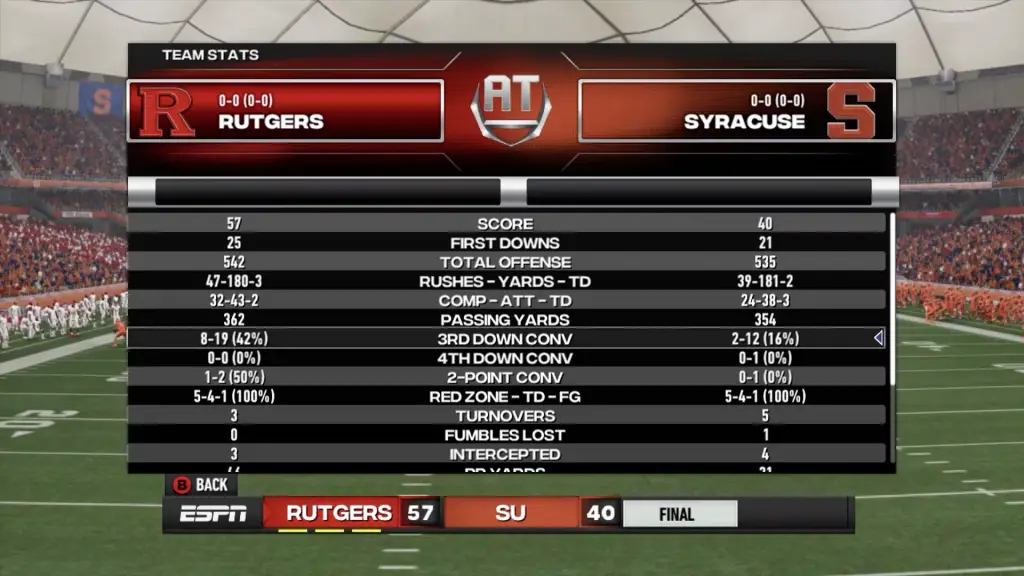 In fact, two of the turnovers SU forced led to Rutgers points. Chestnut's interception was followed up by a Sean Tucker fumble and a scoop-and-score for the Scarlet Knights. Williams' fourth quarter pick was thrown into the trash when Tommy DeVito forced a throw into the hands of a Rutgers corner late in the contest. 
DeVito ended up throwing five interceptions in a roller coaster performance. Many SU fans are calling for TD13's job after that showing. There could be some quarterback controversy going forward. At times the New Jersey native looks the part of a power five starting signal caller, but at others he looks lost on the field. 
His final statline reads 24/35 (68%), 354 yards, and 3 TD-4 INT. DeVito did also tack on 12 carries for 72 yards and a score which actually led the team. On the receiving end, Damien Alford had a breakout performance with a team high seven catches for 151 yards and a score. Anthony Queeley wasn't far behind with four receptions for 92 yards. Taj Harris has continued to go without targets and opportunities. Just one single snag for the teams best receiver for a measly 14 yards.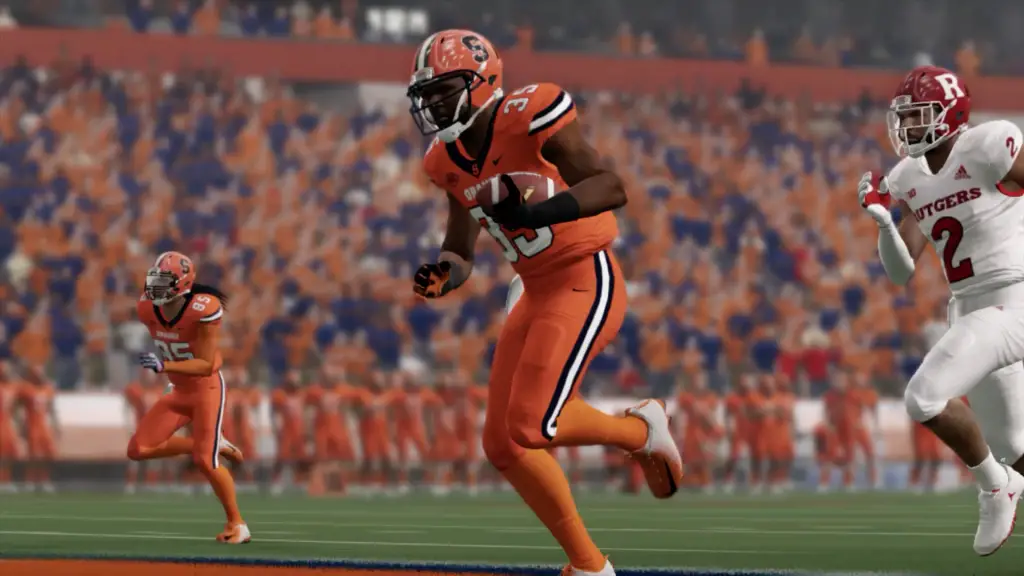 Luckily for SU, it gets a good opportunity at a bounceback against UAlbany on Monday night. The Great Danes hail from the FCS ranks and shouldn't provide much of a test for the Orange. In this season though every game and every win is critical for Babers and the Orange and they certainly missed out on one against RU.  
Thanks to everyone who tuned in for game two of the 2021 season simulation. The next stream is set for Monday night at 7:30 p.m. 
(adsbygoogle = window.adsbygoogle || []).push({});