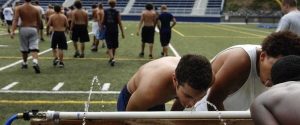 It's official. It's freaking HOT in Syracuse.
Temperatures getting up into the 90's this week along with swamp ass levels of humidity makes for a rough first week of July in CNY.
In addition to the heat, today is also the first day of Summer Start at SU. Students (boring) and athletes (exciting) start arriving on campus to take summer classes and start their team workouts.
As of now, I count just myself as the lone member of the "People Rooting for the first Women's Soccer Season over .500 since 2007" club. However, I have reason to believe the "People Rooting for the First Football Season over .500 since 2001" club is significantly larger.
Which is why as freshmen roam the Hill today, wandering up and down Euclid in search of a house party at 1 p.m. on a Monday, we must remember who some of these frosh are.
Guys like Jeremi Wilkes, Adrian Flemming (the tall WR from Virginia), Dom Timbers (who knows tucking in your shirt is a must), Jonny Miller (the Charley Loeb haircut clone lookalike contest winner), and Deon Goggins (who plans to bring a little West Coast swag to the D-line).
That's on top of guys like Brice Hawkes and Max Beaulieu who got to campus in January.
The Fizz has one eye on the new girls on campus and another on the fields behind Manley Field House for the beginning of a new football season. We'll do the work for you.
Posted: Mike Couzens
(adsbygoogle = window.adsbygoogle || []).push({});